Hulkbuster Armor Iron Man
Not the Kmart Exclusive version

Iron Man 2 Comic Series #27
Item No.: Asst. 93758 No. 94226
Manufacturer: Hasbro
Includes: Stand, cards
Action Feature: n/a
Retail: $6.99
Availability: September 2010
Other: Body was shared with Iron Monger

PREVIOUS
RSS
NEXT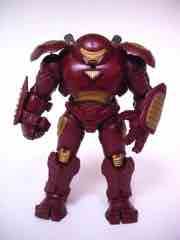 For whatever reason Hasbro made not one, but two figures based on the Iron Man Hulkbuster Armor. One (this one) shares many parts with the comic series Iron Monger figure. The other seems to be mostly new parts, and was part of a Kmart exclusive 3-pack... which at press time we have not had a chance to play with. So we'll just look at this one.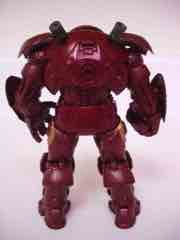 While bulky as all get-out, the rotund Hulkbuster armor was specifically designed so that Tony Stark could fight the green menace without being torn to bits-- that's why the helmet is so wide, it (in theory) prevents Banner from g.shtmling it and ripping it off. The suit has three fingers, tons of detail, and shares most of its construction with the previously examined Iron Monger. The head, hands, and feet show the most differences, but the core body plus the arms and legs are pretty much the same.
Like the Iron Monger, the figure has some wonky leg joints which require significant futzing to work. Want to get him to sit down? Too bad. Expect to spend some serious time rotating various pieces just right to get him to do much other than stand the way he was assembled-- which does vary from figure to figure, with all the rotating bits. Like most figures, if you're willing to give him a little work he'll share some slightly better poses with you. Still, he's going to look best just standing around so don't be sheepish if you just leave him in the package. You aren't missing too much.
The very notion of a hero figure designed to fight and/or kill another hero figure is a little bizarre, and who but Iron Man-- except of course Batman-- might do this? Since the figure has no action figures to speak of, like crazy punches or some anti-Hulk grip, what you see is pretty much what you get. The armor restricts some motion, but the chief play pattern of this toy is going to be your looking at it. There's not a lot of action to be had, but on the bright side it does look pretty good and the gold paint seems to stay on much better than other movie figures. (In my findings, a lot of the gold easily melts or scrapes off.) Be careful with this one, it's just about perfect to stand on your desk and fight.
--Adam Pawlus
Additional Images

Click here to see more Hasbro figures in Figure of the Day.
See more Iron Man figures in Figure of the Day:
Day 4: Hasbro Iron Man 2 Iron Man (Blast-Off Figure Stand) Action Figure
Day 34: Hasbro Iron Man 2 Iron Monger (Comic Series) Action Figure
Day 55: Hasbro Iron Man 2 Iron Man (Original) Action Figure
Day 60: Hasbro Iron Man 2 Iron Man Silver Centurion Action Figure
Day 70: Hasbro Iron Man 2 Deep Dive Armor Iron Man
Day 75: Hasbro Iron Man 2 Hulkbuster Armor Iron Man
Day 84: Hasbro Iron Man 2 Comic Series War Machine
Day 115: Hasbro Iron Man 2 Comic Series Guardsman
Day 124: Hasbro Iron Man 2 Movie Series Iron Man Mark V
Day 154: Hasbro Iron Man 2 Movie Series Iron Monger
Day 209: Hasbro Iron Man 2 Comic Series Iron Man #30 Action Figure
Day 249: Funko Marvel Universe Pop! Vinyl Iron Man Vinyl Figure Bobble Head
Day 652: Hasbro Iron Man 3 Assemblers Iron Patriot
Day 702: Hasbro Iron Man 3 Assemblers Striker Iron Man
Day 703: Hasbro Iron Man 3 Assemblers Ghost Armor Iron Man
Day 747: Hasbro Iron Man 3 Assemblers Crosscut Iron Man
Day 773: Hasbro Iron Man 3 Nano Shell Iron Man
Day 812: Hasbro Iron Man 3 Strike Eagle Iron Man
Day 872: Hasbro Iron Man 3 Marvel Legends Iron Man Mark 42
Day 878: Hasbro Iron Man 3 Marvel Legends Iron Monger
Day 1,011: Hasbro Guardians of the Galaxy Marvel Legends Infinite Series Iron Man
Day 1,021: Hasbro Iron Man 3 Marvel Legends Heroic Age Iron Man
Day 1,094: Hasbro Iron Man 3 Marvel Legends Lieutenant Colonel James Rhodes
Day 1,484: Hasbro Captain America Civil War Spider-Man, Captain America, and Iron Man Action Figures
Day 2,438: Hasbro Marvel Iron Man Action Figure
Day 2,516: Hasbro Marvel Legends 375 Iron Man Action Figure
Day 2,536: Hasbro Marvel Legends 375 Iron Man (Stealth Armor) Action Figure

Want to buy this figure? Check Iron Man availability at our sponsors:
Entertainment Earth