Deep Dive
A Tail-Ender To Remember

Transformers Reveal the Shield Voyager Figures Wave 2 (or Gold/HTFD Wave 5)
Item No.: Asst. 98457 No. 28587
Manufacturer: Hasbro
Includes: Two launchers, two projectiles
Action Feature: Transforms into hovercraft, spring-loaded rockets
Retail: $9.99-$24.99
Availability: Spring 2011
Other: The Black Sea Spray Repaint

PREVIOUS
RSS
NEXT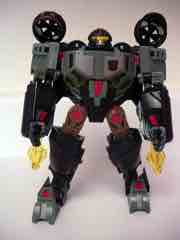 While it seemed that Hasbro had high hopes for its Reveal the Shield line with the return of a classic sticker-based gimmick and tons of new and classic characters, the line limped out of the gate much in the same way your squeeze ketchup sort of spews out of the soon-to-be-empty bottle. "Is that it?" you ask. Yes, yes it is-- and Deep Dive was one of the final toys (and the final Voyager-class boxed toy) in this short-lived line. Granted, short-lived is a good term to describe the bulk of the 2010-2011 offerings from Hasbro and Takara-Tomy's Transformers lines... we got a lot in a very short time, but a significant percentage qualified as scarce and heaven help you if you wanted to buy it retail.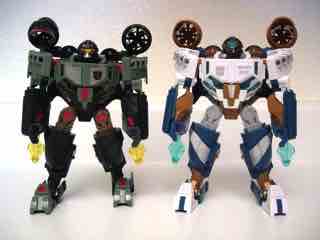 Not being one to waste molds, Hasbro quickly repainted its 2010 Sea Spray toy in very dark colors, with grey, more grey, a little yellow, silver, and some more grey to bring you the new character Deep Dive. (Or maybe it's more of a green. Whatever. It's murky and swampy.) Some saw the coloring as a reference to the G.I. Joe Killer W.H.A.L.E. toy and... eh, maybe. They're fundamentally different kinds of aquatic vehicles, while both are hovering vehicles with big fans on them, one is more of a troop transport and the other is a vehicle transport. Deep Dive retains the little wheels on the bottom of Sea Spray and the same basic mechanisms, although he's a little stiffer and some elements of the transformation process border on stressful, in all senses of the word.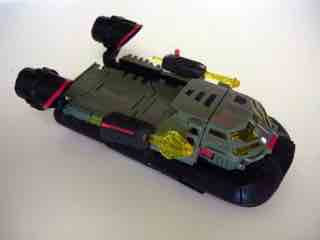 The Reveal the Shield series is sorely lacking in Decepticons, and when I first heard about this guy being a black Sea Spray I thought "cool, a new Decepticon!" Nope! Hasbro made this an Autobot, and the line was bizarrely balanced to the good guys-- Reveal the Shield sported 17 Autobot characters to its 5 Decepticons, all of which were dumped between November 2010 and June 2011 when Deep Dive and his ilk showed up at deep discounter stores after a brief stint as a de facto online exclusive.
In robot mode, his "Reveal the Shield" sticker appears on his chest, much like how Sea Spray's symbol (and name) appear on his torso. The character gains more color in the robot form, with red paint and plastic becoming visible as well as his bright yellow eyes. The firing rockets can be mounted to the bottom of his forearms, or held in his large and open hands. My favorite feature about this guy are his flip-out swim fins. It's so ridiculous that a giant robot would need little flippers on his feet, but it's adorably goofy and so endearing that it's almost sad these guys didn't get a shot at TV stardom in the cartoons or in the comics.
I found transforming Deep Dive a clunky experience compared to Sea Spray, as my sample had seemingly tighter joints and in spots didn't feel like it pegged together quite as well. It's still pretty close though, and fundamentally the same kind of toy in new colors. The toy is meant to be played with in conjunction with your other toys, the box (oddly) calls out that his vehicle bed can store other Scout-class toys, a term I assume to be inside baseball to any non-collector who might buy it. The toy also has a series of those raised rods so you can attach c-joint/c-clamp/Miyake Joint weapons if you're so inclined. Since you probably don't exactly have a bunch of those, well, who cares? Not me, that's who.
I didn't want this toy at the $25 or so prices asked online, but at $10? I went out hunting for this guy and am quite happy with him. As a cheap toy, Deep Dive (or Sea Spray if you find him) are both totally delightful toys and are on par with or are better than numerous deluxe toys. They feel a little sturdier and more chunky than their blister-carded cousins, and feel more durable than other voyagers-- Bludgeon/Banzaitron, I'm looking at you two. This mold feels like more of a toy than the other, slightly more fragile designs out there, so I would say get this one and be happy. I think your kids might like it too.
--Adam Pawlus
Additional Images

Click here to see more Hasbro figures in Figure of the Day.

Click here to see more Transformers figures in Figure of the Day.

Want to buy this figure? Check Transformers availability at our sponsors:
Entertainment Earth