Darkmount
Blue Tank Decepticon Warlord

Transformers Generations Deluxe Figures Wave 2
Item No.: Asst. 98452 No. 19819
Manufacturer: Hasbro
Includes: Blaster, engine
Action Feature: Transforms from robot to tank-like thing
Retail: $11.99
Availability: September 2010
Other: Marvel Comics' Straxus

PREVIOUS
RSS
NEXT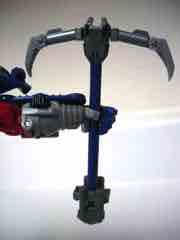 Standing about 6-inches tall, Darkmount is a tank that turns into a robot based on his comic book appearances. In case you were curious, he debuted in Marvel's Transformers #17, which is why he says M17 on the side of his tank mode. His coloring, according to the Transformers Wiki, was the result of Hasbro getting a look at a piece of art from a fan publication given to them by the great and powerful Monzo, a super-fan who's a really nice guy if you get the chance to speak to him. But I digress.
The toy is technically a triple-changer of a character you don't know with a really great robot mode, a top-notch vehicle mode, and a sort of a base mode thing that's about as much of a wonderful creation as taking a dump in a sack of M&Ms. Sure, you can do it, but why? The halftrack vehicle mode is, as most vehicles, just fine. There aren't any firing weapons or anything kooky, but the toy does have a series of small bars which allow the use of clamp-on guns or other weapons. If you're into it.
Darkmount's robot form is slightly more impressive. It has a lot of things that toys this size generally don't, like articulated fingers, wrist joints, double elbows, double shoulders, and other odds and ends to create a more poseable Decepticon dictator. There are a bunch of nice sculpted bits and while not a dead ringer for his comic inspiration, he certainly fits the bill of close enough. Oh, and he has a giant pickaxe thing as a weapon, which means he's either a zany gold prospector or a serial killer. Or both! The axe becomes the tank's cannon, and the fairly involved transformation process yields a solid vehicle and a great robot without pieces popping off and curse words being thrown about.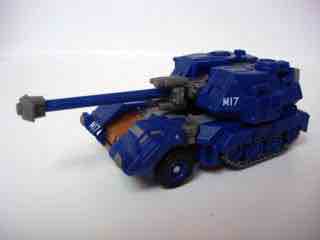 It's not entirely known why Hasbro elected for "Darkmount" as a name over "Straxus," but the fans figured it out and this guy seems to have made many fans a-tingle. This is why, in 2010, it seems Hasbro can largely do no wrong. While not as blocky as most G1 characters, this Generation 1-inspired toy is indeed bulky but has a load of articulation to make him more fun to play with.
I should also note this toy has a ton of weapon "bars" which can be used with any of the three clamp-on weapons included in this set, or ones from other toys. (In the picture, i've got Breacher's gun on him.) It's a nice bonus feature, but I think it might actually have been a better toy were it not covered in these particular details. Having said that, it's totally worth your twelve bucks.
...repaint fans, Skullgrin uses the same mold with a new head and came out in November 2010. The deco is really sharp, and I would indeed suggest buying both toys even though they're basically the same thing.
--Adam Pawlus
Additional Images

Click here to see more Hasbro figures in Figure of the Day.

Click here to see more Transformers figures in Figure of the Day.

Want to buy this figure? Check Transformers availability at our sponsors:
Entertainment Earth