Barett Wallace
from Japan to you

Final Fantasy VII Extra Knights #3 of 7
Item No.: n/a
Manufacturer: BanDai
Includes: n/a
Action Feature: n/a
Retail: est. $15
Availability: 1997
Other: Japanese release

PREVIOUS
RSS
NEXT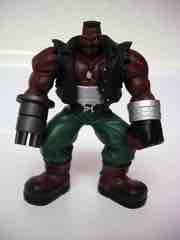 If you were a gamer in the 1990s, you no doubt knew the importance of Final Fantasy VII in the grand scheme of things. It brought RPGs to the masses in the west, and basically crammed the genre down the throats of people who didn't know what it was they were buying-- gorgeous cinematics can do much to sell a game to those who dare not read reviews. The title also got a little heat for its localization, which gave Barett Wallace a characterization somewhere close to Mr. T. Some people did not enjoy this, but hey-- the game sold.
Mr. Wallace has the unfortunate distinction of being one of the few forgotten characters from this landmark game. Cloud, the girls, Vincent, and Sephiroth all got a lot of love in the years to come, but Barett and Cid? Not so much. (A Cid drawing is even shown on the cardbacks-- no such BanDai figure ever saw release.) While other Barett collectibles, like key chains, were released, this may be one of the best you can buy. It's a big, sturdy figure with limited articulation at the shoulders, wrist, gun, neck, and hips.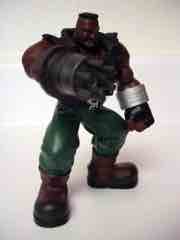 While the sculpt isn't perfect, it's quite good-- he looks like a tough character, complete with tattoo and a rotating gun for an arm. Generally speaking, people with gun arms get the benefit of the doubt when being called "tough." He stands about 4 1/2 inches tall, and stands quite well-- he's got giant booted feet so there are few to no problems getting him to stay standing. Other figures in the line included stands to assist them in not faceplanting on the floor in front of your toy shelves.
I got this one online and the original price tag is still on the box. Ordering toys online today is no big deal, but I got this in 1997 when it first came out, and your options were pretty limited at the time. Thankfully, things are a lot better today with more options and better search capabilities than we had back in the 1990s, which usually amounted to this: "You have it? Great! I'll take it. How much? Doesn't matter."
Collector's Note: This figure was sold in the USA and in Japan on very similar packaging. The non-Japan release has a big black "CHOKE HAZARD WARNING" box where the Extra Knights graphic appears on the Japanese release. The US version is more common and is missing several paint applications, so be sure that if you're going to pay a premium that you get the Japanese original release. The quality is a little bit higher.
--Adam Pawlus
Additional Images

See more BanDai figures in Figure of the Day:
Day 22: Tamagoras Get Back To Job Lion
Day 150: BanDai Final Fantasy VII Extra Knights Red XIII Action Figure
Day 167: BanDai Final Fantasy VII Extra Knights Barett Wallace Action Figure
Day 185: BanDai Final Fantasy VII Extra Knights Tifa Lockheart Action Figure
Day 216: BanDai Tick Bounding Tick Action Figure
Day 236: BanDai Final Fantasy VII Extra Knights Sephiroth Action Figure
Day 268: BanDai Megaman Trading Figures Jumping Megaman Action Figure
Day 310: BanDai ThunderCats 4-Inch Lion-O Action Figure
Day 1,360: BanDai Godzilla Tokyo Vinyl Mechagodzilla Action Figure
Day 1,370: BanDai Godzilla Fusion Series 1968 Godzilla Action Figure
Day 1,377: BanDai Godzilla Fusion Series Gigan Action Figure
Day 1,386: BanDai Godzilla Anguirus 2004 Action Figure
Day 1,393: BanDai Godzilla SpaceGodzilla Action Figure
Day 1,408: BanDai Godzilla Rodan 2004 Action Figure
Day 1,458: BanDai Gamera Heisei Gamera Action Figure
Day 1,625: BanDai Shin Godzilla Third Form Vinyl Figure
Day 1,773: BanDai Xyber 9 New Dawn Ikira's Speeder
Day 1,980: BanDai Saban's BeetleBorgs Metallix Mega Spectra Titanium Silver Sector Cycle Vehicle with Action Figure
Day 2,021: BanDai Mystic Knights of Tir Na Nog The Drageen Action Figure
Day 2,135: BanDai Shin Godzilla Second Form Vinyl Figure

See more Final Fantasy figures in Figure of the Day:
Day 150: BanDai Final Fantasy VII Extra Knights Red XIII Action Figure
Day 167: BanDai Final Fantasy VII Extra Knights Barett Wallace Action Figure
Day 185: BanDai Final Fantasy VII Extra Knights Tifa Lockheart Action Figure
Day 236: BanDai Final Fantasy VII Extra Knights Sephiroth Action Figure

Want to buy this figure or others like it? Check Final Fantasy availability at our sponsors:
Entertainment Earth