Godzilla Fusion Series Gigan Action Figure
Glittery Fusion Series Variant

Godzilla Vinyl Figures
Item No.: Asst. 91880 No. 91880
Manufacturer: BanDai
Includes: n/a
Action Feature: n/a
Retail: $14.99
Availability: April 2012
Other: From... take your pick

PREVIOUS
RSS
NEXT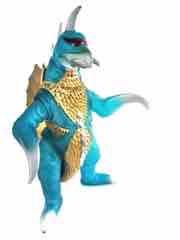 I didn't think I needed a Fusion Series Gigan but it was was a thrift store find. Apparently one of my favorite lunch spots is near a thrift store that seems to have interesting - and often cheap - toys dumped here regularly, so I guess I picked the right area to work.
The 6 1/2-inch vinyl figure is a redeco of a 2002 mold which I just happened to have handy - I was buying Japanese Godzilla toys to woo the future Mrs. 16bit, who as it turns out does not have the collecting bug. So... hey, I guess it worked? The paint apps are virtually identical with silver, gold, and red covering the body and hear fairly nicely with swell fades that just happen to look gorgeous with the bright green and glittery plastic. This particular Fusion Gigan goes for a decent price on eBay and I can see why - unlike the murky, smokey Godzilla this is a bright, chipper-looking figure. And dagnabbit, I'd buy more if I saw them.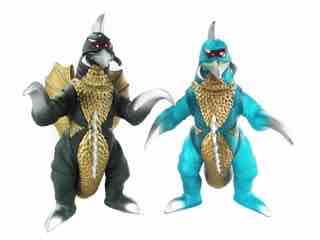 Articulation is on par for the rest of this line. Gigan is a hollow vinyl figure with an articulated neck, arms, and hips which probably say more for keeping it cheap than for making a collector-grade figure.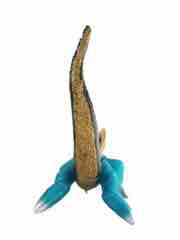 If you aren't already interested in the idea of vinyl collector figures, odds are very little will be able to convince you. The idea of a really cheap figure that costs a lot of money is tough to embrace, but at least this particular take on it was cheap. This was effectively a "chase figure" in a line that, for better or worse, really didn't get the level of distribution it deserved. Despite being a staple in the diet of many children, Godzilla films aren't exactly a huge part of pop culture at large so it's not uncommon for kids or collectors to want a Godzilla and not know why. You might not seek them out, but if you see it, you'll want it. This is totally OK and a good way to approach this kind of toy line.
I lucked into this toy in a $2 sack of vinyl along with Anguiras and a Tokyo Vinyl SD Mecha Godzilla. You probably won't. For the original going rate - heck, I'd say $25-$30 - this is a pretty nice figure. The vinyl isn't as shiny or clear as what you get in collector lines (read: Hikari) but it's significantly cheaper. And meant to be a toy. That's kind of what I wish we'd see more of - I like collector toys for adult fans, but I'd also prefer to see more toys meant to be toys. I know SH MonsterArts figures are good, but they're not meant to be played with by kids and I got into this hobby because I was a kid who liked toys. Adult collectibles have the dubious distinction of being cool and often specifically marked "not for kids" right on the box. It's so depressing. So get a figure like this and be happy - ages 4 and up ensures a wider audience and lower prices for the rest of us.
--Adam Pawlus
Additional Images

See more BanDai figures in Figure of the Day:
Day 22: Tamagoras Get Back To Job Lion
Day 150: BanDai Final Fantasy VII Extra Knights Red XIII Action Figure
Day 167: BanDai Final Fantasy VII Extra Knights Barett Wallace Action Figure
Day 185: BanDai Final Fantasy VII Extra Knights Tifa Lockheart Action Figure
Day 216: BanDai Tick Bounding Tick Action Figure
Day 236: BanDai Final Fantasy VII Extra Knights Sephiroth Action Figure
Day 268: BanDai Megaman Trading Figures Jumping Megaman Action Figure
Day 310: BanDai ThunderCats 4-Inch Lion-O Action Figure
Day 1,360: BanDai Godzilla Tokyo Vinyl Mechagodzilla Action Figure
Day 1,370: BanDai Godzilla Fusion Series 1968 Godzilla Action Figure
Day 1,377: BanDai Godzilla Fusion Series Gigan Action Figure
Day 1,386: BanDai Godzilla Anguirus 2004 Action Figure
Day 1,393: BanDai Godzilla SpaceGodzilla Action Figure
Day 1,408: BanDai Godzilla Rodan 2004 Action Figure
Day 1,458: BanDai Gamera Heisei Gamera Action Figure
Day 1,625: BanDai Shin Godzilla Third Form Vinyl Figure
Day 1,773: BanDai Xyber 9 New Dawn Ikira's Speeder
Day 1,980: BanDai Saban's BeetleBorgs Metallix Mega Spectra Titanium Silver Sector Cycle Vehicle with Action Figure
Day 2,021: BanDai Mystic Knights of Tir Na Nog The Drageen Action Figure
Day 2,135: BanDai Shin Godzilla Second Form Vinyl Figure

See more Godzilla figures in Figure of the Day:
Day 1,360: BanDai Godzilla Tokyo Vinyl Mechagodzilla Action Figure
Day 1,370: BanDai Godzilla Fusion Series 1968 Godzilla Action Figure
Day 1,377: BanDai Godzilla Fusion Series Gigan Action Figure
Day 1,386: BanDai Godzilla Anguirus 2004 Action Figure
Day 1,393: BanDai Godzilla SpaceGodzilla Action Figure
Day 1,408: BanDai Godzilla Rodan 2004 Action Figure
Day 1,469: X-Plus Godzilla Garage Toy Titanosaurus 1975 Version Vinyl Figure
Day 1,540: Funko Pop! Movies Atomic Breath Godzilla Pop! Vinyl Figure
Day 1,625: BanDai Shin Godzilla Third Form Vinyl Figure
Day 2,135: BanDai Shin Godzilla Second Form Vinyl Figure
Day 2,465: Super7 Godzilla Godzilla '54 (Glow-in-the-Dark) ReAction Figure
Day 2,530: Super7 Godzilla Mechagodzilla (Glow-in-the-Dark) ReAction Figure