Soundwave
US Silver, China Gold

Transformers SDCC 2016 Exclusive
Item No.: No. B4699
Manufacturer: Hasbro
Includes: 2 guns, robot
Action Feature: Transforms from Xiaomi Mi Pad II to robot
Retail: $39.99
Availability: July 2016
Other: Xiaomi Mi Pad II

PREVIOUS
RSS
NEXT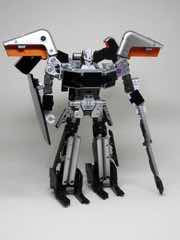 So a series of strange reports from China indicated that this Soundwave (China's is gold, the US version is silver) would be a crowdfunded item - yet was available fully packaged at the time of the crowdfunding. I don't get it. But what I do get is that the toy has a Xiaomi Mi Pad II alt mode and was indeed sold in the USA as a Comic-Con exclusive. In China, it was around $20 - in the USA, it was $40. I bought one because it was weird. The robot is roughly voyager-sized, but features classic (non-movie) Decepticon symbols yet is clearly designed with the crunchy, jagged Michael Bay movie aesthetic. It's its own thing, simultaneously modern and a throwback to the Microchange origins of Transformers - it's even packaged compactly in a tiny box that feels and looks a lot like something you'd get an actual iPad in. Also, it's worth noting that Xiaomi is very fond of Apple's aesthetic and has been doing a pretty notable job of cribbing their look - which in turn got turned over to Hasbro, and now you have a toy that turns from something that's almost an iPad Mini to something that's sort of a movieverse Soundwave. It's fun, get one.
This 6-inch robot has tall shoulder kibble and is generally a Voyager-class toy. Unlike most modern toys, the alt mod clearly came first - which is why you've got an incredibly skinny tablet in a tiny box. The pieces explode out nicely, folding and twisting and doubling up to form arms, legs, a torso, and even a vaguely Buzzsaw/Laserbeak-inspired optional backpack. Oh, and guns. And a shield, because that kibble has to go somewhere. He's got about 16 joints, with a neck that doesn't pose due to the head being a 3-piece sandwich made of folding the Mi Pad bits on top of itself after some twists and turns. It's incredibly satisfying and tons of fun. A camera on his left shoulder approximates the original G1 toy's shoulder cannon, and he even retains 5mm compatible fists for whatever needs you may have. Deco is pretty simple - some black, some silver, a little orange, it's clever. It's nice.
The head is pretty spectacular, vaguely resembling the movie look in its jaggedness but not in the colors. A blue visor on a Decepticon? Unheard-of. It's neat though. A lot of little circuit details are sculpted in his kibble, and while he does have an exceptional amount of articulation it doesn't exactly beget awesome poses. He has no problems standing thanks to his massive claw feet, and I assume some sort of mass-shifting power. He has two blasters which can merge to become a longer rifle, which is certainly a very nice feature.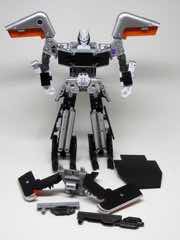 Transformation is easy - and it's a blessing it got packaged in alt mode. It's almost always easier to go from alt mode to robot than vice-versa, so I really appreciate it coming to me as tightly compacted as possible. From robot mode, it's not all that hard - it's sort of like a Rubik's Cube with only two sides. You can easily figure it out, it's real puzzle play because the pad mode is very distinctive and everything slides in place. This toy is going to ruin me for some of the others they're doing.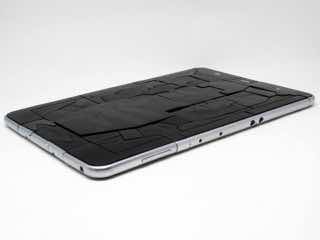 His alt mode is kind of perfect - from the front, it's a switched-off Mi Pad II with a blank black screen. It has numerous vestigial ports and buttons, plus a fake 3.5mm headphone jack - the "tablets" in Titans Return sport these as well. You could plug in a standard pair of headphones in there, until they adopt a proprietary port and then tick off everybody. The screen itself is incredibly black, but also a little oily - if you have those microfiber cloths to clean your glasses, you may want to deploy one here. Obviously, it's a prop - it doesn't actually run apps or anything.
The packaging is a foily box with a glossy Soundwave printed on the front and very little branding. It's very un-Hasbro - entirely in English, minimal copy, and no co-sells. It's refined. If they sold you this for $100 at some sort of boutique as a "Masterpiece," you'd pay it - the presentation is that good. Even the fake anti-static bag it comes in has printing on the back to obscure the visible kibble on the back of the tablet mode. Very clever.
I'm mildly obsessed with toys that can change in to fake real world objects. I've got Microman ramen and soda, G1 Soundwave and Blaster, and to this day I'm mad I never got a Microstation. And who could resist the Mega Drive Megatron? I like this Soundwave, and my guess is he'll appeal mostly to non-collectors and fans without wings of their house devoted to robot toys. This is the kind of thing an executive could probably keep in an alt mode on their desk or a shelf and not worry about too much judgment, because some people are a cowardly lot when it comes to expressing what they love. (Don't be that person.) Having futzed with Alternators and kibble-prone Beast Wars Neo and Car Robots toys, I'd say this is a more satisfying experience. Yes, it's strange - but that's why you want one. The official Chinese release has a gold tint, I prefer the silver of the USA version - so that worked out nicely.
--Adam Pawlus
Additional Images

Click here to see more Hasbro figures in Figure of the Day.
Click here to see more Transformers figures in Figure of the Day.

Want to buy this figure? Check Transformers availability at our sponsors:
Entertainment Earth