World of Nintendo 8-Bit White Link Action Figure
Series 1-1

World of Nintendo Walgreens Exclusive 2.5-inch Scale Action Figures
Item No.: Asst. 78276 No. 95705
Manufacturer: Jakks Pacific
Includes: n/a
Action Feature: n/a
Retail: $4.99
Availability: November 2015
Other: From The Legend of Zelda

PREVIOUS
RSS
NEXT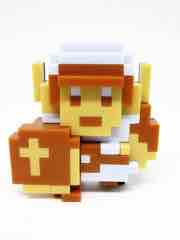 I finally stumbled on this periwinkle/pink "blue ring" version at Walgreens quite some time after the green and red ones, and months after they started hitting eBay. The (if you ask me) erroneously named 8-Bit White Link could have been called pink, or maybe simply "Blue Ring Link." This isn't white, but it is a redeco of the original green 8-Bit Link [FOTD #1,320] And that about wraps up everything they can do with this mold short of using the rainbow colors deployed once you pick up that time-stopping Clock. (Remember that? Boy howdy, they let that go in the series.)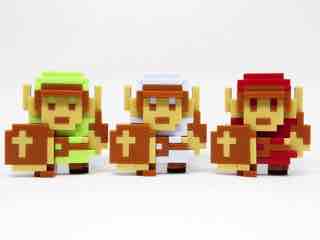 Standing about 2 1/2-inches tall, Link is a recolor that resembles how Link looked for most of the game when I play it - I buy that Blue Ring early on and don't get the red one until the very end, so in the old days Link is mostly pink to me.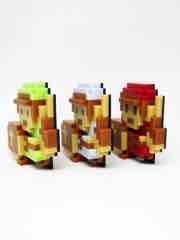 With no magic shield, the figure is pretty much how you look after an ambush by Like Likes. Those were terrible creatures that could eat your very expensive shield - meaning you've got to make a walk of shame back to the store and shell out 90, 130, or 160 Rupees. Those creatures have yet to be rendered as toys, but it does show how if you go back to the original Zelda game, you can smell the TSR influence.
As a fan of 8-bit cheap figures, I'll pick up every last one of these that I can find - for five dollars, I'm amazed Jakks made something that has some dimension and decent coloring at a decent price. It's probably not really worth five bones, but I got my money's worth. And I also hunted for over five straight months for these dumb things, enlisting the help of friends who were very patient until I stumbled on them one afternoon after a trip to Kmart (to find their exclusive Rey) and Lenny's (because I love going to Lenny's).
--Adam Pawlus
Additional Images

See more Jakks Pacific figures in Figure of the Day:
Day 471: Jakks Pacific S.L.U.G. Zombies Macho Mangler, Flesh-Eatin' Phil, Buck Wilde Minifigures 3-Pack
Day 503: Jakks Pacific S.L.U.G. Zombies Extra Crispy, Zero Hero, Riled-Up Riley Minifigures
Day 545: Jakks Pacific S.L.U.G. Zombies Hungry Humbug, Nutty Nate, Captain Payback Minifigures
Day 818: Jakks Pacific S.L.U.G. Zombies Ralph Reindead, Surprise Demise, Blazin' Basel Minifigures 3-Pack
Day 1,032: Jakks Pacific World of Nintendo Skyward Sword Link Action Figure
Day 1,125: Jakks Pacific World of Nintendo Metroid Action Figure
Day 1,162: Jakks Pacific World of Nintendo Metroid Samus Action Figure
Day 1,182: Jakks Pacific World of Nintendo Mario Action Figure
Day 1,186: Jakks Pacific World of Nintendo Luigi Action Figure
Day 1,320: Jakks Pacific World of Nintendo 8-Bit Link Action Figure
Day 1,336: Jakks Pacific World of Nintendo 8-Bit Luigi Action Figure
Day 1,341: Jakks Pacific World of Nintendo 8-Bit Donkey Kong Action Figure
Day 1,347: Jakks Pacific World of Nintendo ComicConBox.com Metallic Metroid Samus Action Figure
Day 1,349: Jakks Pacific World of Nintendo 8-Bit Mario Action Figure
Day 1,363: Jakks Pacific World of Nintendo Shy Guy Action Figure
Day 1,367: Jakks Pacific World of Nintendo Convention Exclusive Jakks Giants Link Action Figure
Day 1,369: Jakks Pacific World of Nintendo Jakks Giants Mario Action Figure
Day 1,380: Jakks Pacific World of Nintendo Tanooki Mario Action Figure
Day 1,398: Jakks Pacific World of Nintendo Boo Action Figure
Day 1,438: Jakks Pacific World of Nintendo Metroid Gravity Suit Samus Action Figure
Day 1,444: Jakks Pacific World of Nintendo 8-Bit Red Link Action Figure
Day 1,447: Jakks Pacific World of Nintendo 8-Bit Star Power Mario Action Figure
Day 1,454: Jakks Pacific World of Nintendo 8-Bit White Link Action Figure
Day 1,475: Jakks Pacific World of Nintendo Samus Mini Action Figure
Day 1,490: Jakks Pacific World of Nintendo 8-Bit Classic Mario Action Figure
Day 1,512: Jakks Pacific Batman v. Superman: Dawn of Justice Jokers Wild Batman
Day 1,537: Jakks Pacific World of Nintendo Metroid Action Figure
Day 1,624: Jakks Pacific World of Nintendo Blooper Action Figure
Day 1,647: Jakks Pacific World of Nintendo Metroid Phazon Suit Samus Action Figure
Day 1,652: Jakks Pacific World of Nintendo Goomba Action Figure
Day 1,668: Jakks Pacific World of Nintendo 8-Bit Toad Action Figure
Day 1,672: Jakks Pacific World of Nintendo Boo Glow Action Figure
Day 1,677: Jakks Pacific World of Nintendo 8-Bit Star Luigi Action Figure
Day 1,751: Jakks Pacific World of Nintendo 8-Bit Toad Variant Action Figure
Day 1,824: Jakks Pacific S.L.U.G. Zombies Gangrene Gene, Ferpcious Frankie, Johnson Minifigures 3-Pack
Day 1,863: Jakks Pacific S.L.U.G. Zombies Santa Claws, Eli the Expired Elf, Gator Jones Minifigures 3-Pack
Day 1,991: Jakks Pacific World of Nintendo 8-Bit Princess Peach Action Figure
Day 2,490: Jakks Pacific S.L.U.G. Zombies Frozen Fright, Johnny Hammer-stix, Buck Wilde Minifigures 3-Pack
Day 2,614: Jakks Pacific Metroid Samus

See more Nintendo figures in Figure of the Day:
Day 134: Applause Super Mario Bros. Super Mario with Koopa Troopa Action Figure
Day 369: Applause Zelda II: The Adventure of Link Link PVC Figure
Day 833: K'Nex Super Mario Blind-Bagged Series #2 Boo Action Figure
Day 926: Hasbro Pokemon Ash & Pikachu
Day 1,032: Jakks Pacific World of Nintendo Skyward Sword Link Action Figure
Day 1,083: Nintendo Super Smash Bros. Amiibo Samus Aran
Day 1,107: Nintendo Super Smash Bros. Amiibo Link
Day 1,125: Jakks Pacific World of Nintendo Metroid Action Figure
Day 1,162: Jakks Pacific World of Nintendo Metroid Samus Action Figure
Day 1,182: Jakks Pacific World of Nintendo Mario Action Figure
Day 1,186: Jakks Pacific World of Nintendo Luigi Action Figure
Day 1,280: Nintendo Super Mario Maker Classic Color Mario
Day 1,296: Nintendo Super Smash Bros. Amiibo Mega Man
Day 1,299: Nintendo Super Smash Bros. Zero Suit Samus
Day 1,320: Jakks Pacific World of Nintendo 8-Bit Link Action Figure
Day 1,335: Mattel Hot Wheels Nintendo Cool-One (Super Mario)
Day 1,336: Jakks Pacific World of Nintendo 8-Bit Luigi Action Figure
Day 1,341: Jakks Pacific World of Nintendo 8-Bit Donkey Kong Action Figure
Day 1,345: Nintendo Super Smash Bros. R.O.B., Mr. Game & Watch, and Duck Hunt
Day 1,347: Jakks Pacific World of Nintendo ComicConBox.com Metallic Metroid Samus Action Figure
Day 1,349: Jakks Pacific World of Nintendo 8-Bit Mario Action Figure
Day 1,363: Jakks Pacific World of Nintendo Shy Guy Action Figure
Day 1,367: Jakks Pacific World of Nintendo Convention Exclusive Jakks Giants Link Action Figure
Day 1,369: Jakks Pacific World of Nintendo Jakks Giants Mario Action Figure
Day 1,380: Jakks Pacific World of Nintendo Tanooki Mario Action Figure
Day 1,392: Toy Biz Video Game Super Stars Mario Kart 64 Mario Action Figure
Day 1,398: Jakks Pacific World of Nintendo Boo Action Figure
Day 1,404: Medicom Nintendo Series Legend of Zelda Link Ultra Detail Figure
Day 1,430: Sonic Drive-In Mario & Luigi Paper Jam Mario Figure
Day 1,433: Nintendo Shovel Knight Amiibo
Day 1,438: Jakks Pacific World of Nintendo Metroid Gravity Suit Samus Action Figure
Day 1,444: Jakks Pacific World of Nintendo 8-Bit Red Link Action Figure
Day 1,447: Jakks Pacific World of Nintendo 8-Bit Star Power Mario Action Figure
Day 1,454: Jakks Pacific World of Nintendo 8-Bit White Link Action Figure
Day 1,475: Jakks Pacific World of Nintendo Samus Mini Action Figure
Day 1,490: Jakks Pacific World of Nintendo 8-Bit Classic Mario Action Figure
Day 1,537: Jakks Pacific World of Nintendo Metroid Action Figure
Day 1,568: Good Smile Company The Legend of Zelda: A Link Between Worlds Link Deluxe Action Figure
Day 1,599: Nintendo Toad Amiibo
Day 1,601: The Octavirate Forge Shapeways NES Inspired Zapper Gun 5mm Grip
Day 1,605: Nintendo The Legend of Zelda Link Amiibo
Day 1,624: Jakks Pacific World of Nintendo Blooper Action Figure
Day 1,647: Jakks Pacific World of Nintendo Metroid Phazon Suit Samus Action Figure
Day 1,649: Nintendo Super Smash Bros. Little Mac Amiibo
Day 1,652: Jakks Pacific World of Nintendo Goomba Action Figure
Day 1,668: Jakks Pacific World of Nintendo 8-Bit Toad Action Figure
Day 1,672: Jakks Pacific World of Nintendo Boo Glow Action Figure
Day 1,677: Jakks Pacific World of Nintendo 8-Bit Star Luigi Action Figure
Day 1,691: Nintendo Super Smash Bros. Zelda Amiibo
Day 1,733: Nintendo Super Smash Bros. Wii Fitness Trainer Amiibo
Day 1,751: Jakks Pacific World of Nintendo 8-Bit Toad Variant Action Figure
Day 1,795: Nintendo Super Mario Boo Amiibo
Day 1,811: Hasbro Nintendo Diddy Kong Monopoly Gamer Power Pack
Day 1,812: Nintendo Metroid Samus Aran and Metroid Amiibo
Day 1,823: Hasbro Nintendo Boo Monopoly Gamer Power Pack
Day 1,843: Hasbro Nintendo Luigi Monopoly Gamer Power Pack
Day 1,858: Hasbro Nintendo Wario Monopoly Gamer Power Pack
Day 1,896: Good Smile Company Metroid Prime 3: Corruption Samus Aran Action Figure
Day 1,897: Hasbro Nintendo Fire Mario Monopoly Gamer Power Pack
Day 1,991: Jakks Pacific World of Nintendo 8-Bit Princess Peach Action Figure
Day 2,068: Nintendo Super Smash Bros. Ridley Amiibo
Day 2,159: The Legend of Zelda: Link's Awakening Amiibo Link
Day 2,170: Nintendo Super Smash Bros. Simon Amiibo
Day 2,340: Mattel Hot Wheels HW Screen Time Standard Kart
Day 2,361: Nintendo Metroid Dread Samus Aran and E.M.M.I. Amiibo
Day 2,614: Jakks Pacific Metroid Samus