Super Smash Bros. Ridley
Japanese Packaging in America

Super Smash Bros. Amiibo Super Smash Bros. Switch Launch Amiibo
Item No.: No. PUAA-NVL-C-AACW-USZ-CO
Manufacturer: Nintendo
Includes: n/a
Action Feature: Works with a lot of stuff
Retail: $15.99
Availability: December 5, 2018
Other: The First US Ridley Figure?

PREVIOUS
RSS
NEXT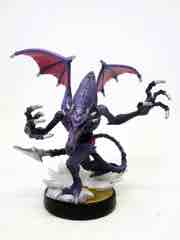 Unless there was some low-run Japanese keshi in the 1980s I missed, this a Super Smash Bros. Ridley Amiibo may be the first toy of the character. Each game with Ridley seems to change the character's appearance a bit, and you could probably do a pretty robust toy line just with the different versions of the alien menace from the NES original and stuff surrounding that appearance. The instruction booklet artwork is a bizarre, gorgeous creation that menaces me by not existing as a toy. The current look is the Amiibo, which looks a bit like the recent Smash Bros. trophies with some changes. The purple and pink coloring has been consistent with most recent games, but the crest on the head seems longer and the mouth is a little different.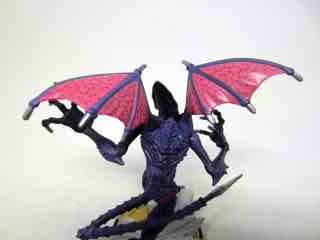 Ridley has a sort of an expanded steel pattern on the interior of the wings, looking a little like the game but less organic. The "veins" don't extend to all sides of the wings, but it's close. Claws are painted, as are the points on the wings. A visible energy blast from the base looks nice, but most of the other figures in this line don't have that - granted, most other ones aren't giants either. This is a smaller figure of a large alien, so things like this help set it apart from its human-sized companions.
The painted mouth interior, painted teeth, and painted pink elements between plates in the skin are impressive. Sculpting is good, but seemingly softer than other Amiibo figures I've bought. The figure sits on the stand perfectly, and looks like it should be stable over time despite thin limbs. This is a tough thing to do well, but the plastic seems sturdier than a lot of other thin-limbed figures I have bought lately. We won't know for sure how well it will hold up until it starts to sag down the line, if that's a thing that even happens.
I'm a sucker for toys from the Metroid series, and they're far and few between. The USA got nothing during the initial game releases, and slowly we've had a Samus here and there and a couple of Metroids. Ridley is a welcome addition, and with the likes of Mother Brain and Kraid there are still a few other characters that should be easy sellers should someone decide to actually produce them. Sure a brain in a jar isn't going to be an "action" figure, but it would be cool. Ridley is amazing as a design, and the giant wings and thin limbs translate surprisingly well to a tiny figural statue. An action figure might sag and collapse under the weight, so Nintendo did a nice job here making a good - but not spectacular - first attempt at the character. Obviously, recommended.
--Adam Pawlus
Additional Images


See more Amiibo figures in Figure of the Day:
Day 1,083: Nintendo Super Smash Bros. Amiibo Samus Aran
Day 1,107: Nintendo Super Smash Bros. Amiibo Link
Day 1,280: Nintendo Super Mario Maker Classic Color Mario
Day 1,296: Nintendo Super Smash Bros. Amiibo Mega Man
Day 1,299: Nintendo Super Smash Bros. Zero Suit Samus
Day 1,345: Nintendo Super Smash Bros. R.O.B., Mr. Game & Watch, and Duck Hunt
Day 1,433: Nintendo Shovel Knight Amiibo
Day 1,599: Nintendo Toad Amiibo
Day 1,605: Nintendo The Legend of Zelda Link Amiibo
Day 1,649: Nintendo Super Smash Bros. Little Mac Amiibo
Day 1,691: Nintendo Super Smash Bros. Zelda Amiibo
Day 1,733: Nintendo Super Smash Bros. Wii Fitness Trainer Amiibo
Day 1,795: Nintendo Super Mario Boo Amiibo
Day 1,812: Nintendo Metroid Samus Aran and Metroid Amiibo
Day 2,068: Nintendo Super Smash Bros. Ridley Amiibo
Day 2,159: The Legend of Zelda: Link's Awakening Amiibo Link
Day 2,170: Nintendo Super Smash Bros. Simon Amiibo
Day 2,361: Nintendo Metroid Dread Samus Aran and E.M.M.I. Amiibo

See more Nintendo figures in Figure of the Day:
Day 134: Applause Super Mario Bros. Super Mario with Koopa Troopa Action Figure
Day 369: Applause Zelda II: The Adventure of Link Link PVC Figure
Day 833: K'Nex Super Mario Blind-Bagged Series #2 Boo Action Figure
Day 926: Hasbro Pokemon Ash & Pikachu
Day 1,032: Jakks Pacific World of Nintendo Skyward Sword Link Action Figure
Day 1,083: Nintendo Super Smash Bros. Amiibo Samus Aran
Day 1,107: Nintendo Super Smash Bros. Amiibo Link
Day 1,125: Jakks Pacific World of Nintendo Metroid Action Figure
Day 1,162: Jakks Pacific World of Nintendo Metroid Samus Action Figure
Day 1,182: Jakks Pacific World of Nintendo Mario Action Figure
Day 1,186: Jakks Pacific World of Nintendo Luigi Action Figure
Day 1,280: Nintendo Super Mario Maker Classic Color Mario
Day 1,296: Nintendo Super Smash Bros. Amiibo Mega Man
Day 1,299: Nintendo Super Smash Bros. Zero Suit Samus
Day 1,320: Jakks Pacific World of Nintendo 8-Bit Link Action Figure
Day 1,335: Mattel Hot Wheels Nintendo Cool-One (Super Mario)
Day 1,336: Jakks Pacific World of Nintendo 8-Bit Luigi Action Figure
Day 1,341: Jakks Pacific World of Nintendo 8-Bit Donkey Kong Action Figure
Day 1,345: Nintendo Super Smash Bros. R.O.B., Mr. Game & Watch, and Duck Hunt
Day 1,347: Jakks Pacific World of Nintendo ComicConBox.com Metallic Metroid Samus Action Figure
Day 1,349: Jakks Pacific World of Nintendo 8-Bit Mario Action Figure
Day 1,363: Jakks Pacific World of Nintendo Shy Guy Action Figure
Day 1,367: Jakks Pacific World of Nintendo Convention Exclusive Jakks Giants Link Action Figure
Day 1,369: Jakks Pacific World of Nintendo Jakks Giants Mario Action Figure
Day 1,380: Jakks Pacific World of Nintendo Tanooki Mario Action Figure
Day 1,392: Toy Biz Video Game Super Stars Mario Kart 64 Mario Action Figure
Day 1,398: Jakks Pacific World of Nintendo Boo Action Figure
Day 1,404: Medicom Nintendo Series Legend of Zelda Link Ultra Detail Figure
Day 1,430: Sonic Drive-In Mario & Luigi Paper Jam Mario Figure
Day 1,433: Nintendo Shovel Knight Amiibo
Day 1,438: Jakks Pacific World of Nintendo Metroid Gravity Suit Samus Action Figure
Day 1,444: Jakks Pacific World of Nintendo 8-Bit Red Link Action Figure
Day 1,447: Jakks Pacific World of Nintendo 8-Bit Star Power Mario Action Figure
Day 1,454: Jakks Pacific World of Nintendo 8-Bit White Link Action Figure
Day 1,475: Jakks Pacific World of Nintendo Samus Mini Action Figure
Day 1,490: Jakks Pacific World of Nintendo 8-Bit Classic Mario Action Figure
Day 1,537: Jakks Pacific World of Nintendo Metroid Action Figure
Day 1,568: Good Smile Company The Legend of Zelda: A Link Between Worlds Link Deluxe Action Figure
Day 1,599: Nintendo Toad Amiibo
Day 1,601: The Octavirate Forge Shapeways NES Inspired Zapper Gun 5mm Grip
Day 1,605: Nintendo The Legend of Zelda Link Amiibo
Day 1,624: Jakks Pacific World of Nintendo Blooper Action Figure
Day 1,647: Jakks Pacific World of Nintendo Metroid Phazon Suit Samus Action Figure
Day 1,649: Nintendo Super Smash Bros. Little Mac Amiibo
Day 1,652: Jakks Pacific World of Nintendo Goomba Action Figure
Day 1,668: Jakks Pacific World of Nintendo 8-Bit Toad Action Figure
Day 1,672: Jakks Pacific World of Nintendo Boo Glow Action Figure
Day 1,677: Jakks Pacific World of Nintendo 8-Bit Star Luigi Action Figure
Day 1,691: Nintendo Super Smash Bros. Zelda Amiibo
Day 1,733: Nintendo Super Smash Bros. Wii Fitness Trainer Amiibo
Day 1,751: Jakks Pacific World of Nintendo 8-Bit Toad Variant Action Figure
Day 1,795: Nintendo Super Mario Boo Amiibo
Day 1,811: Hasbro Nintendo Diddy Kong Monopoly Gamer Power Pack
Day 1,812: Nintendo Metroid Samus Aran and Metroid Amiibo
Day 1,823: Hasbro Nintendo Boo Monopoly Gamer Power Pack
Day 1,843: Hasbro Nintendo Luigi Monopoly Gamer Power Pack
Day 1,858: Hasbro Nintendo Wario Monopoly Gamer Power Pack
Day 1,896: Good Smile Company Metroid Prime 3: Corruption Samus Aran Action Figure
Day 1,897: Hasbro Nintendo Fire Mario Monopoly Gamer Power Pack
Day 1,991: Jakks Pacific World of Nintendo 8-Bit Princess Peach Action Figure
Day 2,068: Nintendo Super Smash Bros. Ridley Amiibo
Day 2,159: The Legend of Zelda: Link's Awakening Amiibo Link
Day 2,170: Nintendo Super Smash Bros. Simon Amiibo
Day 2,340: Mattel Hot Wheels HW Screen Time Standard Kart
Day 2,361: Nintendo Metroid Dread Samus Aran and E.M.M.I. Amiibo