World of Nintendo Mario Action Figure
Series 1-1

World of Nintendo 4-inch Scale Action Figures
Item No.: Asst. 68518 No. 68519
Manufacturer: Jakks Pacific
Includes: Super Mushroom (mystery accessory)
Action Feature: n/a
Retail: $9.99
Availability: August 2014
Other: From... Many Games

PREVIOUS
RSS
NEXT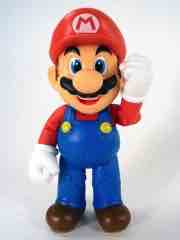 This is a pretty great figure. One of the last things I need in life is another Mario figure. It's not because I have too many of them - I don't, I only have a couple of PVCs from the NES era - and I didn't snag the higher-end Figma releases because I am cheap. So I had some store credit at the Toys R Us with an expiration date, and I got this. I am glad I did - his decent articulation, surprisingly good weight distribution, and huge feet let you pose him in a number of nice ways despite not being developed to be used with stands or foot pegs of any kind. I liked Link well enough to buy Mario, which I opened after I bought Samus, and Mario's good enough that I want to go get the rest of this line.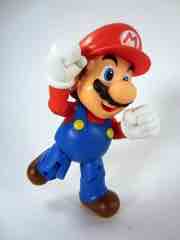 Mario stands about 4-inches tall at the highest point of the hat, and he's got 11 points of articulation. There's nothing really hidden here, minus the swivel wrists. Sadly Mario's jointed neck doesn't move much, but his big, non-jointed feet do a lot of good for this design. He has no problems being posed standing, fighting, or running without assistance assuming you get a good one (see below) and the joints aren't too loose. I very rarely can say I bought a figure developed for the American market that can stand on one foot without tons of fiddling, but Mario can with no real problems.
Mario's sculpting is superb, but like Link and Samus the paint could be better. By and large, the plastic colors are perfect. Even the brown paint on Mario's shoes is great, but the white needs help. The white circle around the "M" on his hat is a little pale, as is the white of his eyes - which doesn't quite cover the sculpted orbs in his skull. If the white was whiter and the eye area was completely covered in paint, this may be the best Mario for the money. But it's not.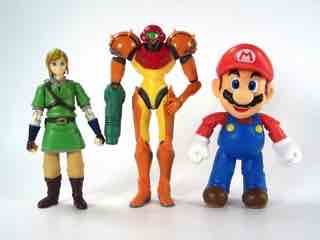 Rounding out the figure is a cute accessory, the classic Super Mushroom. It's a solid red hunk of plastic with white spots which have some of the same problems as Mario. The plastic is very similar to the thick, rubbery plastic as Mario's hat and has no points of articulation. Link's shield is arguably more impressive, but if Jakks carded this mushroom for three or four bucks, you'd pay for it. It's pretty great. If you aren't a toy collector you probably aren't reading this column, but you'd enjoy this figure. It's a great desk toy that's a problem-free figure that can just hang around on any flat surface. You can find better Mario figures, but for the price you probably can't do much better than this. For about $25, the Figma version of Mario is pretty much the same with more articulation, better paint, a plastic ? block rather than cardboard, plus a coin. So it's better, but I've seen these figures for as little as $7. So get this one.
...a fun aside.
The figure in the comparison shot above and the carded shots below is not the same one as the loose ones. The reason for this is I didn't realize until after I'd opened it that it had a number of problems. These are uncommon problems, but are amusing enough to mention. That Mario had two right arms, two right feet, and a bad right shoulder joint which actually snapped when I took it back to the store to return it because of the bogus QC assembly issues. The rest of the line has, so far, been pretty good to me and while I haven't bought them all, I do find that I'm going back to snag one or two more here and there. This is a good line.
--Adam Pawlus
Additional Images

See more Jakks Pacific figures in Figure of the Day:
Day 471: Jakks Pacific S.L.U.G. Zombies Macho Mangler, Flesh-Eatin' Phil, Buck Wilde Minifigures 3-Pack
Day 503: Jakks Pacific S.L.U.G. Zombies Extra Crispy, Zero Hero, Riled-Up Riley Minifigures
Day 545: Jakks Pacific S.L.U.G. Zombies Hungry Humbug, Nutty Nate, Captain Payback Minifigures
Day 818: Jakks Pacific S.L.U.G. Zombies Ralph Reindead, Surprise Demise, Blazin' Basel Minifigures 3-Pack
Day 1,032: Jakks Pacific World of Nintendo Skyward Sword Link Action Figure
Day 1,125: Jakks Pacific World of Nintendo Metroid Action Figure
Day 1,162: Jakks Pacific World of Nintendo Metroid Samus Action Figure
Day 1,182: Jakks Pacific World of Nintendo Mario Action Figure
Day 1,186: Jakks Pacific World of Nintendo Luigi Action Figure
Day 1,320: Jakks Pacific World of Nintendo 8-Bit Link Action Figure
Day 1,336: Jakks Pacific World of Nintendo 8-Bit Luigi Action Figure
Day 1,341: Jakks Pacific World of Nintendo 8-Bit Donkey Kong Action Figure
Day 1,347: Jakks Pacific World of Nintendo ComicConBox.com Metallic Metroid Samus Action Figure
Day 1,349: Jakks Pacific World of Nintendo 8-Bit Mario Action Figure
Day 1,363: Jakks Pacific World of Nintendo Shy Guy Action Figure
Day 1,367: Jakks Pacific World of Nintendo Convention Exclusive Jakks Giants Link Action Figure
Day 1,369: Jakks Pacific World of Nintendo Jakks Giants Mario Action Figure
Day 1,380: Jakks Pacific World of Nintendo Tanooki Mario Action Figure
Day 1,398: Jakks Pacific World of Nintendo Boo Action Figure
Day 1,438: Jakks Pacific World of Nintendo Metroid Gravity Suit Samus Action Figure
Day 1,444: Jakks Pacific World of Nintendo 8-Bit Red Link Action Figure
Day 1,447: Jakks Pacific World of Nintendo 8-Bit Star Power Mario Action Figure
Day 1,454: Jakks Pacific World of Nintendo 8-Bit White Link Action Figure
Day 1,475: Jakks Pacific World of Nintendo Samus Mini Action Figure
Day 1,490: Jakks Pacific World of Nintendo 8-Bit Classic Mario Action Figure
Day 1,512: Jakks Pacific Batman v. Superman: Dawn of Justice Jokers Wild Batman
Day 1,537: Jakks Pacific World of Nintendo Metroid Action Figure
Day 1,624: Jakks Pacific World of Nintendo Blooper Action Figure
Day 1,647: Jakks Pacific World of Nintendo Metroid Phazon Suit Samus Action Figure
Day 1,652: Jakks Pacific World of Nintendo Goomba Action Figure
Day 1,668: Jakks Pacific World of Nintendo 8-Bit Toad Action Figure
Day 1,672: Jakks Pacific World of Nintendo Boo Glow Action Figure
Day 1,677: Jakks Pacific World of Nintendo 8-Bit Star Luigi Action Figure
Day 1,751: Jakks Pacific World of Nintendo 8-Bit Toad Variant Action Figure
Day 1,824: Jakks Pacific S.L.U.G. Zombies Gangrene Gene, Ferpcious Frankie, Johnson Minifigures 3-Pack
Day 1,863: Jakks Pacific S.L.U.G. Zombies Santa Claws, Eli the Expired Elf, Gator Jones Minifigures 3-Pack
Day 1,991: Jakks Pacific World of Nintendo 8-Bit Princess Peach Action Figure
Day 2,490: Jakks Pacific S.L.U.G. Zombies Frozen Fright, Johnny Hammer-stix, Buck Wilde Minifigures 3-Pack
Day 2,614: Jakks Pacific Metroid Samus

See more Nintendo figures in Figure of the Day:
Day 134: Applause Super Mario Bros. Super Mario with Koopa Troopa Action Figure
Day 369: Applause Zelda II: The Adventure of Link Link PVC Figure
Day 833: K'Nex Super Mario Blind-Bagged Series #2 Boo Action Figure
Day 926: Hasbro Pokemon Ash & Pikachu
Day 1,032: Jakks Pacific World of Nintendo Skyward Sword Link Action Figure
Day 1,083: Nintendo Super Smash Bros. Amiibo Samus Aran
Day 1,107: Nintendo Super Smash Bros. Amiibo Link
Day 1,125: Jakks Pacific World of Nintendo Metroid Action Figure
Day 1,162: Jakks Pacific World of Nintendo Metroid Samus Action Figure
Day 1,182: Jakks Pacific World of Nintendo Mario Action Figure
Day 1,186: Jakks Pacific World of Nintendo Luigi Action Figure
Day 1,280: Nintendo Super Mario Maker Classic Color Mario
Day 1,296: Nintendo Super Smash Bros. Amiibo Mega Man
Day 1,299: Nintendo Super Smash Bros. Zero Suit Samus
Day 1,320: Jakks Pacific World of Nintendo 8-Bit Link Action Figure
Day 1,335: Mattel Hot Wheels Nintendo Cool-One (Super Mario)
Day 1,336: Jakks Pacific World of Nintendo 8-Bit Luigi Action Figure
Day 1,341: Jakks Pacific World of Nintendo 8-Bit Donkey Kong Action Figure
Day 1,345: Nintendo Super Smash Bros. R.O.B., Mr. Game & Watch, and Duck Hunt
Day 1,347: Jakks Pacific World of Nintendo ComicConBox.com Metallic Metroid Samus Action Figure
Day 1,349: Jakks Pacific World of Nintendo 8-Bit Mario Action Figure
Day 1,363: Jakks Pacific World of Nintendo Shy Guy Action Figure
Day 1,367: Jakks Pacific World of Nintendo Convention Exclusive Jakks Giants Link Action Figure
Day 1,369: Jakks Pacific World of Nintendo Jakks Giants Mario Action Figure
Day 1,380: Jakks Pacific World of Nintendo Tanooki Mario Action Figure
Day 1,392: Toy Biz Video Game Super Stars Mario Kart 64 Mario Action Figure
Day 1,398: Jakks Pacific World of Nintendo Boo Action Figure
Day 1,404: Medicom Nintendo Series Legend of Zelda Link Ultra Detail Figure
Day 1,430: Sonic Drive-In Mario & Luigi Paper Jam Mario Figure
Day 1,433: Nintendo Shovel Knight Amiibo
Day 1,438: Jakks Pacific World of Nintendo Metroid Gravity Suit Samus Action Figure
Day 1,444: Jakks Pacific World of Nintendo 8-Bit Red Link Action Figure
Day 1,447: Jakks Pacific World of Nintendo 8-Bit Star Power Mario Action Figure
Day 1,454: Jakks Pacific World of Nintendo 8-Bit White Link Action Figure
Day 1,475: Jakks Pacific World of Nintendo Samus Mini Action Figure
Day 1,490: Jakks Pacific World of Nintendo 8-Bit Classic Mario Action Figure
Day 1,537: Jakks Pacific World of Nintendo Metroid Action Figure
Day 1,568: Good Smile Company The Legend of Zelda: A Link Between Worlds Link Deluxe Action Figure
Day 1,599: Nintendo Toad Amiibo
Day 1,601: The Octavirate Forge Shapeways NES Inspired Zapper Gun 5mm Grip
Day 1,605: Nintendo The Legend of Zelda Link Amiibo
Day 1,624: Jakks Pacific World of Nintendo Blooper Action Figure
Day 1,647: Jakks Pacific World of Nintendo Metroid Phazon Suit Samus Action Figure
Day 1,649: Nintendo Super Smash Bros. Little Mac Amiibo
Day 1,652: Jakks Pacific World of Nintendo Goomba Action Figure
Day 1,668: Jakks Pacific World of Nintendo 8-Bit Toad Action Figure
Day 1,672: Jakks Pacific World of Nintendo Boo Glow Action Figure
Day 1,677: Jakks Pacific World of Nintendo 8-Bit Star Luigi Action Figure
Day 1,691: Nintendo Super Smash Bros. Zelda Amiibo
Day 1,733: Nintendo Super Smash Bros. Wii Fitness Trainer Amiibo
Day 1,751: Jakks Pacific World of Nintendo 8-Bit Toad Variant Action Figure
Day 1,795: Nintendo Super Mario Boo Amiibo
Day 1,811: Hasbro Nintendo Diddy Kong Monopoly Gamer Power Pack
Day 1,812: Nintendo Metroid Samus Aran and Metroid Amiibo
Day 1,823: Hasbro Nintendo Boo Monopoly Gamer Power Pack
Day 1,843: Hasbro Nintendo Luigi Monopoly Gamer Power Pack
Day 1,858: Hasbro Nintendo Wario Monopoly Gamer Power Pack
Day 1,896: Good Smile Company Metroid Prime 3: Corruption Samus Aran Action Figure
Day 1,897: Hasbro Nintendo Fire Mario Monopoly Gamer Power Pack
Day 1,991: Jakks Pacific World of Nintendo 8-Bit Princess Peach Action Figure
Day 2,068: Nintendo Super Smash Bros. Ridley Amiibo
Day 2,159: The Legend of Zelda: Link's Awakening Amiibo Link
Day 2,170: Nintendo Super Smash Bros. Simon Amiibo
Day 2,340: Mattel Hot Wheels HW Screen Time Standard Kart
Day 2,361: Nintendo Metroid Dread Samus Aran and E.M.M.I. Amiibo
Day 2,614: Jakks Pacific Metroid Samus