October Toys Mini Figure Guys Brainwaves
Bonus to OMFG 4 Kickstarter

October Toys Mini Figure Guys (OTMFG) Flesh Kickstarter Bonus
Item No.: n/a
Manufacturer: October Toys
Includes: 5 figures
Action Feature: n/a
Retail: $2.00 (presumably)
Availability: July 2015
Other: Available in black and flesh so far

PREVIOUS
RSS
NEXT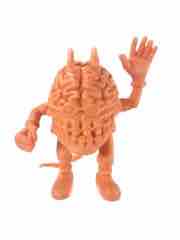 It's a nice bonus - a heck of a freebie, if you were a Kickstarter supporter. October Toys Mini Figure Guys Brainwaves was set to be part of the next run of OTMFG, but instead wound up debuting as a Kickstarter bonus figure. As to future releases of this color individually or in other colors down the road, that remains to be seen.
Like many figures in this line, the joke is basically built in to the name. The Baby Deadbeet was a dead beet. The Phantom Outhouse was indeed a haunted bathroom. Brainwaves is a brain who waves - you can see it in his gloved hand. With his tiny tail and thin legs, my first assumption was that this tiny terror would not be able to stand - and I was wrong.
The roughly 1 3/4-inch figure has a nicely detailed brain with tons of grooves, with a surprisingly well-sculpted toothy mouth and what seems to be part of a skull. The arms and legs are fairly simple tubes, but the hands are gloved and the feet have shoes with soles and laces. Heck, they even gave him tiny glasses with arms that wrap around his ear - or it would, were there any ears present.
The antenna on the head are a little creepy and weird, but even more strange is the spine serving as a tail of sorts off the back of the lumpy ball of nerve meat. It curves down and to his right, while not actually touching the ground to balance the figure. All put together, the figure feels like a product out of the era that inspired this kind of toy, rather than a copy. Figures weren't usually this three-dimensional, they tended to be flatter and simpler. This one has some glued-on parts because otherwise the mold wouldn't allow for it to be produced - so it's not exactly the simple one-piece figure, but it's close.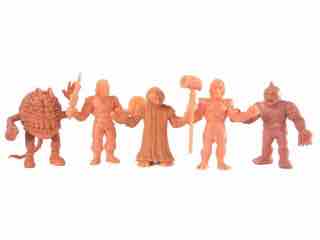 For a freebie, or an incentive to do a Kickstarter, this is a heck of a nice figure. The pink color is perfect for the brainy material, and the grooves are cut just deep enough in the skull to make it easy to see all the detail with just a hint of shadow. They did a nice job, and while it would have been nice to include it as part of the set that isn't quite how these things work out. As such, get one if you can - and if you can't, it's not like there aren't going to be recolors ever. At least, I assume there will be recolors. We'll see. Black and flesh were made so far to go with Kickstarter, and any others remain to be seen.
--Adam Pawlus
Additional Images
Additional OMFG Series 4 Kickstarter Packet Images
| | |
| --- | --- |
| | |
| | |
| | |
| | |
| | Note: Normally, the set of carded OMFG figures will be sold with just a red cardback with 5 figures inside. Kickstarter supporters, depending on their pledge level, were treated to an oversized art postcard as well as a folded poster, a sticker, and possibly bonus Brainwave figures. I elected to get the $25 level with black and flesh Brainwave figures, plus a bonus black set which is exclusive to Kickstarter. |

See more October Toys in Figure of the Day:
Day 315: October Toys Outlandish Mini Figure Guys (OMFG) Series 1 Minifigures
Day 481: October Toys Outlandish Mini Figure Guys (OMFG) Series 1 Glow in the Dark Minifigures
Day 494: October Toys Zillions of Mutated Bodies Infecting Everyone (ZOMBIE) Series 1 Neon Orange Minifigures
Day 570: October Toys Outlandish Mini Figure Guys (OMFG) Series 2 Minifigures
Day 590: October Toys OTMF Baby Deadbeet Mini-Figure
Day 751: October Toys Zillions of Mutated Bodies Infecting Everyone (ZOMBIE) Series 1 Blue Glow in the Dark Minifigures
Day 775: October Toys Outlandish Mini Figure Guys (OMFG) Series 3 Minifigures
Day 813: October Toys OTMFG Zombie Pheyden Mini-Figure
Day 885: October Toys OTMFG Brocotal Mini-Figure
Day 909: October Toys OTMF Glow in the Dark Toy Break Mini-Figure
Day 929: October Toys OTMFG Flesh 3DRetro Robot Mini-Figure
Day 943: October Toys OTMFG Glow in the Dark Baby Deadbeet Mini-Figure
Day 1,113: October Toys OTMFG Glow in the Dark Brocotal Mini-Figure
Day 1,142: October Toys Outlandish Mini Figure Guys (OMFG) Series 2 Glow in the Dark Minifigures
Day 1,184: October Toys Skeleton Warriors Bone Titan Skeleton Action Figure
Day 1,191: October Toys Skeleton Warriors Baron Dark Action Figure
Day 1,214: October Toys Skeleton Warriors Glow-in-the-Dark Titan Skeleton Action Figure
Day 1,300: October Toys Outlandish Mini Figure Guys (OMFG) Series 4 Minifigures
Day 1,261: October Toys October Toys Mini Figure Guys (OTMFG) Brainwaves Minifigures
Day 1,547: October Toys October Toys Mini Figure Guys (OTMFG) Glow-in-the-Dark Mini Gwin Minifigure
Day 2,324: October Toys Outlandish Mini Figure Guys (OMFG) Series 3 Glow-in-the-Dark Minifigures

See more October Toys Mini Figures (OTMF) and October Toys Mini Figure Guys (OTMFG) in Figure of the Day:
Day 590: October Toys OTMF Baby Deadbeet Mini-Figure
Day 813: October Toys OTMFG Zombie Pheyden Mini-Figure
Day 885: October Toys OTMFG Brocotal Mini-Figure
Day 909: October Toys OTMF Glow in the Dark Toy Break Mini-Figure
Day 929: October Toys OTMFG Flesh 3DRetro Robot Mini-Figure
Day 943: October Toys OTMFG Glow in the Dark Baby Deadbeet Mini-Figure
Day 1,113: October Toys OTMFG Glow in the Dark Brocotal Mini-Figure
Day 1,261: October Toys October Toys Mini Figure Guys (OTMFG) Brainwaves Minifigures
Day 1,547: October Toys October Toys Mini Figure Guys (OTMFG) Glow-in-the-Dark Mini Gwin Minifigure