Flamingus
Crowdfunded Flamingo Action Figure

Gothitropolis Ravens
Item No.: n/a
Manufacturer: Four Horsemen
Includes: 6 alternate feet, 2-piece staff weapon, optional belt
Action Feature: n/a
Retail: $33-$45
Availability: November 2014
Other: Kickstarter ended August 2013, initial delivery promise was March 2014

PREVIOUS
RSS
NEXT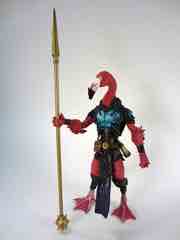 The great thing about the Gothitropolis Reven figures were that they kept changing as the line went. Various figures and body parts were added as the line continued, with more optional feet or wings or characters. For example, Flamingus was a stretch goal for the $170,000 pledge level on Kickstarter. (The initial goal was $65,000, and it ended at $303,666.) This was one of the figures I simply had to have - there were six I really wanted, and I dropped the cash for five. I'm glad I did, because Flamingus (along with Minotaur the Duck) included another bonus stretch item - webbed duck feet! They came bagged in the package and I immediately swapped them in for the boring normal claws.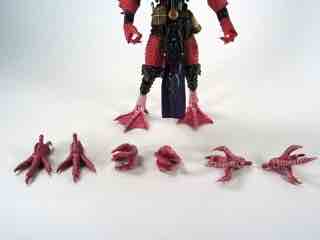 The manufacturer posted a caveat for this series that some joints may be "frozen" as a result of paint or other issues and may need to be treated specially. At first I thought mine was totally fine, but it turns out the thigh swivel located just below the hip joint was stuck - and after a lot of boiling and freezing, I've decided to let these just stay stuck out of fear of breakage. The Phoenix had a similar problem which was quickly and easily resolved with boiling water, but Flamingus is proving to be a fighter and I think I'll just let him win since he was going to be standing straight up on my shelf anyway.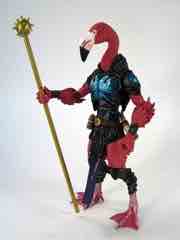 The 7-inch figure was kept under wraps until the campaign was underway, and the rough sculpt was revealed as it was in production. What really amazes me about some of the lower-run figures is how they can be made into other creatures easily. Roughly 15 different flavors of "raven" exist, mostly through the magic of paint and a new head. It's like having the biggest and most realistic Battle Beasts ever, but the problem with all the shared parts is that the weapons get boring fast. I suggest grabbing Masters of the Universe Classics weapons packs from Matty Collector as the Ravens are basically compatible with He-Man and his pals.
Flamingus has a few customizable bits. He pops apart at the waist so you can remove his belt, which is a separate piece with lots of intricate paint applications. His feet easily pop off, and you can swap the default clawed toes for webbed feet, gripping feet, and something in between gripping and flat. If you choose to use these, I would suggest using the display stand. Actually, with Flamingus I've found that gravity and his dozens of joints will cause him to fall over in a couple of hours. As such, use a doll stand or one of the Four Horsemen stands of this guy because you don't want him to fall and crash on the ground.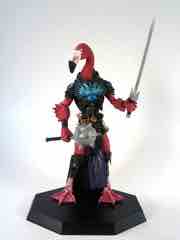 The body sculpting is basically the same and the head is incredibly realistic. The beak paint needs a little work - white paint on pink plastic can do that - but it's still pretty excellent. If you're really looking to be wowed, check out the armor. Metallic blue elements are all over this one, as are some gunmetal bits like a castle and a moon hidden over what I assume is a feathered six-pack. Each and every feather is nicely decorated, and the webbed feet are brushed over nicely. I've paid more for statues and mini busts that don't look half this good.
The joints on Flamingus were mostly nice and mobile, with even the feet not requiring any excessive force to move on my sample. It's a wonderful design and pink is an uncommon color on most action figures, so I had to get it. I mean, it's an aquatic bird - how could you not want one? I hope the Horsemen do another run of these with penguins, more owls, or a quail but given how long it took, and how expensive it was, I'm not hopeful. These figures basically pre-sold out, but usually the Horsemen dig up not-mint samples down the road. You'll want to get these if the chance comes up, especially the flamingo man. It's not like you're overwhelmed by flamingo men.
--Adam Pawlus
Additional Images


See more Seventh Kingdom and Gothitropolis figures in Figure of the Day:
Day 754: Four Horsemen Seventh Kingdom Raavia Action Figure
Day 759: Four Horsemen Seventh Kingdom Shield of Draumm Action Figure
Day 1,060: Four Horsemen Gothitropolis Cardinus Action Figure
Day 1,104: Four Horsemen Gothitropolis Flamingus Action Figure
Day 1,112: Four Horsemen Gothitropolis Minotaur the Duck Action Figure
Day 1,119: Four Horsemen Gothitropolis Phoenius the Phoenix Action Figure

Click here to see more Four Horsemen figures in Figure of the Day.