Nightbird Shadow
Decepticon In Name Only?

Transformers Legends LG 15
Item No.: No. ???
Manufacturer: Takara-Tomy
Includes: 2 swords, 2 guns, 2 sai
Action Feature: Changes from sports car to robot
Retail: 3,100 yen (or $21-$30 at importers)
Availability: October 2015
Other: Recolor of Arcee

PREVIOUS
RSS
NEXT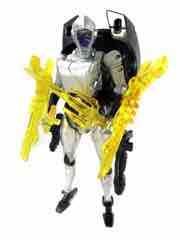 Fans of the original The Transformers show - because that's its actual name - may recall seeing the inspiration for Nightbird Shadow on an episode called "Enter the Nightbird," which gave us the gleefully stupid premise that a scientist developed a robot to help humanity that just went around fighting people with ninja weapons. She was corrupted by Decepticons to steal some fake Autobot science, and her animation model just happens to look a lot like Arcee's recent toy. A remolded head and chest give us a genuinely good Nightbird, complete with features she didn't have on the original show. (She was not originally a transforming character.) Given that we already have a black Arcee repaint, this take on it gives us something neat - a new toy of a character who has never been a toy before. While I've heard some eye-rolling over how dumb the character was, these sort of things make me happy. I mean, I was happy enough to shell out import prices to get her. Even if she does have some unfixed flaws.
The car shell is largely black plastic with a grey or silver robot mode. Some body parts are grey plastic, while others have a perfect silver paint coat. She has little dabs of yellow on her belt and as lights on her car mode, with a wonderful new head sculpt that looks like it plopped right out of the cartoon. The clear yellow eyes are a bit of a downer - painted yellow would be brighter and give her more personality (see: Slipstream) but she ain't bad. The toymakers at Takara Tomy really did make a decent remold of Arcee... but it would be nice if they finished the job.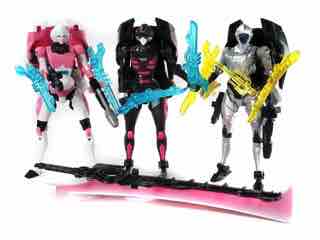 One of my biggest gripes about Arcee was that the regular US release of the toy had terrible hands. They skipped 5mm pegs in favor of a new "bar/slot" system with a weird barrier at the bottom of the hand preventing full insertion of the weapon. In other words, the swords and guns are awkward as all get out and may fall out of her hands. Hasbro fixed this for SDCC Arcee, and I don't understand why Takara didn't take advantage of that already-paid-for work. It's not just a little better, it's a lot better. You can still plug in Nightbird's weapons to her car mode, her thighs, and to a lesser extent the hands, but it's always maddening when something as simple as figure/accessory compatibility can't be fixed.
Transformation from car to robot is not bad. I was a little frustrated by the toy originally, but now it's no big deal. (I've grown to utterly hate Slog.) In either mode she looks great, and Nightbird's conversion isn't exactly difficult. For all intents and purposes, you have a skinny robot with car backpack parts.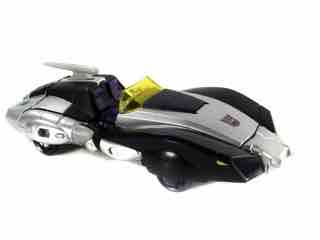 I cant read the pack-in comic, so I'll just say the car is a lot like Arcee. There's a Decepticon symbol on the hood - but none on the robot, more or less true to the cartoon - and you can plug in weapons all over the darned thing. There are just enough ports plus gun storage under the car, so I have to assume Nightbird may have been planned from the get-go. The wheels more or less turn acceptably, but as a futuristic car from 2005 it's not like this is a selling point. The detailed interior with dash console and steering wheel are pretty impressive. The black coloring looks great, and it's not like we have a lot of non-club/con Decepticon cars. Shadow Striker and Roulette come to mind... "movie" Override too.
To ignore this toy simply because the episode from which she originated is silly is antithetical to the notion of being a fan of a show with alien robots that come to earth and become cars. If you bought into that idea, you'll probably like the toys and this figure is a nifty part of Japan's 30th Anniversary Transformers celebration. As a cranky toy fan, we've seen a few lines more or less peak around the 30th - look at what we got out of G.I. Joe, Star Wars, Masters of the Universe, and what followed. I'm not saying it's all downhill from here - thankfully Transformers renews its audience with legit kid-driven toys - but as we age I don't know how many of these nods to a program we loved with the eyes of children but mock gently as adults. Maybe there's room for the likes of Beta or Greasetrain, but I can't assume we'll see many more. I like Nightbird - she needs remolded hands, but I can't deny that the new head does wonders for the mold and makes this feel like a totally new toy. Get one if you're an old G1 fan, you'll dig it.
--Adam Pawlus
Additional Images
Additional Transformers Legends October 2015 Wave Images

See more Takara-Tomy figures in Figure of the Day:
Day 180: Takara-Tomy Transformers Animated Ironhide (Bulkhead) Key Chain
Day 435: Takara-Tomy Transformers Prime Gacha Arms Micron Optimus Prime Blaster
Day 476: Takara-Tomy Transformers Prime Bumblebee Sword Action Figure
Day 495: Takara-Tomy Beast Saga Raioga Action Figure
Day 529: Takara-Tomy Beast Saga Kingdom of Sea Death Action Figure Set
Day 534: Takara-Tomy Beast Saga Dolphin Burst Action Figure
Day 540: Takara-Tomy Beast Saga Kingdom of Gloria Action Figure Set
Day 544: Takara-Tomy Beast Saga Aldyle Action Figure
Day 549: Takara-Tomy Beast Saga Dorfan Action Figure
Day 551: Takara-Tomy Beast Saga Eledram Elephant Action Figure
Day 564: Takara-Tomy Beast Saga DX Starter Set Action Figure Set
Day 568: Takara-Tomy Beast Saga Tarlock Action Figure
Day 573: Takara-Tomy Beast Saga Long Giraf Action Figure
Day 579: Takara-Tomy Beast Saga Garrison G Action Figure
Day 580: Takara-Tomy Beast Saga GachaBooster General Hawk Knight Action Figure
Day 585: Takara-Tomy Beast Saga Beast Machines Sky Darling Vehicle
Day 586: Takara-Tomy Beast Saga Killer Shark Burst Action Figure
Day 593: Takara-Tomy Beast Saga Rynas Action Figure
Day 595: Takara-Tomy Beast Saga Seylas Action Figure
Day 597: Takara-Tomy Transformers Prime Zad Action Figure
Day 601: Takara-Tomy Beast Saga Bamet Burst Action Figure
Day 616: Takara-Tomy Beast Saga Long Giraf Burst Action Figure
Day 622: Takara-Tomy Beast Saga Bamet Action Figure
Day 626: Takara-Tomy Beast Saga Killer Shark Action Figure
Day 637: Takara-Tomy Beast Saga Liorga Action Figure
Day 642: Takara-Tomy Beast Saga Aldyle Burst Action Figure
Day 663: Takara-Tomy Beast Saga Janjan Action Figure
Day 669: Takara-Tomy Beast Saga Ogre Burst Action Figure
Day 678: Takara-Tomy Beast Saga Swordbill Action Figure
Day 693: Takara-Tomy Beast Saga Guarl Burst Action Figure
Day 715: Takara-Tomy Beast Saga Guarl Action Figure
Day 824: Takara-Tomy Beast Saga Mantaray Action Figure
Day 828: Takara-Tomy Beast Saga Aljaylo Action Figure
Day 839: Takara-Tomy Beast Saga Ogre Action Figure
Day 846: Takara-Tomy Beast Saga Dakker Action Figure
Day 856: Takara-Tomy Beast Saga Moreek Action Figure
Day 873: Takara-Tomy Beast Saga Wonderriver Action Figure
Day 905: Takara-Tomy Transformers Masterpiece Edition Lambor G-2 Ver.
Day 937: Takara-Tomy Beast Saga Rynas Burst Action Figure
Day 974: Takara-Tomy Beast Saga Super Win Deck Impact Set Action Figure Set
Day 993: Takara-Tomy Beast Saga Kannigal Burst Action Figure
Day 1,127: Takara-Tomy Transformers Sega Genesis Megatron Action Figure
Day 1,207: Takara-Tomy Transformers United Rumble & Frenzy
Day 1,224: Takara-Tomy Transformers Adventure Roadblock
Day 1,242: Takara-Tomy Transformers Go! Go
Day 1,247: Takara-Tomy Transformers Go! Sen
Day 1,259: Takara-Tomy Transformers Go! Geki
Day 1,262: Takara-Tomy Transformers Masterpiece Bumble G-2 Ver.
Day 1,273: Takara-Tomy Transformers Go! Ex
Day 1,284: Takara-Tomy Transformers Go! Shou
Day 1,310: Takara-Tomy Transformers Legends Slipstream
Day 1,327: Takara-Tomy Transformers Unite Warriors Grand Scourge
Day 1,328: Takara-Tomy Transformers Unite Warriors Nightbird Shadow
Day 1,326: Takara-Tomy Beast Saga Buffam Action Figure
Day 1,328: Takara-Tomy Transformers Adventure Override
Day 1,332: Takara-Tomy Beast Saga Bunikis Action Figure
Day 1,339: Takara-Tomy Beast Saga Aljaylo Burst Action Figure
Day 1,357: Takara-Tomy Transformers United Stepper
Day 1,381: Takara-Tomy Beast Saga Eledram Burst Action Figure
Day 1,429: Takara-Tomy Transformers Legends Armada Starscream Super Mode
Day 1,468: Takara-Tomy Transformers Unite Warriors Grand Galvatron
Day 1,471: Takara-Tomy Zoids Masterpiece Shield Liger
Day 1,496: Takara-Tomy Beast Saga Dacker Burst Action Figure
Day 1,627: Takara-Tomy Transformers Legends Convobat
Day 1,670: Takara-Tomy Transformers Legends Leo Prime
Day 1,814: Takara-Tomy Beast Saga Mantaray Burst Action Figure
Day 1,842: Takara-Tomy Transformers Legends Blackarachnia
Day 1,911: Takara-Tomy Beast Saga Wolfen Burst Action Figure
Day 1,964: Takara-Tomy Beast Saga Buffam Burst Action Figure
Day 2,000: Takara-Tomy Zoids Wild ZW-05 Gannontoise Figure Kit
Day 2,006: Takara-Tomy Beast Saga Raioga Burst Action Figure
Day 2,008: Takara-Tomy Zoids Wild ZW-01 Wild Liger Figure Kit
Day 2,013: Takara-Tomy Zoids Wild ZW-03 Kabtor Figure Kit
Day 2,017: Takara-Tomy Zoids Wild ZW-04 Scorpear Figure Kit
Day 2,039: Takara-Tomy Zoids Wild ZW-06 Gabrigator Figure Kit
Day 2,075: Takara-Tomy Zoids Wild ZW-07 Kuwaga Figure Kit
Day 2,191: Takara-Tomy Transformers Generations Selects Deluxe Gulf (Skalor) Action Figure
Day 2,200: Takara-Tomy Transformers Generations Selects Deluxe Turtler (Snaptrap) Action Figure
Day 2,213: Takara-Tomy Beast Saga Kannigal Action Figure
Day 2,273: Takara-Tomy Transformers Generations Selects Voyager Super Megatron Action Figure
Day 2,463: Takara-Tomy Beast Saga Moreek Burst Action Figure

Click here to see more Transformers figures in Figure of the Day.

Want to buy this figure? Check Transformers availability at our sponsors:
Entertainment Earth