Cliffjumper
US Version of Red Bumblebee

Transformers Generations Legion
Item No.: Asst. A7725 No. B2586
Manufacturer: Hasbro
Includes: n/a
Action Feature: Transforms from Car to Robot
Retail: $5-$7
Availability: May 2015
Other: "Dollar" Store Exclusive

PREVIOUS
RSS
NEXT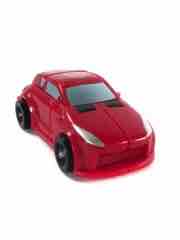 I skipped the pricey Henkei! Henkei! 3-pack, so a US release of the Legends Bumblebee mold as Cliffjumper was exciting stuff. I got mine for about $6.75 at Family Dollar - more than it's worth, but it's great if you don't open it. It's gorgeous, but fit issues on my sample and at least one friend's (hi Matt!) say that it has issues. The figure also shipped alongside similarly sized Skywarp (from Thundercracker/Starscream) and Ultra Magnus (from Optimus Prime). These are some hard-working molds.
The deep red plastic is nice. The metallic silver Autobot symbol is perfect. The face, the paint, it's all spot-on. Black arms, silvery blue windows, metallic blue eyes, this may be one of the most beautiful new paint jobs on a mold this year. In robot mode - if you never transform this toy - it's gorgeous. It's wonderful shelf candy, a nice packaged figure, and acceptably articulated for a repaint of a $5 figure from 2009.
The 3-inch high robot has 6 points of articulation. The shoulders, ankles, and hips all move which make him a bit more fun than the 1984 original red Bumblebee - because let's be honest, this is red Bumblebee. He stands nicely and looks good. And that's where the nice things end.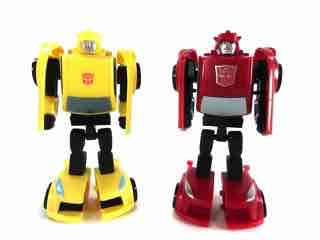 Transformation is simple - the backpack (now very loose) rotates up to cover the head. The feet and legs bend in and tuck under the body. The arms - now exceedingly tight - fit in the body to become the car doors. On the 2011 Gold Bumblebee and 2009 Bumblebee, it all works very well. On this figure, you'll get a lot more resistance. The panels and pegs don't quite fit, and the two feet that make up the hood of the car don't necessarily stay pegged together. I've had some robots which were fussy, but this is probably on the short list of bad ones. The other toy on that list is 2010 Hasbro Galvatron.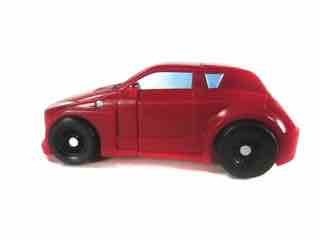 The car should be good, but it can't hold together well. The other ones fit nicely, this one shows stress marks and panels that don't quite fit together - it looks like his shoulders are painted too, which isn't helping. The car is neat, or it would be, if the parts fit together better. The wheels spin nicely, and it looks pretty cool - it just needs some work at the factory or assembly stage. The other releases of this mold just seemed to be put together better than this one.
I ran out and overpaid for this figure because I wanted the Henkei figure. This one looks like it but is not particularly well-made. For this reason it'll go on the shelf and I'll probably never play with it again, despite it being a recolor I wanted from a mold I liked. Maybe you'll have better luck - as it is, I don't know if I'd jump on a Bugbite or Glyph from this mold. Be careful, and don't overpay for Cliffjumper.
--Adam Pawlus
Additional Images

Click here to see more Hasbro figures in Figure of the Day.
Click here to see more Transformers figures in Figure of the Day.

Want to buy this figure? Check Transformers availability at our sponsors:
Entertainment Earth