Battle Armor Rex
As Seen in the TV Special

Toy Story That Time Forgot Basic Figures (apparently not an exclusive now)
Item No.: Asst. CDL89 No. CDL92
Manufacturer: Mattel
Includes: Non-removable armor
Action Feature: n/a
Retail: $8.96
Availability: December 2014
Other: The Nagus! The Sicilian! Nardo's Ex!

PREVIOUS
RSS
NEXT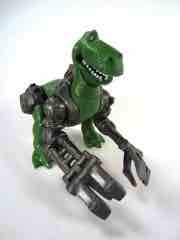 The joke behind Battle Armor Rex alone is reason enough to get him. You don't even need to think about the character or how much you love Wallace Shawn, his voice actor, in absolutely everything you've ever seen him do - the figure itself is whimsical enough to warrant putting on your desk. It's basically a normal Rex figure with hip armor and giant over-the-back arms that amazingly don't make him topple over. The arms have numerous visible and purely ornamental joints on them, but it's still super cool.
Feeling very much inspired by Tyco's Dino-Riders Tyrannosaurus Rex, our 4-inch tall cyborg Rex has a visible (non-functioning) jaw joint but is articulated at the neck, shoulders, hips, and tail. Given his legs' default position, you can move his arms every which way and gravity won't bring him down - there's a definite sweet spot that opens the door for fun display opportunities. The neck and tail move nicely, and the engineering - while simple - works. This is why I can't fault it, even though I really do with the elbows would move or the shoulders had ball-jointed movement like it looks like before you open the package. Sadly, that's Mattel for you.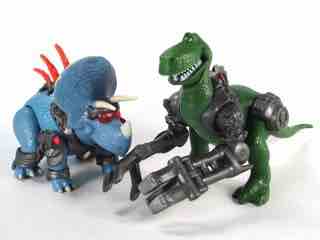 The sculpting is on par with other Rex figures and the deco is about as good - the claws are unpainted, but everything else seems appropriate. While there's very little movement in his arms, they're long and big enough to still be fun to mess around with - I keep a lot of toys on my desk and he has no problem "grabbing" them and dragging them around. They're sturdy, and the largely static design means they're durable and able to smack around other toys or move a Hot Wheels car or whatever.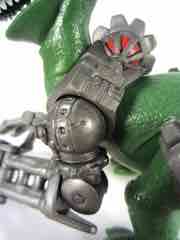 Since the original movie each toy licensor has done a pretty good job with Toy Story sculpting and this Rex is no exception. Thinkway, McDonalds, Burger King, Hasbro, and Mattel have all done a good job getting the plastic toy scale look down perfectly, and to be honest, there's no real excuse for not getting it right - there's plenty of reference and duplicating a CG plastic dinosaur toy should be no real challenge for a toymaker.
If it were still the 1990s, I assume we'd have a figure of this quality and about half the size for free in a small box with fries and a burger, but it's not the 1990s any more. Comparing it to his toy peers, this is about what a $9 toy looks like these days - some lines offer a little more, others are a little cheaper, but this is the new standard. There's not a lot of paint - a little red on his armor, his eyes, his teeth, and his belly - so they did a pretty good job translating a toy to a toy. I'll probably be disappointed if we ever get a fancy, deluxe version with super-articulated arms but I'm not sorry I blew $9 on him or $50 on a wad of toys from the special, despite not being a collector of Disney or Pixar or the like. I mean, dinosaurs, man. I'm not made of stone.
--Adam Pawlus
Additional Images

Click here to see more Mattel figures in Figure of the Day.

See more Pixar figures in Figure of the Day:
Day 166: McDonalds Toy Story 2 Hamm Action Figure
Day 207: Funko Disney Pop! Vinyl Mr. Incredible Vinyl Figure
Day 293: Funko Disney Pop! Vinyl Mike Wazowski Vinyl Figure
Day 345: Funko Disney Pop! Vinyl Sulley Vinyl Figure
Day 1,006: Thinkway Toys Wall-E 15-Pc Bag O' Bots Figure Set
Day 1,072: Mattel Toy Story That Time Forgot Battle Armor Trixie Action Figure
Day 1,099: Mattel Toy Story That Time Forgot Battle Armor Rex Action Figure
Day 1,106: Mattel Toy Story That Time Forgot Raptorian Guard Action Figure
Day 1,382: Funko Hikari Vinyl Toy Story Original Buzz Lightyear
Day 1,850: Funko Pop! Disney Coco Ernesto Pop! Vinyl Figure
Day 2,487: Fisher-Price Imaginext Lightyear Hyperspeed Explorer XL-01
Day 2,522: Fisher-Price Imaginext Toy Story 4 Bunny & Buzz Lightyear