Phoenius the Phoenix
Crowdfunded Firebird Action Figure

Gothitropolis Ravens
Item No.: n/a
Manufacturer: Four Horsemen
Includes: 4 alternate feet, 2-piece gold staff weapon, optional belt
Action Feature: n/a
Retail: $33-$45
Availability: December 2014
Other: Kickstarter ended August 2013, initial delivery promise was March 2014

PREVIOUS
RSS
NEXT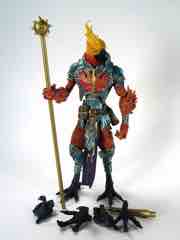 The last couple of months have been pretty great for toys provided that the two big action figure collector mainstays are ignored. It hasn't been a great season for Star Wars or especially G.I. Joe, but everything else is coming up awesome. Phoenius the Phoenix is one of the Gothitropolis Ravens, which it looks like a figure that has been a de facto pre-order exclusive. While I'm all for rewarding your supporters, it's a shame that reviews like this will only reenforce the opinions of those who also were early adopters, or will maybe convince you to overpay for the figure on eBay. Very few went up for sale on eBay, so don't be surprised if it will set you back $80-$150 (the current asking range) unless another run gets announced. And also don't be surprised if at $150, you're left wondering what the big deal is because, while great, it's really only a fantastic, must-buy figure for around $60 plus some of your free time to make it work right.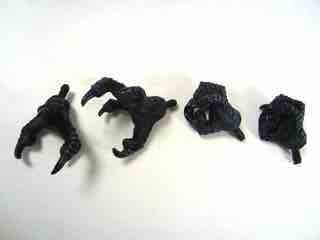 With 25ish joints, a two-piece weapon, and swappable feet, this is a perfectly nice figure. Mine had some stubborn joints requiring the use of much boiling water and patience. In particular, the swivel thighs were fused as was once of the swivel biceps. It took a couple of attempts to loosen them up, and unlike some of the other figures I actually had to dismantle the figure to get the pieces to move. In the process, some of the paint on the joints flaked off but lucky for me this isn't noticeable on the actual figure. Not all figures have stuck joints, but many do - and if you aren't careful, you could break it. For this reason, I may wish to talk you off the ledge if you're considering paying high secondary market prices for this one in particular. Or the others - there's no way to tell unless you're buying an opened one.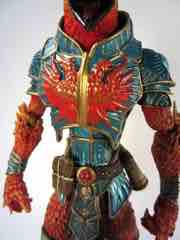 The 7-inch firebird is, in a word, gorgeous. All of these figures are pretty great, but this one has nifty contrasting colors on his feathers that really bring it to life. A red coat has yellow-edged feathers, so it looks like a hotter-than-average chunk of plastic. The head has big feathers which look vaguely like flames licking the sky, while the beak is big, open, and glossy. Phoenis' eyes are blank and yello, drawing attention to the rather fine fantastical feathered friend that just happens to not look remotely realistic.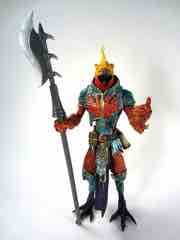 His armor is also stunning with a metallic blue plate highlighted in gold trim. A big orange flaming bird decorates his chest, and the little castle mural over his belly is toned down a bit for this particular release. The egg-like moon on his shoulders is a lighter blue color, but is similarly toned down a bit. For a figure that's not at all about subtlety or nuance, there are plenty of tiny sculpted details to pick out throughout this one.
As a distant cousin to Masters of the Universe or the start of another line to collect (well, OK, maybe the end of that other line) the Ravens all turned out fairly well, assuming yours showed up and are functioning properly. While all of these figures are a little goofy, this one manages to take the premise of an anthropomorphic bird and just flies with it. I opted out of the big wing kit, and I think I did the right thing - the default figure is one of the most perfect things I got in (very late) 2014, and let me tell you, last December may have been one of the finest crops of non-Star Wars toys in years. If you got this one, don't let it go - and if you didn't, try to see if you can make good friends with someone who might leave it to you in their will. It really is just that neat.
--Adam Pawlus
Additional Images


See more Seventh Kingdom and Gothitropolis figures in Figure of the Day:
Day 754: Four Horsemen Seventh Kingdom Raavia Action Figure
Day 759: Four Horsemen Seventh Kingdom Shield of Draumm Action Figure
Day 1,060: Four Horsemen Gothitropolis Cardinus Action Figure
Day 1,104: Four Horsemen Gothitropolis Flamingus Action Figure
Day 1,112: Four Horsemen Gothitropolis Minotaur the Duck Action Figure
Day 1,119: Four Horsemen Gothitropolis Phoenius the Phoenix Action Figure

Click here to see more Four Horsemen figures in Figure of the Day.