Hot House
Micromaster Battle Station

Transformers Micromasters Battle Station
Item No.: Asst. 5509 No. 5534
Manufacturer: Hasbro
Includes: Figure, playset
Action Feature: Transforms from Truck to Jet and Robot
Retail: $9.99
Availability: 1989
Other: More... Much More than Meets the Eye!

PREVIOUS
RSS
NEXT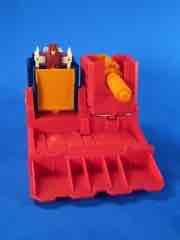 The Micromasters items were pretty sweet - Hot House got me a plane and a little playset. It adapted the play pattern made popular by MicroMachines with little pocket-sized roads and buildings you could connect together, only these bases weren't meant for your pockets. It's a bit larger, almost the size of a 3.5-inch floppy disk (ask your parents). At the time it felt expensive for ten bucks, and to be honest if it weren't for rapid inflation it would still be expensive today - there's very little paint here, a few stickers, and no faction markings. But it's fun - and I wish I had more of these. I only own two.
Hot House is not the building, but the name of the small white and maroon plane. It's incredibly simple - as a robot, the arms don't even rotate. They swing forward to become the wings and landing gear. The legs bend so he can sit, but it's only here for the transformation purposes. The only deco in this mode is the face, which looks like the norm for Hasbro and Takara products of the day. There's a swell visor and a face plate, as those were in vogue back then. Transformation is a snap - you can figure this out in a few seconds.
As a plane, you've got rolling landing gear wheels and a couple of stickers. The canopy is painted, but it doesn't do much else - the entire point of the whole Micro schtick was to give kids a complete play pattern in one box while also encouraging collecting and upselling other toys. The plane fits in the small hangar, but what's interesting here is the playset has roads - and if this is the only toy you've got, there are no cars to go on the streets.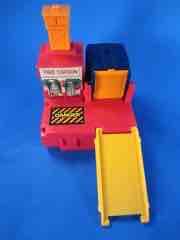 By default, you have a tiny fire station airport. The garage opens and closes, but the design is not conducive to driving cars in and out. The door opens back and in to the building, so you have to open it up through the back to actually store something in there - so the door is kind of pointless. A bright orange control tower conceals a giant cannon, with a sticker on the front reading "Fire Station" giving the illusion of the building with a fire pole, some lights, and some equipment. Were it not for that, I'm not sure how anyone could see this as a fire station. I guess it's red, but that's about all. A big "danger" sticker also exists, because I assume you're in danger. A bright yellow ramp is optional, and allows you to connect this little base to other bases or larger toys. It's sort of a system, but it didn't really last long enough to become something big and great - the de-factionization of this line was probably intentional so you can build a whole town out of the buildings regardless of allegiance. Other than driving your cars on the narrow streets or opening the garage, there's not much you can do here.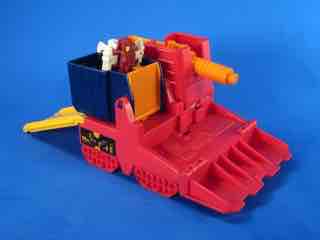 The tank mode is pretty goofy - it's typical 1980s goofiness. The plane's garage flips over and becomes a bucket for a figure to drive the vehicle. The gun unfolds from the tower. A scoop folds down in the front to push enemies out of the way. A few stickers add the only decoration to the vehicle, and this thing is crying out for faction symbols or some other painted details. It's painfully simple and I have to assume the profit margins in 1989 were spectacular at Hasbro, especially when you see what $5 could buy you in other lines. I won't say there's a ton of sculpted detail here, but there are a few things. Some faux tech detailing may inspire a child's imagination to have tiny robots work on the tank and fix it up, but the seating area for the pilot is just an upside-down garage. There is no steering mechanism, no seat, and really no reason to be excited by it.
Like most Micromasters toys, this one is cheap - I've had mine since I was a kid, I probably got it at a Kmart that no longer exists. Loose samples are about $30 now and boxed ones are about $50, and I can't say that I think it's worth that. If this were $10 or $20 today at the store, you'd probably find it upsetting - I mean, it really, really is a cheap toy. The Hasbro/Takara duo was doing more interesting things with Battle Beasts and previous regular Transformers, but this is sort of normal for the end of an era. It's notable, though, that it outlasted a lot of 1980s franchises with frequent reinventions like this one, the non-transforming Action Masters, and of course Beast Wars. Things have been a bit more slavishly orbiting 1984-1987 toys since just after the turn of the century, with some aesthetic shifts and new ventures in media. I wouldn't dare call this stage in their evolution a misstep, but by getting away from the Autobot/Decepticon conflict the characters have no real personality and the very greatest Micromasters - the combiner teams - wouldn't make it out to the USA until nearly 20 years after their Japanese debut. (Those, you should go buy.)
--Adam Pawlus
Additional Images


Click here to see more Hasbro figures in Figure of the Day.
Click here to see more Transformers figures in Figure of the Day.

Want to buy this figure? Check Transformers availability at our sponsors:
Entertainment Earth