Brainstorm
Series 02 #009

Transformers Generations Voyager
Item No.: Asst. A1403 No. A7806
Manufacturer: Hasbro
Includes: Arcana (head), 2 blasters
Action Feature: Transforms from Jet to Robot
Retail: $24.99
Availability: November 2014
Other: Date Stamp #42791 (from a solid case)

PREVIOUS
RSS
NEXT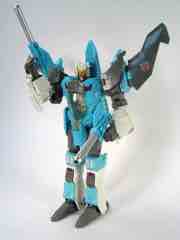 I'm mildly obsessed with getting updates of various "masters" figures. Headmasters, Targetmasters, Powermasters - I'm not picky. I adore the idea of figures with sidekicks, and Brainstorm. just pain works - or at least my sample does. From what I'm reading the earlier runs of this figure had problems removing the robot mode's head, a little robot named Arcana that can pilot the vehicle mode. Mine is from a slightly later run, and with a tiny bit of wiggling comes right out. It's not super loose, but it does come out without what I would call Excessive Force. I believe this may be the first mass-retail Headmasters update with an actual removable head - characters like Nightbeat didn't get this feature.
Based on a mix of his original toy and More Than Meets the Eye comic book counterpart, Brainstorm has little yellow eyes, a big orange face mask, and a lot of blue. And big giant metallic silver Autobot symbols - you'd almost think he's trying to hide something with such big faction symbols. The figure is quite tall with the top of his head measuring about 7 1/2-inches high. The sculpting is good, as you can see plenty of vents and panel lines plus some decent paint applications on the knees and shins. Brainstorm is largely hollow and much simpler than other Voyagers, although he does stand head-to-head with most of them. He's just a tiny bit smaller than the Walmart exclusive Ultra-class Hardhead, which was not sold as a Headmaster but a third party upgrade kit would grant him this feature.
For fans of the series, he appeared in the Japanese Headmasters cartoon with a full mouth - no faceplate. I prefer the faceplate look given to Arcana here. With roughly 21 points of articulation, it's certainly very poseable but the ratcheting joints may prevent some poses just because you don't get the subtle, small movements of a ball joint. Of course, things won't pop off either. I should also note that each hand is 5mm compatible and a little loose at the wrists. Each gun tends to lock the hands in place, otherwise they're more than a little wobbly. If you supply him your own briefcase, you may wish to do some customizing to keep it from flopping around.
As a removable head, Arcana really only needs to do one thing - transform into a noggin, and pop out easily. If you hold down a grey bar just under the head, you can wiggle the head loose. It isn't a smooth pull, and I heard more than one report of figures from the earlier run having Arcana's tiny, smirking head pop loose and get stuck in the neck joint. Many fans have suggested filing down the grey neck hole, but I have not opted to do this. Arcana's arms are stuck at a 90-degree angle and I'm told that on many samples, the paint sheds off fairly easily. As such, be careful. I had the legs pop out of joint when I transformed him, so be wary of where the pieces are so your sofa does not eat them.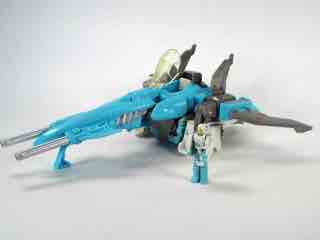 The head sculpt on Arcana is tiny and superb, but the rest of it needs work. Painting parts which could experience scraping worries me, and I assume over time the neck will get super-loose and the paint will be super-not-there. If there's no third party replacement in a few months, I'll be surprised. I generally like how it looks but it really doesn't feel particularly sturdy. It's no Armada Overlord, that's for sure.
Compared to most of this year's Voyager-class toys, it's ridiculously simple. There are no insane panels like on Blitzwing/Doubledealer. There are no floppy bits like on Rhinox. There's no weak, potentially breakable joints like on Roadbuster. It's simple and it works, but it may be too simple for some of you. There are no action features as such, but there is a retractable landing skid along with an opening clear canopy so Arcana can pilot the ship. I should also note, there's a faux Powermasters tech specs panel in the robot chest that folds back and forms the back of the seat in ship mode.
I've heard some criticism that the robot legs tuck back in a rather sloppy way, and I can't argue with that. It's not perfect, but it's pretty good. I like a good simple transformation where nothing pops off, and other than the head this figure totally nails it. In 2014 we saw more complicated Deluxe toys than this, but I'm not someone who wants to have to spend too much time fidgeting with things that may snap off or break, and once you get past Arcana it's a pretty sturdy toy.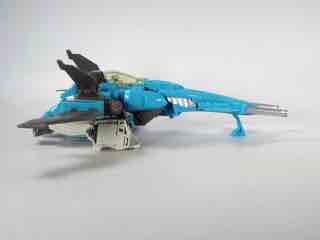 The "Thrilling 30" Voyager line - Springer, Blitzwing, Sandstorm, Sky-Byte, Doubledealer, Roadbuster, Whirl, Rhinox, and now Brainstorm - have given us a few more experimental figures over the last 20 months. There haven't been many, but we've seen longer runs and neater gimmicks - Springer/Sandstorm managed to pull off a stunning remold and pretty fantastic triple-changing, while Rhinox tried its damndest to give us elements of the cartoon and toy at a bigger, nicer price point. Sky-Byte is a little weird, and just like their ancestors Whirl and Roadbuster feel like they fell out of the sky from a different toy line. Brainstorm probably has the simplest, least fiddly transformation while more or less being true to his best-known forms in the English-speaking world. He may be tied with Roadbuster for the simplest overall transformation, but you can't deny that Hasbro deserves kudos for trying an honest-to-goodness Headmaster. And if you've been keeping track, here in the USA we've had a grand total of 13 Generations Voyagers since their debut in December of 2012. It's not exactly great. It's not terrible either, but of the 13 we got one Maximal, one Predacon, one double agent, seven Autobots, and only three full-blooded Decepticons. It hasn't been a great season for balancing the factions, especially when you factor in two of the Decepticons were basically the same dude. Also, we got 45 regular retail figures under the "Thrilling 30" Generations branding over the last 20 months. Given that it covered later Generation 1, new comics, Beast Wars and its sequels/spin-offs, and later shows I would consider it to be pretty successful. 16 of those toys have yet to be redecorated or remolded for the American market, so that ain't bad neither.
Because I shamelessly love this kind of toy, I must suggest that you get one. I bought mine from Entertainment Earth and it came from a later batch - so I am assuming the neck was fixed slightly from the earlier releases. I got mine with a #42791 date stamp on the box, others got roughly #42251 or something else (thank you Ms. Ulm). So keep an eye out for the more recent date stamps on the box, and also remember that this is a simpler toy. Not Armada Maxcons-class ($20ish) simple, but pretty close. As one of the final (or the final, in the order mine showed up around the office and locally) toys of the 30th Anniversary "classic" line it's a fun choice. Along with Arcee and Chromia, you really couldn't have asked for a much better prelude to the next big thing with the long-requested and oft-denied characters that will make up 2015's Combiner Wars.
--Adam Pawlus
Additional Images

Click here to see more Hasbro figures in Figure of the Day.
Click here to see more Transformers figures in Figure of the Day.

Want to buy this figure? Check Transformers availability at our sponsors:
Entertainment Earth