M.A.S.K. T-Bob with Scott Trakker Action Figure
Son and Robot

M.A.S.K. Action Figure 2-Pack
Item No.: No. 37240
Manufacturer: Kenner
Includes: Figure, robot
Action Feature: n/a
Retail: $2.99
Availability: ca. 1986
Other: Classic

PREVIOUS
RSS
NEXT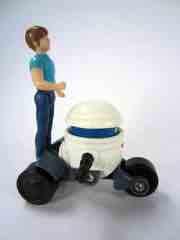 You can probably afford T-Bob with Scott Trakker Action Figure, as it isn't very expensive. The back half of the 1980s were largely dominated by a mix of 5-inch figures, G.I. Joe, and several small scale (but not yet Micro or Mini) action figure with vehicle lines. Dino-Riders, Starcom, and M.A.S.K. are fondly remembered but not all of these little guys were hits. The figures were cheaper overall with less articulation, and it wasn't uncommon for the heads to be largely unpainted. The entire M.A.S.K. line has unpainted human faces (except for hair) with the deco given to the titular masks, unless you were Scott Trakker.
For those not in the know, this line has been mostly dead since the 1980s. One exception was in the G.I. Joe 25th Anniversary line, as a new Matt Trakker named Specialist Trakker got released. He's pretty much it as far as the line's legacy goes, although fans seem to be hopeful for a reboot. Given the price of toy vehicles these days, I wouldn't bet on it.
Scott is small. Not even hitting 2 1/2-inches high, the 5-jointed son of series hero Matt Trakker doesn't have knee joints like the adults in the line, which is kind of a shame. The figure interacts with T-Bob, a little robot/scooter/bike thing but can't quite use his handlebars. Scott himself has sausagey limbs with tiny hands, and has no problems standing. The glossy figure feels very early 1980s, but it's oddly nearly perfect after being moved from house to apartment to apartment and so on over the last 30 years. I played with these a lot so I'm kind of surprised to see the hair isn't dinged and the shoes are all still blue. Scott's feet have holes in them so he can ride around on T-Bob without falling off, which I really appreciate.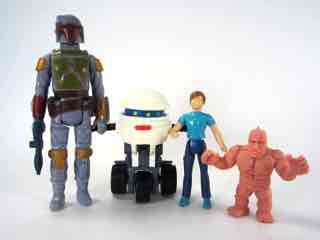 T-Bob is weird. I remember asking for this toy as a child, and I also remember being a bit miffed the figure didn't interact with it as nicely as it did on the cartoon. The three-wheeled robot has arms which extend out and retract, plus a rotating head dome sort of like R2-D2. The legs are jointed and can alter the figure's height from a hair under 2 1/2-inches to the vehicle mode of 1 1/2-inches. The strange thing is that it's pretty good - it has no problems rolling freely on my desk, and his deco is mostly provided by the plastic. His eyes are yellow dots, and his mouth is a red sticker. A stripe of blue makes up part of his head, making this a bizarre but charming artifact from the 1980s. This is, by no means, an impressive piece but it you look at it as the entry-level budget kid toy, sort of like the original Transformers Bumblebee, it's a charmer.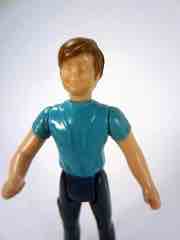 I really dig old Kenner toys, particularly the smaller action figures of this era. This is the smallest human figure of the entire line, and T-Bob is arguably better than the action sleds, backpacks, or survival rafts packaged with some of the other figures. Scott really could have benefitted from having his own mask - that is the name of the line, after all - but it's a worthwhile purchase if the price is right. Get it if you always wanted one, but unless you're already a member of the M.A.S.K. cult you should probably go about your life and not bother.
--Adam Pawlus
Additional Images

See more Kenner figures in Figure of the Day:
Day 98: Kenner Beast Wars Transformers Noctorro Action Figure
Day 99: Kenner Beast Wars Transformers Air Hammer Action Figure
Day 100: Kenner Beast Wars Transformers Torca Action Figure
Day 101: Kenner Beast Wars Transformers Terragator Action Figure
Day 102: Kenner Beast Wars Transformers Quickstrike Action Figure
Day 114: Kenner Total Justice Mail-In Superman Action Figure
Day 133: Kenner Q*Bert Wind-Up Q*Bert Action Figure
Day 138: Kenner Jurassic Park Chaos Effect Compstegnathus Action Figure
Day 172: Kenner Jurassic Park The Lost World Chasmosaurus Action Figure
Day 195: Kenner ALIENS Arachnid Alien Action Figure
Day 211: Kenner Predator Cracked Tusk Predator Action Figure
Day 234: Kenner ALIENS Scorpion Alien Action Figure
Day 250: Kenner ALIENS Panther Alien Action Figure
Day 256: Kenner ALIENS Gorilla Alien Action Figure
Day 261: Kenner ALIENS Bull Alien Action Figure
Day 285: Kenner ALIENS Hive Wars Warrior Predator
Day 317: Kenner ALIENS vs. Predator 10-Inch Alien Action Figure
Day 346: Kenner Jurassic Park Ian Malcolm Action Figure
Day 356: Kenner Action Masters Predator
Day 359: Kenner ALIENS Hive Wars Acid Alien Action Figure
Day 365: Kenner ALIENS Vasquez Action Figure
Day 366: Kenner Jurassic Park Ellie Sattler Action Figure
Day 381: Kenner ALIENS Action Masters Ripley
Day 397: Kenner ALIENS Mantis Alien
Day 398: Kenner Batman: The Animated Series Clayface
Day 408: Kenner Legends of Batman Future Batman
Day 421: Kenner Bone Age Crag the Clubber Action Figure
Day 437: Kenner SilverHawks Copper Kidd Action Figure
Day 441: Kenner Batman: The Animated Series Harley Quinn
Day 443: Kenner Batman: The Animated Series Machine Gun Joker
Day 444: Kenner Batman: The Animated Movie Mask of the Phantasm Phantasm
Day 446: Kenner Legends of Batman Knightquest Batman
Day 457: Kenner Batman: The Animated Series Ra's Al Ghul
Day 533: Kenner Jurassic Park Chaos Effect Amargospinus
Day 848: Kenner Transformers Beast Wars Terrorsaur
Day 903: Kenner Transformers Beast Wars Rattrap
Day 956: Kenner Transformers Beast Wars Claw Jaw
Day 1,140: Kenner M.A.S.K. T-Bob with Scott Trakker Action Figure
Day 1,180: Kenner Jurassic Park Alan Grant Action Figure
Day 1,198: Kenner Jurassic Park Tim Murphy Action Figure
Day 1,212: Kenner Jurassic Park Chaos Effect Ian Malcolm Action Figure
Day 1,248: Kenner M.A.S.K. Condor with Brad Turner Action Figure
Day 1,445: Kenner Transformers Beast Wars Cybershark
Day 1,452: Kenner Beast Wars Transformers Fuzors Injector
Day 1,486: Kenner Beast Wars Transformers Spittor
Day 2,179: Kenner Aliens Wild Boar Alien Action Figure
Day 2,190: Kenner Batman: The Dark Knight Collection Tec-Shield Batman Action Figure
Day 2,199: Kenner Batman Returns Penguin Commandos Action Figures
Day 2,217: Kenner Batman: The Dark Knight Collection Iron Winch Batman Action Figure

See more M.A.S.K. figures in Figure of the Day:
Day 1,140: Kenner M.A.S.K. T-Bob with Scott Trakker Action Figure
Day 1,248: Kenner M.A.S.K. Condor with Brad Turner Action Figure
Day 1,787: Hasbro Revolution First Strike Comic Preview Mega-Set