Rodimus
Optimus Maximus Chest Ornament

Transformers Generations Combiner Wars Legends
Item No.: Asst. B0971 No. B2441
Manufacturer: Hasbro
Includes: Trading Card, Spoiler Axe
Action Feature: Transforms from Car to Robot
Retail: $9.99
Availability: July 2015
Other: Remolded Blackjack, New Head, New Deco

PREVIOUS
RSS
NEXT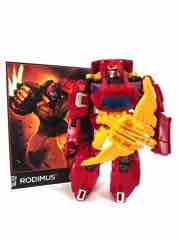 Hot Rod or Rodimus Prime to some, the modern fan knows that he's just Rodimus. This toy is sort of an oddity because it's a combiner part of a combiner team that doesn't really require his presence. Rodimus isn't part of Optimus Maximus in the Combiner Wars comics, nor does he appear at all. As a remold of Blackjack it's a clever toy and a great mini homage to mini Rodimus toys of old, but as a combiner dongle it's still pretty worthless. After all, it's the pegs on the chest of Menasor and Optimus Maximus that are too thin to hold this figure in place as part of a six-robot super team. In and of itself, though? It's great.
This is the first Rodimus toy to have a car window as a chest - normally he has the hood as a chest with the yellow spoiler on his back. In this case, the spoiler becomes his axe and can't be mounted on his back. The toy has decent articulation and coloring, with a wonderful head sculpt. Seriously, it's great - yellow details on his helmet pop nicely on an exquisitely sculpted face that looks like a classic Takara robot, complete with blue eyes.
The 3 1/2-inch robot is convincing as this character, but it's sort of a side-grade. It goes well with your other Legends, but for those of us who were hoping for a new Rodimus (other than the Cloud version from Japan) it's just another nice thing to spend ten bucks on. The toy's only Autobot symbol is a tiny tampo on his right shoulder, which pops nicely against a dark metallic red plastic. The blue chest is a little unsettling given his history of having a flaming torso all these years, but I still dig it. It's neat, but hardly essential unless you need this scale of toys to pal around with your Metroplex and "rumored" Fortress Maximus.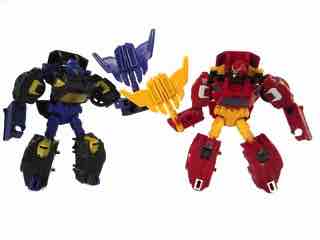 Transformation is a snap - the robot legs are the back of the car, the bulk of the vehicle exists as a backpack, plus the head and chest fold up in that giant, moving car chunk. The arms fold in, and presto - car mode! The ornament mode for the combiner is also the car mode, so you don't have to learn any extra steps here. The spoiler plugs in to the car nicely, providing a combination cannon and spoiler that should delight fans of Rodimus' many appearances.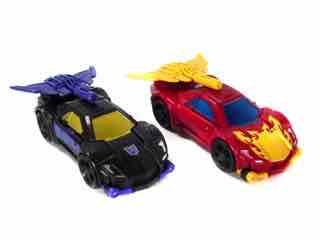 The car mode itself is a tiny bit bland, in that the unpainted wheels don't spin much and the giant yellow splash on the torso lacks the Autobot symbol you might expect as it's shown on the packaging. A shimmering, even coat of blue metallic paint bring the car to life and as an original character, this would be fantastic. But it's not. The car is somewhat conservative as opposed to the bonkers lavish futuristic supercar of the 1980s and the 2006 release, and it's more in line with the 2009 Universe legends toy. Minus some flames... and a proper spoiler.
Given the tolerances as a combiner piece, I don't expect anyone collecting this line to want to keep Roddy as part of Optimus Maximus once they get those pieces. It's a fine miniature toy for your desk or playset needs, and at ten bucks it may be a bit of a stretch to say that this is indeed worthwhile. Were I not a fairly big fan of the original 1980s movie, I probably wouldn't have wanted this - but I am, and here it is. If you just need a Rodimus because you love the comics, this is a good one for the money and it's not like you have an alternative at US retail anyway. Here's there to similarly scaled Springer, Arcee, Kup, and Blurr for Titan Wars!
--Adam Pawlus
Additional Images

Click here to see more Hasbro figures in Figure of the Day.

Click here to see more Transformers figures in Figure of the Day.

Want to buy this figure? Check Transformers availability at our sponsors:
Entertainment Earth