Depth Charge
Optimus Maximus #4 of 5

Transformers Timelines Deluxe
Item No.: No. 311401
Manufacturer: Hasbro
Includes: Transforming trident/spear
Action Feature: Transforms from plane to robot
Retail: free with subscription or as low as $10
Availability: July 2013
Other: Redecorated Terradive. A carded edition was also sold.

PREVIOUS
RSS
NEXT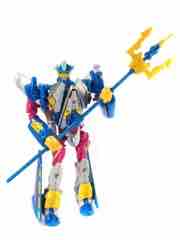 I don't buy a lot of club toys, but I know a deal when I see one. A friend tipped me off to $10 Depth Charge figures in the club store, which means I called in a favor to get him and a few other figures. I mean, $10? Terradive was a pretty good mold, and this one is just as colorful. Heck, more so - the orange is gone, but now we have bright yellow, purple, and blue. For $10, it's worth it. As part of the club - I'd argue it's still worth it. $40 for a magazine and a toy isn't terrible, but I let my subscription lapse a few years ago and haven't really missed it. I have missed the toys, though, and this was a fun one.
Mine has some quality control issues on the shoulders not being assembled exactly straight - unfortunately, most of the club or convention toys I get have at least one with missing or damaged parts, so I'm considering this more or less "normal." Yours may vary.
The robot mode of Terradive had a head that looked a lot like Depth Charge's face, so now we've got a smaller and skinnier version of the Maximal bounty hunter in a pre-beast form. He carries over much of the look of his Transmetals self, complete with hints of silver on the chest and a blue crest on his helmet. He's taller than a lot of current deluxes, standing at a hair under 6-inches tall - he ain't bad. You get exceptionally well-jointed shoulders and decent knees, ankles, wrists, and other areas of movement. The design dates back to 2010, where the toys tended to be a little more complicated and a little cheaper than some of our current releases. There's not a ton of amazing detail, but the club did a nice job giving him a red Maximal symbol and enough tidbits to look like beast kibble from the original Depth Charge toy.
He has no problems holding his trident, which has articulated points and two grips. Because of the good arm joints and the wrists, you can squeeze some pretty awesome poses out of this guy - he also stands up quite nicely on a shelf. It's worth noting that the toy is packaged in vehicle mode, and in my case he had some flash on a few parts that needed to be trimmed to get him in this mode. So be careful, it might need some more elbow grease to function. The shoulder area was always a little tricky.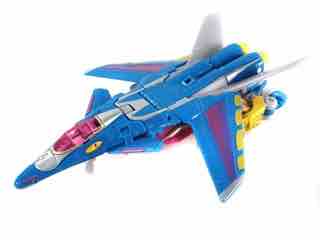 This one is a little complicated - I suggest consulting the instructions. There's a lot of flipping and twisting, plus a less-than-intuitive bit in the jet nose or the robot chest that requires careful extending of parts to ensure minimal snappage. If you like toys with fairly involved transformations, this one delivers that.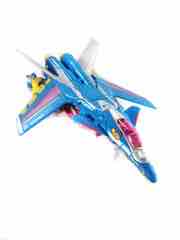 This jet looks vaguely like a sea creature, with painted details giving some sort of a creature feel. The vehicle has little in the way of moving parts, but you can mount the trident to the bottom or retract/deploy 3 landing gear wheels. It's something. Again, the design does recall the original Depth Charge with some sea wing detail on his jet wings. This is a toy concept where everything just fit together nicely for a good redeco.
While mine required some extra work, I still like it - granted, I like it because it was $10. An abundance of these have been on the market for a couple of years, which I believe means the club ran too many. Carded and bagged versions exist, with signed versions being sold as well. I'd just suggest you get a bagged one because it's cheapest. I don't have a lot of pre-beast Maximal toys, but I wouldn't be opposed to more if they captured the spirit of the original toys like this one. At press time the Depth Charge toy (provided you have access to a membership) is actually cheaper than Terradive or his remold, Space Case. If you've got an itch to buy more of these toys, this is a good one. If you haven't caught up with the retail stuff, you might want to do that first.
--Adam Pawlus
Additional Images

Click here to see more Hasbro figures in Figure of the Day.

Click here to see more Transformers figures in Figure of the Day.

Want to buy this figure? Check Transformers availability at our sponsors:
Entertainment Earth