Sega Genesis Megatron
Fully Transformable Antagonistic Videogame Console

Transformers TakaraTomy Arts Online Exclusive
Item No.: No. 89787
Manufacturer: Takara-Tomy
Includes: Gun, controller, cartridge
Action Feature: Transforms from Sega Genesis to Robot
Retail: approx. $91 ($120-$140 at importers)
Availability: February 2015
Other: Limited Edition of 1,000 Pieces

PREVIOUS
RSS
NEXT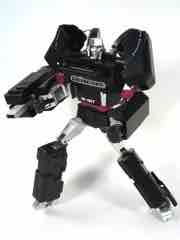 There are a few toys based on this mold - Sega Genesis Megatron wasn't the first. The redeco/remold was produced as a short 1,000 piece run for the online Takara-Tomy shop and as such, I had to snag one. The regular release is as a Mega Drive, and a gold redeco was made as a lucky draw toy. The standard release is significantly cheaper, but given my proclivity toward this kind of thing I went all out and got this one. Since what you want to know is "Is it any good," I have to say it's OK. If you don't mind overly fiddly transformations and a toy that seems about twice the price it should be, you're going to love it. It's a great display piece or trophy, but as a toy it's not a lot of fun. As shelf candy goes, this is a good one.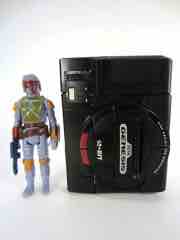 It's kind of funny that you can get an actual, working Sega Genesis and a Megatron for less than the price of this toy. Bigger ones, more functional ones, with electronics. The nature of collectibles is that you sometimes overpay for something for novelty or because you appreciate the premise, and this is one of those items. The toy is about the size of a standard Voyager-class (read: $20-$25) Transformers release with a bit more in the way of deco and moving parts. The odd arm cannon looks like it's capped by a USB connector for some reason, but that's nothing too special. What's unique here is that the toy was changed from the Mega Drive version with a smaller text reading "16-BIT" on his chest and purple has replaced the red stripes on his torso and arms. A few other minor graphical changes were also made, but when you get right down to it you're overpaying for some unique tampos on a 7 1/2-inch robot "toy."
The robot mode is very OK. Most of the joints are there for transformation purposes, and getting a cool pose out of this toy is difficult - it's an awkward little robot. Getting it to stand requires some patience, fidgeting with the feet and knees to get it balancing takes a tiny bit of work. The arms have limited articulation and generally the best pose can be described as "just standing there." The head sculpt is merely OK, not particularly amazing or anything. There's a lot of silver with red eyes, and not a lot of contrast.
Megatron makes clever use of his accessories. The volume control part of the console becomes the arm cannon, while the controller - for some reason - splits in half and hangs on his back like wings. The game cartridge (in this case the original Sonic the Hedgehog can be stored in his chest. I'm glad all the parts fit nicely. The game controller can also plug in to the arm cannon for some reason, and also the front of the console in its alt mode if you pry out the little cartridge port plug. (Be warned: don't lose it, it may go flying once you get it out of there.)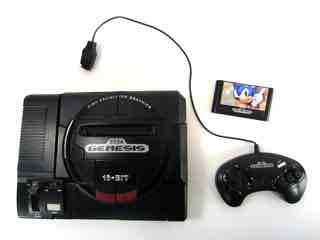 The robot mode doesn't do much other than stand, but the alt mode does more than most of these tend to do. As mentioned above, the controller plugs in and so does the game. Most alt modes just kind of sit there without many features or interactive elements. It looks like a tiny Sega Genesis, as it should. It's roughly the same size as an iPod Classic, barely 4-inches wide. It's a lovely little recreation of the game console, but it's not like it needs to do much of anything. The volume slider doesn't move, and getting that controller port plug out is kind of a pain in the neck. Don't try to pry it out in a cluttered room, let's say that.
This is not a fun toy. If you display it, it's fine. If you leave it in the box, it's cool. If you just need a toy that says "16-BIT" on it, it's fantastic. But it isn't a lot of fun, and it's certainly very expensive - I paid less for my original release of Masterpiece Convoy nearly 10 years ago. The fifth panel box has a magnetic flap and is mostly in blue, so that's kind of neat - but not all that impressive. It's weird to recommend this on the basis of a collectible aimed at a very specific kind of fan, but that's really what it is - think of it like a statue or a mini-bust, and it's pretty good. Put it on the same plane as a Hasbro toy, and it's terrible. Get it cheap if you get it, unless you're so in love with the idea that you simply must own one.
--Adam Pawlus
Additional Images

See more Takara-Tomy figures in Figure of the Day:
Day 180: Takara-Tomy Transformers Animated Ironhide (Bulkhead) Key Chain
Day 435: Takara-Tomy Transformers Prime Gacha Arms Micron Optimus Prime Blaster
Day 476: Takara-Tomy Transformers Prime Bumblebee Sword Action Figure
Day 495: Takara-Tomy Beast Saga Raioga Action Figure
Day 529: Takara-Tomy Beast Saga Kingdom of Sea Death Action Figure Set
Day 534: Takara-Tomy Beast Saga Dolphin Burst Action Figure
Day 540: Takara-Tomy Beast Saga Kingdom of Gloria Action Figure Set
Day 544: Takara-Tomy Beast Saga Aldyle Action Figure
Day 549: Takara-Tomy Beast Saga Dorfan Action Figure
Day 551: Takara-Tomy Beast Saga Eledram Elephant Action Figure
Day 564: Takara-Tomy Beast Saga DX Starter Set Action Figure Set
Day 568: Takara-Tomy Beast Saga Tarlock Action Figure
Day 573: Takara-Tomy Beast Saga Long Giraf Action Figure
Day 579: Takara-Tomy Beast Saga Garrison G Action Figure
Day 580: Takara-Tomy Beast Saga GachaBooster General Hawk Knight Action Figure
Day 585: Takara-Tomy Beast Saga Beast Machines Sky Darling Vehicle
Day 586: Takara-Tomy Beast Saga Killer Shark Burst Action Figure
Day 593: Takara-Tomy Beast Saga Rynas Action Figure
Day 595: Takara-Tomy Beast Saga Seylas Action Figure
Day 597: Takara-Tomy Transformers Prime Zad Action Figure
Day 601: Takara-Tomy Beast Saga Bamet Burst Action Figure
Day 616: Takara-Tomy Beast Saga Long Giraf Burst Action Figure
Day 622: Takara-Tomy Beast Saga Bamet Action Figure
Day 626: Takara-Tomy Beast Saga Killer Shark Action Figure
Day 637: Takara-Tomy Beast Saga Liorga Action Figure
Day 642: Takara-Tomy Beast Saga Aldyle Burst Action Figure
Day 663: Takara-Tomy Beast Saga Janjan Action Figure
Day 669: Takara-Tomy Beast Saga Ogre Burst Action Figure
Day 678: Takara-Tomy Beast Saga Swordbill Action Figure
Day 693: Takara-Tomy Beast Saga Guarl Burst Action Figure
Day 715: Takara-Tomy Beast Saga Guarl Action Figure
Day 824: Takara-Tomy Beast Saga Mantaray Action Figure
Day 828: Takara-Tomy Beast Saga Aljaylo Action Figure
Day 839: Takara-Tomy Beast Saga Ogre Action Figure
Day 846: Takara-Tomy Beast Saga Dakker Action Figure
Day 856: Takara-Tomy Beast Saga Moreek Action Figure
Day 873: Takara-Tomy Beast Saga Wonderriver Action Figure
Day 905: Takara-Tomy Transformers Masterpiece Edition Lambor G-2 Ver.
Day 937: Takara-Tomy Beast Saga Rynas Burst Action Figure
Day 974: Takara-Tomy Beast Saga Super Win Deck Impact Set Action Figure Set
Day 993: Takara-Tomy Beast Saga Kannigal Burst Action Figure
Day 1,127: Takara-Tomy Transformers Sega Genesis Megatron Action Figure
Day 1,207: Takara-Tomy Transformers United Rumble & Frenzy
Day 1,224: Takara-Tomy Transformers Adventure Roadblock
Day 1,242: Takara-Tomy Transformers Go! Go
Day 1,247: Takara-Tomy Transformers Go! Sen
Day 1,259: Takara-Tomy Transformers Go! Geki
Day 1,262: Takara-Tomy Transformers Masterpiece Bumble G-2 Ver.
Day 1,273: Takara-Tomy Transformers Go! Ex
Day 1,284: Takara-Tomy Transformers Go! Shou
Day 1,310: Takara-Tomy Transformers Legends Slipstream
Day 1,327: Takara-Tomy Transformers Unite Warriors Grand Scourge
Day 1,328: Takara-Tomy Transformers Unite Warriors Nightbird Shadow
Day 1,326: Takara-Tomy Beast Saga Buffam Action Figure
Day 1,328: Takara-Tomy Transformers Adventure Override
Day 1,332: Takara-Tomy Beast Saga Bunikis Action Figure
Day 1,339: Takara-Tomy Beast Saga Aljaylo Burst Action Figure
Day 1,357: Takara-Tomy Transformers United Stepper
Day 1,381: Takara-Tomy Beast Saga Eledram Burst Action Figure
Day 1,429: Takara-Tomy Transformers Legends Armada Starscream Super Mode
Day 1,468: Takara-Tomy Transformers Unite Warriors Grand Galvatron
Day 1,471: Takara-Tomy Zoids Masterpiece Shield Liger
Day 1,496: Takara-Tomy Beast Saga Dacker Burst Action Figure
Day 1,627: Takara-Tomy Transformers Legends Convobat
Day 1,670: Takara-Tomy Transformers Legends Leo Prime
Day 1,814: Takara-Tomy Beast Saga Mantaray Burst Action Figure
Day 1,842: Takara-Tomy Transformers Legends Blackarachnia
Day 1,911: Takara-Tomy Beast Saga Wolfen Burst Action Figure
Day 1,964: Takara-Tomy Beast Saga Buffam Burst Action Figure
Day 2,000: Takara-Tomy Zoids Wild ZW-05 Gannontoise Figure Kit
Day 2,006: Takara-Tomy Beast Saga Raioga Burst Action Figure
Day 2,008: Takara-Tomy Zoids Wild ZW-01 Wild Liger Figure Kit
Day 2,013: Takara-Tomy Zoids Wild ZW-03 Kabtor Figure Kit
Day 2,017: Takara-Tomy Zoids Wild ZW-04 Scorpear Figure Kit
Day 2,039: Takara-Tomy Zoids Wild ZW-06 Gabrigator Figure Kit
Day 2,075: Takara-Tomy Zoids Wild ZW-07 Kuwaga Figure Kit
Day 2,191: Takara-Tomy Transformers Generations Selects Deluxe Gulf (Skalor) Action Figure
Day 2,200: Takara-Tomy Transformers Generations Selects Deluxe Turtler (Snaptrap) Action Figure
Day 2,213: Takara-Tomy Beast Saga Kannigal Action Figure
Day 2,273: Takara-Tomy Transformers Generations Selects Voyager Super Megatron Action Figure
Day 2,463: Takara-Tomy Beast Saga Moreek Burst Action Figure

Click here to see more Transformers figures in Figure of the Day.

Want to buy this figure? Check Transformers availability at our sponsors:
Entertainment Earth