ZW-05 Gannontoise
Bright Blue

Zoids Wild Midsize Toy Kit
Item No.: ???
Manufacturer: Takara-Tomy
Includes: Stickers, pilot
Action Feature: n/a
Retail: $28 (3,000 yen)
Availability: June 2018
Other: New!

PREVIOUS
RSS
NEXT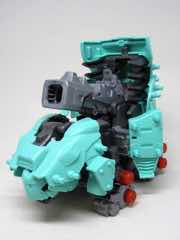 Welcome to FOTD #2,000. I had another figure selected for this day, but it didn't show up - more on that soon. Starting next week we'll be updating Tuesdays and Thursdays, because I've written over 4,500 "FOTD" reviews and it's kind of draining to open a new toy - or dig out an old one - every single day. We want to make things interesting or special, and ZW-05 Gannontoise is very special. Takara-Tomy revived Zoids yet again, this time in a line currently only in Japan with teams like "Death Metal" and "Freedom." There's a story associated with it, and an anime, and other stuff - we'll see more as time goes on, and the word's still out on when or if Hasbro will bring them here like we got in the 2000s. Some lines never made it out here. Zoids have had several runs in the USA with varying degrees of success. Tomy brought out the eponymous line in the early 1980s for a brief time, followed by unique colored toys for Robo-Strux later. Kenner brought over Techno-Zoids as another US-recolor line in the 1990s to compete with Zords, and yet another US line in the early 2000s were more or less direct imports of Japan's line of 1999+ kits - and I imported plenty of those, too. I've been buying these toys since I was a kid, so I get excited when new ones marketed to kids come out.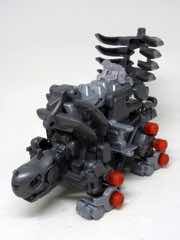 This series launched with two small kits and four medium-sized ones, the latter of which come with their parts pre-trimmed from sprues. Normally you spend hours finding and clipping your parts - this time they're in marked bags, but the sprues proved to be handy in easily identifying which part was the right part. Now, you fish around in a bag to find the right ones with no additional cutting or clipping. It goes much more quickly, as I put this together in about an hour last week when my internet and phone went out during the work day. It was somewhat fortuitous to get a big box from Japan and then a ton of time to put it together. I had no problems assembling the central engine and the guts of the toy, and the optional clip-on seafoam green armor added a lot to the toy's personality. I assume future toys will likely just swap out the armor so Takara-Tomy can use the same basic design to give us other toys using 80% of the same parts.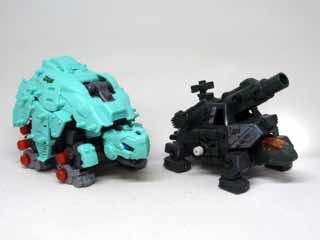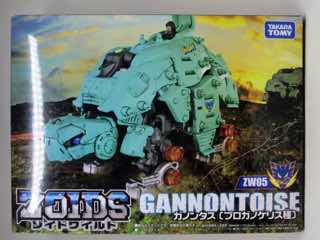 At about 6 1/2-inches long, it's not a huge toy but it does offer more moving parts than usual. A motor allows the toy to walk and nod his head, and if you reconfigure its armor it will also cause a piston to manipulate a very phallic cannon in the fold-out portion of the shell. Muy sexy. The shell also has an opening hatch to reveal one of the toy's radical departures from previous generations - the little chrome pilots are gone, replaced by significantly larger clear colorless frosty figures. I assume these will be replaced by anime-styled figures later as blind bags or other figure kits are sold, but for now you've got a nameless, faceless slug figure pilot. (I wish it was just chrome.) The actual mech gets some bonus personality thanks to one very new part - chrome eyeballs inserted in the robotic skull. They're metallic blue, but not vac-metal blue, and glisten nicely in a dark room.
The day this kit came, I went out to lunch to visit one of the two remaining Toys R Us stores which had one day left on its lease on life. I bought a lot of kits there, and it's weird to think about how that era is over, finished - but I'm also living in an era which has allowed me to buy pretty much any wacky kid's toy from Japan for close to its regular retail price since at least 1997. While the core hub of the reason I went out to do a toy run is gone - possibly forever - the internet has evolved to be an invaluable tool for toy collectors. Virtually anybody can post a video of a toy with a movie studio that exists in their pocket. Any goofball with the resources can find the rarest of rare toys on eBay or on a forum. You may not be able to get what you want at your local store, but I know I've had problems tracking down the exact figure I wanted, when I wanted it, back to at least the early 1980s. The big difference today is there are numerous outlets wanting to sell me stuff straight to my door, but it's not like I can just hop to a local store and find a wall of Playmobil or Zoids or even Imaginext anymore. On the other hand, the current marketplace allows a company like Onell Design to make its own toys and sell them to me, and for a retailer like HobbyLink Japan to continue to ship me Japanese Zoids, just like they did to my college dorm back in 1999. And today, I've got this goofy turtle covered in 26 3mm hardpoints for some sort of future weapon expansion kits or something. If you have old kits, the smaller weapons will fit on them.
If the price is right - especially at $30 or less - get one of these. Like recent Transformers from Hasbro or Takara-Tomy, this one is made in Vietnam and it came out basically perfect. My only gripe is that we didn't get the classic factions of Helic Republic or Zenebas Empire... or to a lesser extent, the Guylos Empire.
--Adam Pawlus
Additional Images


See more Takara-Tomy figures in Figure of the Day:
Day 180: Takara-Tomy Transformers Animated Ironhide (Bulkhead) Key Chain
Day 435: Takara-Tomy Transformers Prime Gacha Arms Micron Optimus Prime Blaster
Day 476: Takara-Tomy Transformers Prime Bumblebee Sword Action Figure
Day 495: Takara-Tomy Beast Saga Raioga Action Figure
Day 529: Takara-Tomy Beast Saga Kingdom of Sea Death Action Figure Set
Day 534: Takara-Tomy Beast Saga Dolphin Burst Action Figure
Day 540: Takara-Tomy Beast Saga Kingdom of Gloria Action Figure Set
Day 544: Takara-Tomy Beast Saga Aldyle Action Figure
Day 549: Takara-Tomy Beast Saga Dorfan Action Figure
Day 551: Takara-Tomy Beast Saga Eledram Elephant Action Figure
Day 564: Takara-Tomy Beast Saga DX Starter Set Action Figure Set
Day 568: Takara-Tomy Beast Saga Tarlock Action Figure
Day 573: Takara-Tomy Beast Saga Long Giraf Action Figure
Day 579: Takara-Tomy Beast Saga Garrison G Action Figure
Day 580: Takara-Tomy Beast Saga GachaBooster General Hawk Knight Action Figure
Day 585: Takara-Tomy Beast Saga Beast Machines Sky Darling Vehicle
Day 586: Takara-Tomy Beast Saga Killer Shark Burst Action Figure
Day 593: Takara-Tomy Beast Saga Rynas Action Figure
Day 595: Takara-Tomy Beast Saga Seylas Action Figure
Day 597: Takara-Tomy Transformers Prime Zad Action Figure
Day 601: Takara-Tomy Beast Saga Bamet Burst Action Figure
Day 616: Takara-Tomy Beast Saga Long Giraf Burst Action Figure
Day 622: Takara-Tomy Beast Saga Bamet Action Figure
Day 626: Takara-Tomy Beast Saga Killer Shark Action Figure
Day 637: Takara-Tomy Beast Saga Liorga Action Figure
Day 642: Takara-Tomy Beast Saga Aldyle Burst Action Figure
Day 663: Takara-Tomy Beast Saga Janjan Action Figure
Day 669: Takara-Tomy Beast Saga Ogre Burst Action Figure
Day 678: Takara-Tomy Beast Saga Swordbill Action Figure
Day 693: Takara-Tomy Beast Saga Guarl Burst Action Figure
Day 715: Takara-Tomy Beast Saga Guarl Action Figure
Day 824: Takara-Tomy Beast Saga Mantaray Action Figure
Day 828: Takara-Tomy Beast Saga Aljaylo Action Figure
Day 839: Takara-Tomy Beast Saga Ogre Action Figure
Day 846: Takara-Tomy Beast Saga Dakker Action Figure
Day 856: Takara-Tomy Beast Saga Moreek Action Figure
Day 873: Takara-Tomy Beast Saga Wonderriver Action Figure
Day 905: Takara-Tomy Transformers Masterpiece Edition Lambor G-2 Ver.
Day 937: Takara-Tomy Beast Saga Rynas Burst Action Figure
Day 974: Takara-Tomy Beast Saga Super Win Deck Impact Set Action Figure Set
Day 993: Takara-Tomy Beast Saga Kannigal Burst Action Figure
Day 1,127: Takara-Tomy Transformers Sega Genesis Megatron Action Figure
Day 1,207: Takara-Tomy Transformers United Rumble & Frenzy
Day 1,224: Takara-Tomy Transformers Adventure Roadblock
Day 1,242: Takara-Tomy Transformers Go! Go
Day 1,247: Takara-Tomy Transformers Go! Sen
Day 1,259: Takara-Tomy Transformers Go! Geki
Day 1,262: Takara-Tomy Transformers Masterpiece Bumble G-2 Ver.
Day 1,273: Takara-Tomy Transformers Go! Ex
Day 1,284: Takara-Tomy Transformers Go! Shou
Day 1,310: Takara-Tomy Transformers Legends Slipstream
Day 1,327: Takara-Tomy Transformers Unite Warriors Grand Scourge
Day 1,328: Takara-Tomy Transformers Unite Warriors Nightbird Shadow
Day 1,326: Takara-Tomy Beast Saga Buffam Action Figure
Day 1,328: Takara-Tomy Transformers Adventure Override
Day 1,332: Takara-Tomy Beast Saga Bunikis Action Figure
Day 1,339: Takara-Tomy Beast Saga Aljaylo Burst Action Figure
Day 1,357: Takara-Tomy Transformers United Stepper
Day 1,381: Takara-Tomy Beast Saga Eledram Burst Action Figure
Day 1,429: Takara-Tomy Transformers Legends Armada Starscream Super Mode
Day 1,468: Takara-Tomy Transformers Unite Warriors Grand Galvatron
Day 1,471: Takara-Tomy Zoids Masterpiece Shield Liger
Day 1,496: Takara-Tomy Beast Saga Dacker Burst Action Figure
Day 1,627: Takara-Tomy Transformers Legends Convobat
Day 1,670: Takara-Tomy Transformers Legends Leo Prime
Day 1,814: Takara-Tomy Beast Saga Mantaray Burst Action Figure
Day 1,842: Takara-Tomy Transformers Legends Blackarachnia
Day 1,911: Takara-Tomy Beast Saga Wolfen Burst Action Figure
Day 1,964: Takara-Tomy Beast Saga Buffam Burst Action Figure
Day 2,000: Takara-Tomy Zoids Wild ZW-05 Gannontoise Figure Kit
Day 2,006: Takara-Tomy Beast Saga Raioga Burst Action Figure
Day 2,008: Takara-Tomy Zoids Wild ZW-01 Wild Liger Figure Kit
Day 2,013: Takara-Tomy Zoids Wild ZW-03 Kabtor Figure Kit
Day 2,017: Takara-Tomy Zoids Wild ZW-04 Scorpear Figure Kit
Day 2,039: Takara-Tomy Zoids Wild ZW-06 Gabrigator Figure Kit
Day 2,075: Takara-Tomy Zoids Wild ZW-07 Kuwaga Figure Kit
Day 2,191: Takara-Tomy Transformers Generations Selects Deluxe Gulf (Skalor) Action Figure
Day 2,200: Takara-Tomy Transformers Generations Selects Deluxe Turtler (Snaptrap) Action Figure
Day 2,213: Takara-Tomy Beast Saga Kannigal Action Figure
Day 2,273: Takara-Tomy Transformers Generations Selects Voyager Super Megatron Action Figure
Day 2,463: Takara-Tomy Beast Saga Moreek Burst Action Figure

See more Zoids, Robostrux, and Techno-Zoids in Figure of the Day:
Day 170: Tomy Zoids Wardick
Day 263: Tomy Zoids Gorgodos Action Figure
Day 364: Tomy Robostrux Brutox Figure Kit
Day 382: Tomy Robostrux Slithor Figure Kit
Day 406: Tomy Zoids Twinhorn Action Figure
Day 484: Tomy Robostrux Brox Figure Kit
Day 486: Tomy Zoids 24 Scale Neptune Figure Kit
Day 1,352: Tomy Robostrux Batlar Figure Kit
Day 1,422: Tomy Zoids Gator Figure Kit
Day 1,471: Takara-Tomy Zoids Masterpiece Shield Liger
Day 2,000: Takara-Tomy Zoids Wild ZW-05 Gannontoise Figure Kit
Day 2,008: Takara-Tomy Zoids Wild ZW-01 Wild Liger Figure Kit
Day 2,013: Takara-Tomy Zoids Wild ZW-03 Kabtor Figure Kit
Day 2,017: Takara-Tomy Zoids Wild ZW-04 Scorpear Figure Kit
Day 2,039: Takara-Tomy Zoids Wild ZW-06 Gabrigator Figure Kit
Day 2,075: Takara-Tomy Zoids Wild ZW-07 Kuwaga Figure Kit