Deadpool
Popular

Deadpool Chimichanga Surprise Action Figures
Item No.: Asst. E5057 No. E5059
Manufacturer: Hasbro
Includes: 2 stickers, small unicorn, big unicorn, Deadpool figure
Action Feature: n/a
Retail: 89.99
Availability: October 2018
Other: Still Popular

PREVIOUS
RSS
NEXT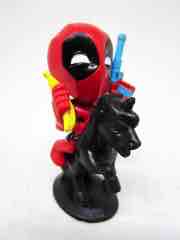 I like when fun things show up in the mail - I haven't seen Unicorn Deadpool in stores, which is a crying shame. This is like retail gold here. The amount of packaging is insane, because you get a big foil wrapper with a cardboard chimichanga inside. Inside that are three more packets - like sauce packets - with a "Sweet sticky" sticker, "Full Bodied" Deadpool, and "Extra Extra" accessories. At $8-$9, you get a gol-durned experience when it comes to unboxing. Hasbro is thinking about YouTubers with these things!
The 2-inch figure can sit on either horse - I was surprised the tiny one was sized for him! It's like a little toy. It's goofy, but consistent with the approved corporate brand statement of anarchic mayhem. It's not articulated, but he's holding a banana and what appears to be a Super Soaker-like water blaster. Molded in red, he can't stand on his own and has decent detailing with some black and white elements of his costume.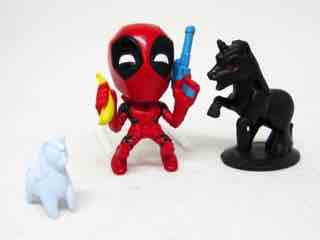 To help Mr. Pool stand, you've got two horses. A tiny grey unpainted one stands on all fours without any added support via a stand, which is nice. The big black one has red eyes, and a nice big stand for added support. It helps as it stands on two legs.
The stickers are sticky. One is a logo from the package, the other is of Wade and his horse.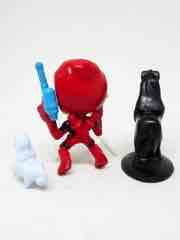 This is sort of a great stocking stuffer for adults and teens - it's like a loot crate, with less filler, and it's cheap, and there's no shipping. I think there's a lot of opportunity on this kind of thing, although I worry that the lack of retail appearance combined with the fact that it doesn't look like a toy could be confusing to people who aren't you or me. It's cute, it's amusing, and it's another Deadpool toy. Given the character's popularity, I expect people will like these if they see them.
--Adam Pawlus
Additional Images

Click here to see more Hasbro figures in Figure of the Day.
Click here to see more Marvel figures in Figure of the Day.