Vector Prime with Metalhawk Decoy Armor
Mini Pretenders!

Transformers Generations Power of the Primes Prime Masters
Item No.: Asst. E0566 No. E1113
Manufacturer: Hasbro
Includes: Blaster tip, small robot, robot suit
Action Feature: Transforms from Suit to Blaster and Robot to Ingot
Retail: $5.99
Availability: November 2017
Other: Tiny Pretender and Targetmaster

PREVIOUS
RSS
NEXT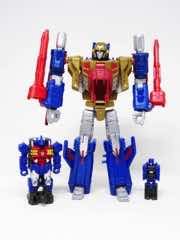 After a deluxe version, a BotCon version, and the original, Metalhawk has enjoyed multiple toys. None of which were sold in an American toy store, until now! Complete Metalhawk Power can be obtained with a mere four toys, plus a smattering of collectibles for bonus points.
The Prime Master is Hasbro's new $6 toy. For Titans Return we got Titan Masters - a robot/head and a partner transforming vehicle with two modes and a third weapon mode probably gave us the best bang for the buck as far as modes go. This time around the mini robot form factor remains unchanged, except the face backpack was replaced by a symbol for one of twelve ancient Cybertronians. The same mini robot head piece remains so you can make these into a figure's head if you really wanted to - you won't. The intention of the mini robot is that it can a) ride in Legends-class vehicles, b) stand on larger vehicles' pegs, c) pilot the Prime Master armor, and d) be plugged in to Deluxe-class combiner fists/Prime armor. (Well, and there are places to connect them on larger toys, but you get the idea.) It's an interesting idea, but the "let's pretend" concept of powering up larger toys doesn't sit well with me.
Mini-Cons in Armada added visible firepower or unlocked an action feature like a switch. Energon had energy stars you could plug on to larger toys to pretend they powered up, and it looked nice - but it wasn't particularly exciting. Cybertron had keys to unlock features, and few lines since then had small, collectible pieces that served as a line-unifying gimmick.
I think the whole idea of plugging in a goofy symbol to the Prime Armor is sort of pointless. It doesn't look particularly attractive, but I do like the symbols. The folded-up robot doesn't sink in the hand very far, so it just sort of juts out. That doesn't work for me. I do like how they ride in vehicles, or pilot their armor.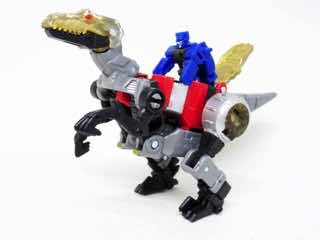 The Metalhawk Prime Armor comes with jointed arms. Each arm has a 3mm fist on the tip, so you can pop off the barrel on his back so he can hold his weapon. The detailing looks a lot like the original Pretender shell, with a cut-out face so the robot inside can peek out. It's cute. I like Micro things, and a figure like this looks more sensible hanging around Metroplex, Fortress Maximus, or Trypticon than many of the other toys. It's kind of a pity, the playset modes of these jumbo 20+-inch robots are just lacking compatible toys most of the time. This little fellow is a good fit, and they did a decent job decorating him with a red chest and yellow highlights. It lacks some of the original's details, but it's also dirt cheap and tiny.
Any doofus should be able to figure out the transformation. A 5mm peg flips from behind the feet, and the barrel plugs in to the figure's back and can rotate up to become a big blaster for larger figures. It's a good fit for Combiners, and it's a decent looking gun given that it's also an action figure.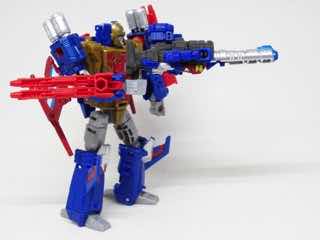 The inner Vector Prime robot looks a little like Metalhawk. His torso isn't gold, but the sculpting is close and so are the colors. He's 1.5-inches tall and is jointed at the neck, knees, hips, and shoulders - and yeah, he can pretty much do everything a Titan Master robot could do including replace a Titans Return toy's head. He fits perfectly in his armor, and while I'm enjoying futzing with them I don't know if kids would enjoy the whole Pretenders gimmick now that it's a 2-inch tall robot suit based on a toy they've never heard of with a 1.5-inch robot of a character even collectors don't really know on the inside. It's an obscurity turducken, which I can appreciate, but if I didn't have the toy and concept relayed to me at conventions and in meetings, would I understand it? The packaging does an acceptable job showing what it does, but given the multi-lingual packaging it's a wonder that anyone can grok what Hasbro is offering here. It's a lot of toy for the money.
I think this is a fun toy unto itself, and the fact that it's a nod to multiple existing toys and concepts is pretty cool. I also assume it won't push many nostalgia buttons, but the impulse price point might make up for it. I commend Hasbro for trying something a little out-there, and I hope it's a hit - the Titan Masters seemed to perform pretty admirably. I'm hoping the combo platter of obscure and cheap will appeal to kids and adult fans, mostly because $5 or $6 is about what a carded Mega Construx figure costs and they're similarly sized. If Hasbro has the guts, I'd love to see them keep it going with Classic Pretenders or anything else they feel like. The toy is clean, cheap, and works as advertised with modes that make sense and don't require consulting instructions just to see if it makes the right oddball vehicle mode.
--Adam Pawlus
Additional Images

Click here to see more Hasbro figures in Figure of the Day.
Click here to see more Transformers figures in Figure of the Day.

Want to buy this figure? Check Transformers availability at our sponsors:
Entertainment Earth