Mattel Jurassic World Tyrannosaurus Rex, Stygimoloch "Stiggy," and Triceratops Action Figures
Mattel, 2018

Day #1,989: June 19, 2018
Tyrannosaurus Rex, Stygimoloch "Stiggy," and Triceratops
Case says Dino-Mites, roughly scale to Matchbox vehicles

Jurassic World Attack Pack
Item No.: Asst. FPN72 No. FPN84
Manufacturer: Mattel
Includes: Three dinosaurs
Action Feature: One point of articulation
Retail: $9.99
Availability: April 2018
Other: Articulated

PREVIOUS
RSS
NEXT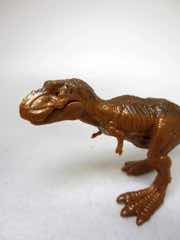 The scale is a mixed bag with these little guys, but Mattel's Tyrannosaurus Rex, Stygimoloch "Stiggy," and Triceratops are pretty great. Hasbro's small 3-packs and blind bags for Walmart were good, but these have one point of articulation each. Mattel seems to be consciously trying to one-up them on their action offering with bigger and arguably better mini dinosaurs. The "Dino-Mites" brand name on the cartons doesn't hurt, but the end user will never see this.
The figures are indeed small, but pretty good. This particular set pulls from the blind bags, so you might get some duplicates between this and the blind assortment - but you'll need to wade through both for a complete set. Supposedly the T-Rex is exclusive to this set, but it's also on the checklist for the blind bags. Maybe there's a deco variant?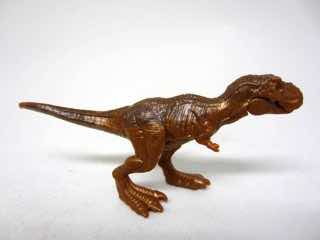 The Tyrannosaurus Rex is small with an opening jaw and shiny metallic skin. She has tiny black eyes and "FML71" stamped on his foot, with the Jurassic World symbol on the other sole. The enlarged feet are helpful in keeping the figure upright, making for a surprisingly sturdy figure right out of the box. I don't know how it will hold up to a toy box over time, but as it is now it's good. The skin shows a lot of detail, with the metallic plastic combining with the paint to really bring out the wrinkles and detail. Other than the dot black eyes, this is a really impressive little piece for the impulse price point.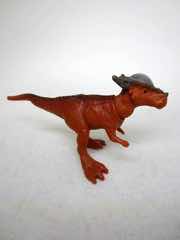 Supposedly Stygimoloch "Stiggy" has a significant role in the movie - as it is, she's a bonehead dinosaur with a nicer crest of horns out the back. Her feet aren't huge, but she stands up well. The head has a lot of sculpted detail, clearly showing someone put a lot of love into this tiny sculpt. At 3-inches long, there's not a lot for it to do other than stand and look cool. A neck joint ensures it looks extra cool, as the bone head can be posed head-butting or looking relatively normal with eyes looking forward.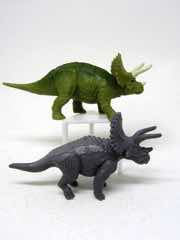 The Triceratops, or Torosaurus toddler, or whatever, is also good. It's long, it has a green shade on its back, and grey horns. The black eyes shine pretty well, with scale detail that reminds me of some of the very best dinosaur toys I had as a kid. She has a jointed neck for posing and combat, which makes it more interesting than Hasbro's static grey toy from a few years ago. Mattel's new one is a little more lively, with more color, and it's also a lot more expensive. Walmart's Hasbro tubes were $4.44 for 3, Mattel's are $9.99 for 3.
Safari's Dinosaur "Toob" packages get you over a dozen dinosaurs for roughly the same price, often with more colorful sculpts. The sizes aren't quite the same and there's no articulation, and the lack of branding may make a difference as kids asking for the toys go. They're neat, they're cool, and because of the movie tie-in there will be some sort of ongoing collector interest. I'm sure kids will be relatively happy with any ol' dinosaur, but as a budding collector relaunch these are nice. At $3.33 a pop these are priced similarly to Minecraft figures, which are also competing with similarly sized toys from a vending machine without branding that are arguably about as good - just not the thing. Toys like this show just how valuable a trademark can be to toys that could've been made from the public domain at a fraction of the price. They're good - but I would argue you'd be better served buying the bigger toys or other dinosaurs.
These are a superior product with a better center of gravity, improved paint, and actual articulation, but they're charging you accordingly. Consider a 3 3/4-inch human figure with dinosaur companion is about $8, those might be a better buy overall.
--Adam Pawlus
Additional Images

Click here to see more Mattel figures in Figure of the Day.

See more Jurassic Park and Jurassic World figures in Figure of the Day:
Day 11: Hasbro Jurassic Park III Dr. Alan Grant
Day 138: Kenner Jurassic Park Chaos Effect Compstegnathus Action Figure
Day 172: Kenner Jurassic Park The Lost World Chasmosaurus Action Figure
Day 346: Kenner Jurassic Park Ian Malcolm Action Figure
Day 366: Kenner Jurassic Park Ellie Sattler Action Figure
Day 372: Hasbro Jurassic Park G.I. Joe Heavy Gunner Action Figure
Day 533: Kenner Jurassic Park Chaos Effect Amargospinus
Day 620: Hasbro Jurassic Park Pachyrhinosaurus Clash Action Figure Set
Day 651: Hasbro Jurassic Park Allosaurus Assault Action Figure Set
Day 851: Hasbro Jurassic Park Paul Kirby Action Figure
Day 1,180: Hasbro Jurassic World Tyrannosaurus Rex Action Figure
Day 1,180: Kenner Jurassic Park Alan Grant Action Figure
Day 1,196: Hasbro Jurassic World 3 Dinos Action Figure
Day 1,198: Kenner Jurassic Park Tim Murphy Action Figure
Day 1,202: Hasbro Jurassic World Spinosaurus Action Figure
Day 1,212: Kenner Jurassic Park Chaos Effect Ian Malcolm Action Figure
Day 1,216: Hasbro Jurassic World Ankylosaurus Action Figure
Day 1,219: Hasbro Jurassic World Stegoceratops Action Figure
Day 1,228: Hasbro Jurassic World Tyrannosaurus Rex Action Figure
Day 1,425: Hasbro Jurassic World Hybrid Velociraptor Action Figure
Day 1,455: Hasbro Jurassic World Bashers & Biters Indominus Rex Action Figure
Day 1,462: Hasbro Jurassic World Hybrid Tyrannosaurus Rex Action Figure
Day 1,472: Hasbro Jurassic World Pachycephalosaurus Action Figure
Day 1,509: Hasbro Jurassic World Hybrid Armor Indominus Rex Action Figure
Day 1,526: Hasbro Jurassic World Owen "Alpha" and Velociraptor "Blue" Action Figure
Day 1,528: Hasbro Jurassic World Hybrid Armor Ankylosaurus Action Figure
Day 1,540: Hasbro Jurassic World Hybrid Dilophosaurus Rex Action Figure
Day 1,550: Hasbro Jurassic World Hybrid Carnoraptor Action Figure
Day 1,560: Hasbro Jurassic World Hybrid Rampage Indominus Rex Action Figure
Day 1,567: Hasbro Jurassic World Hybrid Stegoceratops Action Figure
Day 1,573: Hasbro Jurassic World Hybrid Pteramimus Action Figure
Day 1,712: Hasbro Jurassic World Hybrid Spinosaurus Action Figure
Day 1,721: Hasbro Jurassic World Hybrid Dilophosaurus Action Figure
Day 1,918: Mattel Jurassic World Mini Action Dino Ankylosaurus Action Figure
Day 1,938: Funko Pop! Movies Jurassic Park Dr. Ian Malcolm (Wounded) Pop! Vinyl Figure
Day 1,943: Mattel Jurassic World Velociraptor "Blue" Action Figure
Day 1,950: Mattel Jurassic World Super Colossal Tyrannosaurus Rex Action Figure
Day 1,954: Mattel Jurassic World Dilophosaurus Action Figure
Day 1,959: Mattel Jurassic World Battle Damage Triceratops Action Figure
Day 1,963: Mattel Jurassic World Extreme Chompin' Tyrannosaurus Rex Action Figures
Day 1,965: Mattel Jurassic World Battle Damage Velociraptor "Blue" Action Figure
Day 1,967: Mattel Jurassic World Robert Muldoon Action Figure
Day 1,972: Mattel Jurassic World Gallimimus Action Figure
Day 1,981: Mattel Jurassic World Metriacanthosaurus Action Figure
Day 1,984: Funko Pop! Movies Jurassic Park Dr. Ian Malcolm Pop! Vinyl Figure
Day 1,989: Mattel Jurassic World Tyrannosaurus Rex, Stygimoloch "Stiggy," and Triceratops Action Figures
Day 1,994: Mattel Jurassic World Battle Damage Pachycephalosaurus Action Figure
Day 1,999: Mattel Jurassic World Owen & Baby "Blue" Action Figure
Day 2,003: Mattel Jurassic World Gift Set 6-Pack Action Figures
Day 2,053: Mattel Jurassic World Legacy Dr. Ian Malcolm Action Figure
Day 2,098: Mattel Jurassic World Dino Rivals Destroy 'N Devour Indominus Rex Action Figure
Day 2,103: Fisher-Price Imaginext Jurassic World Dr. Malcolm & Dimetrodon Action Figures
Day 2,111: Mattel Jurassic World Dino Rivals Mussaurus Action Figure
Day 2,511: Mattel Jurassic World Dominion Roar Strikers Iguanodon Action Figure
Day 2,558: Mattel Jurassic World Dino Trackers Danger Pack Nothosaurus Action Figure
Day 2,578: Mattel Jurassic World Mosasaurus Action Figure
Day 2,602: Mattel Jurassic World Dino Trackers Danger Pack Dakosaurus Action Figure