Thor and Marvel's Valkyrie
Two-Pack

Marvel Legends Thor Ragnarok Action Figures
Item No.: No. C2241
Manufacturer: Hasbro
Includes: Alternate Thor hands, Thor cape, 2 swords, lightning, sheath
Action Feature: n/a
Retail: $29.99
Availability: Fall 2017
Other: Clearance find

PREVIOUS
RSS
NEXT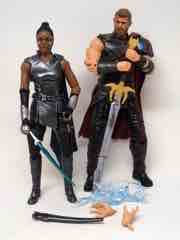 I couldn't say no to Thor and Marvel's Valkyrie. For $10.48 for 2 figures, this was a gem - Target stores around me were loaded with this set and Star-Lord with Ego, an unfortunate thing since both sets are pretty good. Their only real fault was by forcing a just-different-enough-to-make-you-mad duplicate figure of the male lead, with minor changes. In Thor's case they did some good stuff to make him interesting - so I'm not sorry I got this one.
The 6-inch scale action figure set has stunningly great likenesses, which at this point just makes me assume Lucasfilm doesn't have or care about likeness rights for some of the classic movies. I can't comprehend how a Marvel figure can be this good when after four decades, Han Solo is still always a little off.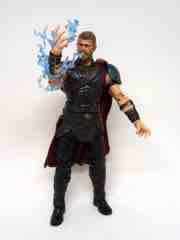 Thor's great - this arena version is different from the single figure in that he has an unhelmeted head and is missing the leg armor. He has Heimdall's sword and the new, hyper-realistic face paint. His eyes are particularly glossy, with tons of grit on his combat paint-free face. It's a great likeness at the scale and price, plus the big sword and lightning clip-on accessory are a lot of fun. He has the usual exceptional articulation, plus a removable cape. I'm surprised the shoulder pauldron doesn't really hinder movement all that much, especially given the recent history in getting figures to do things like sit. And grip Heimdall's sword. Good times.
The figure has a removable cape that pins in place, which I appreciate. It's sturdy, he looks cool, it's worth the price of admission - but you get more in the box.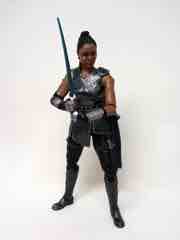 Tessa Thompson's Valkyrie is the real draw, in one of her two costumes. (I'd also like the other one.) This is the one on Sakaar, or Goldblumworld. She has the face paint and a costume that's very close to the final used in the movie. The gauntlets seem a little off, but other than that it's more or less on the money. The belt is loose, so you can use it to hold the sheath in place. She has the same high-quality detail as Thor, but the articulation comes up short. The elbows are bend-and-swivel, and her belt area doesn't spin. She's pretty good otherwise - the figure has a marvelous likeness with glossy eyes and lips. The outfit is a little drab, making it true to the movie. Her sword is blue, a bit bent, just like its means of storage. Its cast in a sort of metallic, sort of clear plastic. I've seen very little like it.
The daggers on her thighs are not removable, which is a pity given the set's price and lack of build-a-figure parts. I'd love to have seen a little more in the box (Space Goldblum) but I can't fault it at the clearance price. The improved likenesses and paint jobs make the set a keeper, and I'd love to see them keep doing more characters slightly improved just like these. With the 10th Anniversary MCU line, we're going to get more than a little of that. But for now, grab this one if you see it cheap. It's worth it.
--Adam Pawlus
Additional Images

Click here to see more Hasbro figures in Figure of the Day.
Click here to see more Marvel figures in Figure of the Day.