Mattel Jurassic World Battle Damage Triceratops Action Figure
Mattel, 2018

Day #1,959: May 8, 2018
Battle Damage Triceratops
Not quite 1:18 scale

Jurassic World Battle Damage - Walmart Exclusive
Item No.: Asst. FNB31 No. FNB38
Manufacturer: Mattel
Includes: N/A
Action Feature: Rotating wound gimmick
Retail: $9.96
Availability: April 2018
Other: Articulated

PREVIOUS
RSS
NEXT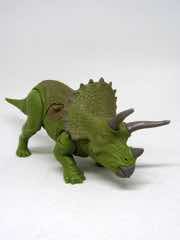 Scale was important for Mattel, but it's not perfect in terms of execution. Most of the figures are roughly 1:18 scale (for 3 3/4-inch figures), with the Battle Damage Triceratops being comparatively tiny - maybe it's a baby, or maybe its mother smoked. Like the minis, and the giant T-Rex, this one is a bit out of whack - but it's a good $10 toy and a good size for small hands. At 8-inches long, it would probably be a bit over 3-meters were it truly 1:18 scale, so let's go with that. As a green juvenile dinosaur, I like it.
The 5-inch long, 3-inch tall figure is about the same size as the typical Mattel Velociraptor, itself enlarged more than a bit thanks to the movies. A larger - but still small - Triceratops is also available in the Roarivores assortment. With multiple subspecies and ages, it could probably fit in your toy box and the multiple sizes makes it kind of interesting. The figure is lighter on paint than the larger, more expensive counterpart but still charming.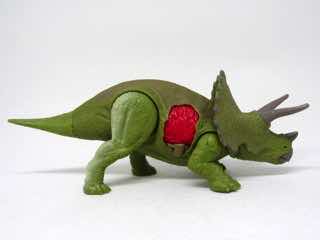 I love the sculpting - the scales, wrinkles, and damage marks are all pretty great. Its horns are molded in a different color and rubbery plastic, which is a nice way to save on paint and to prevent blindness. Deco is very simple compared to other dinos in the assortment. The triceratops' eye is yellow with a tiny black dot, with a painted beak and frill horns. A dusting of brown on its back keeps her from being a mono-color dinosaur like our fathers had, as does some odd cream color on the back of her legs. The red wound under the trap door is molded in red, which is simple and reasonable to expect for a toy like this. I appreciate it's unpainted, because over time it might look ugly with wear and tear. I would have loved painted toes or a wash, but for ten bucks it's pretty good.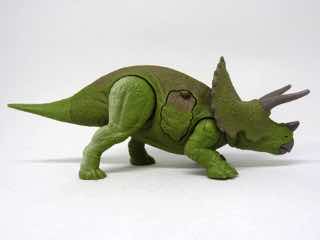 There's an app interactive "DNA" mark on the sole of one foot, giving you some animation and trivia on a smart phone. More interesting is the trapdoor mechanism for battle damage - it rotates in and out easily, showing a "wound" when a bigger dinosaur bites down. It's really fun to futz with, and a great fidget feature. I like this more than permanently wounded figures from the old days, or easily-lost flesh pieces. Hasbro had some similar trapdoor features on its Jurassic World toys a few years ago, too.
The figure also has surprisingly good articulation - the neck moves around a bit in all directions, and each leg can too. The front legs can rotate and swivel out, and the back legs can swivel and have just a tiny bit of lateral movement. It's better than a lot of previous dinosaurs, and a good way to pose it on dirt or rocks and not look terribly awkward. It's not the most articulated one we've ever seen, but it's very good and they could probably repaint it and resell it for another 10 years.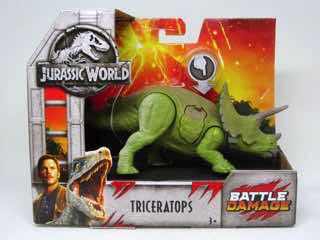 Size aside, it's a good figure for the asking price - a similarly sized Hasbro dinosaur didn't have as many features or articulation, and Hasbro's recent Star Wars creatures cost more and do about the same amount of stuff. Dinosaurs never seem to truly go away - unlike movie monsters - as new kids love them for different reasons. They're not usually scientifically accurate when they come from Hasbro or Mattel, but they are interesting playthings. I'm really charmed by this one, were it a generic triceratops for a couple bucks cheaper I'd still nudge you to buy it. The movie branding is a nice touch, and I assume Walmart will have a ton of them over the coming months so you won't miss yours. It's not amazing, but it's certainly fun and that's more or less where my head is at these days.
--Adam Pawlus
Additional Images

Click here to see more Mattel figures in Figure of the Day.

See more Jurassic Park and Jurassic World figures in Figure of the Day:
Day 11: Hasbro Jurassic Park III Dr. Alan Grant
Day 138: Kenner Jurassic Park Chaos Effect Compstegnathus Action Figure
Day 172: Kenner Jurassic Park The Lost World Chasmosaurus Action Figure
Day 346: Kenner Jurassic Park Ian Malcolm Action Figure
Day 366: Kenner Jurassic Park Ellie Sattler Action Figure
Day 372: Hasbro Jurassic Park G.I. Joe Heavy Gunner Action Figure
Day 533: Kenner Jurassic Park Chaos Effect Amargospinus
Day 620: Hasbro Jurassic Park Pachyrhinosaurus Clash Action Figure Set
Day 651: Hasbro Jurassic Park Allosaurus Assault Action Figure Set
Day 851: Hasbro Jurassic Park Paul Kirby Action Figure
Day 1,180: Hasbro Jurassic World Tyrannosaurus Rex Action Figure
Day 1,180: Kenner Jurassic Park Alan Grant Action Figure
Day 1,196: Hasbro Jurassic World 3 Dinos Action Figure
Day 1,198: Kenner Jurassic Park Tim Murphy Action Figure
Day 1,202: Hasbro Jurassic World Spinosaurus Action Figure
Day 1,212: Kenner Jurassic Park Chaos Effect Ian Malcolm Action Figure
Day 1,216: Hasbro Jurassic World Ankylosaurus Action Figure
Day 1,219: Hasbro Jurassic World Stegoceratops Action Figure
Day 1,228: Hasbro Jurassic World Tyrannosaurus Rex Action Figure
Day 1,425: Hasbro Jurassic World Hybrid Velociraptor Action Figure
Day 1,455: Hasbro Jurassic World Bashers & Biters Indominus Rex Action Figure
Day 1,462: Hasbro Jurassic World Hybrid Tyrannosaurus Rex Action Figure
Day 1,472: Hasbro Jurassic World Pachycephalosaurus Action Figure
Day 1,509: Hasbro Jurassic World Hybrid Armor Indominus Rex Action Figure
Day 1,526: Hasbro Jurassic World Owen "Alpha" and Velociraptor "Blue" Action Figure
Day 1,528: Hasbro Jurassic World Hybrid Armor Ankylosaurus Action Figure
Day 1,540: Hasbro Jurassic World Hybrid Dilophosaurus Rex Action Figure
Day 1,550: Hasbro Jurassic World Hybrid Carnoraptor Action Figure
Day 1,560: Hasbro Jurassic World Hybrid Rampage Indominus Rex Action Figure
Day 1,567: Hasbro Jurassic World Hybrid Stegoceratops Action Figure
Day 1,573: Hasbro Jurassic World Hybrid Pteramimus Action Figure
Day 1,712: Hasbro Jurassic World Hybrid Spinosaurus Action Figure
Day 1,721: Hasbro Jurassic World Hybrid Dilophosaurus Action Figure
Day 1,918: Mattel Jurassic World Mini Action Dino Ankylosaurus Action Figure
Day 1,938: Funko Pop! Movies Jurassic Park Dr. Ian Malcolm (Wounded) Pop! Vinyl Figure
Day 1,943: Mattel Jurassic World Velociraptor "Blue" Action Figure
Day 1,950: Mattel Jurassic World Super Colossal Tyrannosaurus Rex Action Figure
Day 1,954: Mattel Jurassic World Dilophosaurus Action Figure
Day 1,959: Mattel Jurassic World Battle Damage Triceratops Action Figure
Day 1,963: Mattel Jurassic World Extreme Chompin' Tyrannosaurus Rex Action Figures
Day 1,965: Mattel Jurassic World Battle Damage Velociraptor "Blue" Action Figure
Day 1,967: Mattel Jurassic World Robert Muldoon Action Figure
Day 1,972: Mattel Jurassic World Gallimimus Action Figure
Day 1,981: Mattel Jurassic World Metriacanthosaurus Action Figure
Day 1,984: Funko Pop! Movies Jurassic Park Dr. Ian Malcolm Pop! Vinyl Figure
Day 1,989: Mattel Jurassic World Tyrannosaurus Rex, Stygimoloch "Stiggy," and Triceratops Action Figures
Day 1,994: Mattel Jurassic World Battle Damage Pachycephalosaurus Action Figure
Day 1,999: Mattel Jurassic World Owen & Baby "Blue" Action Figure
Day 2,003: Mattel Jurassic World Gift Set 6-Pack Action Figures
Day 2,053: Mattel Jurassic World Legacy Dr. Ian Malcolm Action Figure
Day 2,098: Mattel Jurassic World Dino Rivals Destroy 'N Devour Indominus Rex Action Figure
Day 2,103: Fisher-Price Imaginext Jurassic World Dr. Malcolm & Dimetrodon Action Figures
Day 2,111: Mattel Jurassic World Dino Rivals Mussaurus Action Figure