Cindersaur
Possibly First Genderfluid Toy

Transformers Generations Power of the Primes Legends
Item No.: Asst. E0602 No. E1160
Manufacturer: Hasbro
Includes: 1 of 12 Collector Cards
Action Feature: Transforms from Raptor to Robot
Retail: $9.99
Availability: June 2018
Other: Are You a Boy or Are You a Girl?

PREVIOUS
RSS
NEXT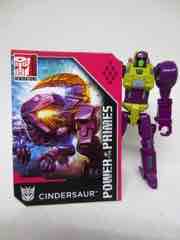 While I think a lot of people expected the G1 Firecons to get new toys eventually, Cindersaur as a redeco of Dinobot Slash [FOTD #1,878] was a little unexpected. The strange, squat dinosaur-like kaiju of 1988 gets a gender swap (according to her card) and a new alt mode sans sparks in this new release. While a gorgeous toy and a clever remold, it's not exactly the same squat weirdo as we got in G1 - so I assume there will still be call for an update, even though this probably qualifies as close enough for jazz. I'm going to go with "her" as my toy came with the Alpha Trion card which identifies her as such, but it changes based on the card - meaning either we have a typo, or this is a character that changes how they self-identify depending on which Power of the Primes they have.
The robot mode is a redecorated Slash with a new head inspired by the original Cindersaur [FOTD #341] from 1988. The colors are pretty much an exact match, with the new figure sporting significantly more detail and articulation. He lenses are painted black now, plus she has a smattering of grey detailing recalling the original toy's grey monster chest. Gone is much of the kibble, giving you a much more cohesive update to the squat bot. The bonnet-like mustard covering over her head matches the original toy's awkward and chunky build, ggiving you an unquestionably more photogenic toy while losing some of the bizarre charm of the original.
13 points of articulation and no weapon mean you might want to power her up with other gear, but she looks pretty good on her own.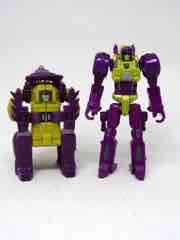 Transformation is pretty simple - the dinosaur's feet fold back and reveal robot fists. The tail folds back and the head appears. The dinosaur head rolls back and goes under the tail. The chest becomes the legs.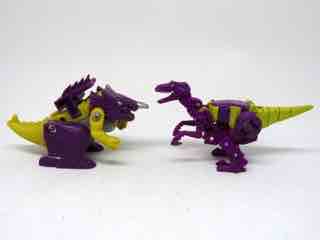 The raptor has the same basic coloring as the original Cindersaur, but lacks the snout horn. She has articulated arms and legs, a bulky tail, plus seating for a Prime Master or Titan Master on her back. It's cool. There are no action features, but the jaws open and that's a perfectly nice feature. I love that this exists, but I'm also hoping we'll get another redeco in Age of Extinction Slash green.
This is another figure that's really good but possibly not what you want - it's an original take on a character with precious few toys, each of which seems to be a big change from the last. There was a "G2" Cindersaur that was a blue repaint of a Megatron. There was a Bot Shots toy. It's a charmer, but given Hasbro does updates of updates you could wait. But why? There are so few women in the Decepticons that you could probably use one in the US G1 continuity after nearly 34 years.
--Adam Pawlus
Additional Images

Click here to see more Hasbro figures in Figure of the Day.
Click here to see more Transformers figures in Figure of the Day.

Want to buy this figure? Check Transformers availability at our sponsors:
Entertainment Earth