Evolution Optimus Prime
Two Bots for the price of Two!

Transformers Generations Power of the Primes Leader
Item No.: Asst. E0601 No. E1147
Manufacturer: Hasbro
Includes: 2 blasters, trailer bulk, 2-piece Matrix of Leadership 1 of 12 Trading Cards
Action Feature: Transforms from Optimus Prime to Orion Pax to Truck
Retail: $49.99
Availability: January 2018
Other: Orion and Optimus and Truck and Blaster

PREVIOUS
RSS
NEXT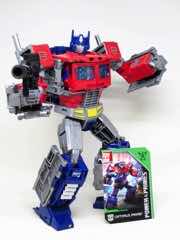 When I first saw this new Optimus Prime it was unpainted and rough - but I could make out a little "War Dawn" Orion Pax head, and was utterly delighted. The toy is a pretty nifty and arguably pretty strange one when you really take it apart. In the old days, Optimus was a red cab that turned into a robot, with a grey battle station from his container trailer. This new one turns from the original 1984 cab to a very Cybertronian Orion Pax robot with minimal kibble - and it basically works. The container contorts to the regular cartoon Optimus Prime body, and it's actually pretty close to the famous MP-10 Optimus Prime. I kind of like it more since it's simpler, but it lacks the features, deco, and heft of the higher-end collectible toy product.
The toy's accessories are excellent. The Matrix of Leadership is removable - a first for Generations toys if I'm not mistaken - but it can't actually be held in his hands. You can kind of fudge it, though. The center piece is removable and you can plug in a Prime Master or Power Master to give the toy new powers, before installing it in the chest - which is a pile of wonders unto itself. The robot chest opens up to reveal a second truck chest which must be opened, the first of considerable fake kibble you'll encounter when playing with this toy. Truck kibble is visible on the robot that has no corresponding part on the truck - it's madness. I like it.
His Ion Blaster is also notable for being closer to the original toy and cartoon gun than many of the others. It's still not an exact match, as the 2-part blaster has some wacky 5mm holes and pegs in it - but it's the closest we've seen so far outside the Masterpiece range. The blaster can be stored in the container in truck mode, and the Matrix fits in the robot mode's chest - and is visible through the truck cab windshield.
The big Optimus Prime robot mode is sizable and weirdly fun. He has exquisite ankle articulation and moves pretty much anywhere you'd like with his lateral shoulder movement and jointed hips. The wrists are, sadly, not jointed - and I would say this is the only knock against the toy's "classic" appearance from the front. Orion Pax' legs hang off the back, giving him a weird bit of kibble. It's still a nice robot that can be posed well, holds together nicely, and just plain looks like the best Optimus toy. I'm not saying it is the absolute best, but it's pretty fantastic that this is what we got out of the truck mode. I doubt the robot mode will please Masterpiece completists, but for those wanting a cheap, great robot of size? It's good.
There are some deviations form the norm that I'm sure Takara would have changed on a Japan-specific deco, which is apparently not in the cards. Grey fists, container kibble, and shoulders are a little strange and off-brand for the big bot. The yellow arrows on the forearms are unpainted - but we do get the yellow waist markings and some new foil stickers that look pretty sharp. Or at last the ones put on straight are - the Autobot symbols were a little askew on mine.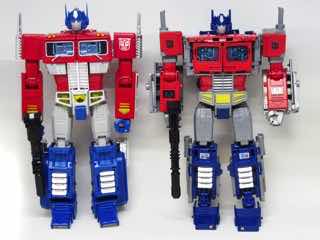 The smaller Orion Pax mode is a Voyager-class robot sized (and colored) pretty much the same as the Classics Optimus Prime of old - you know that first mold we all bought a few times by now. Articulation is great and I love the way they kind of forced the old Sunbow design into a boxy truck - both suffer a bit here and there, but there's no mistaking the classic head design or rounded arms. The toy's labels remind me a lot of the eHobby Orion Pax, thus no doubt opening the door to some sort of custom of this toy as Kup. Articulation is above par with double-jointed elbows, no real ankles to speak of, and great hip and arm movement. The Hasbro and Takara-Tomy engineers clearly put significant emphasis on this mode being right, at the expense of the truck form. I think they made the right decision, as it's kind of amazing to see this particular robot exist, in front of me, as a toy. For fans wanting a legit, awesome G1 Orion Pax robot - there's no competition. Not yet, anyway.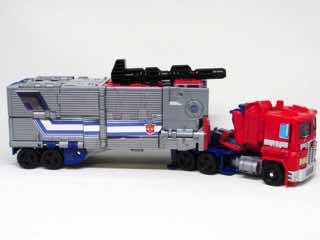 The truck is more or less what I expected, but it's the worst of the modes. As you can see from the side view, the cab has a lot of kibble and parts that don't quite fit. Robot bits hang off the back, so from certain angles it looks great and from others, well, not. The front of the cab is duplicated by fake robot mode kibble, so that front of the truck isn't actually Optimus' chest. The toy is bewildering puzzle play at its best, eschewing the more sensible "cab from truck becomes cab from truck chest" way of old. Hasbro made a truck that looks kind of like the G1 truck that turns to a robot that looks pretty much exactly like the G1 robot, but the roundabout way of getting there is amazing. You'll notice that the cab lacks smokestacks, but the robot has them on his shoulders. This toy was clearly designed by a lovable insane person, and a person who is aware that most collectors display in robot mode. The truck only looks acceptable from some angles, otherwise it's kind of a strange mess.
While writing this review, I pulled out the Leader-class Megatron [FOTD #1,231] from a few years ago - and the differences are striking. Megatron had an unusual amount of silver paint, but the look was pretty sturdy and appropriate to the character. While Optimus may look more like a toy, he benefits from tons of articulation and non-lightpiped eyes to give him a little more life. In terms of overall futzing and playability, Hasbro may need to revisit Megatron - or perhaps Galvatron - and deliver something a little fancier in the next couple of sub-lines.
I'm not going to lie to you - this is an odd toy. For Hasbro's first Leader-class non-Powermaster Optimus Prime, I'm surprised they tried something new and innovative - the power-up suit idea was a good one to try and I'm having fun futzing with it. This is also Hasbro's first "Classic" Optimus Prime toy since the Classics line to sport a full container. We have yet to see the "G1 with knees" remake with a playset in the container and a Roller drone, and maybe we never will, but clearly someone was putting some real thought into the elements that make the Autobot leader who and what he is. I appreciate the toymakers trying something we've not seen before, and I hope to see more strange things like this. I'd love to see this sort of thinking applied to Ultra Magnus some day, not to mention a few other Autobot leaders from Japan. I just opened this toy hours before writing this and am eager to play with it some more, so if you'll excuse me I need to stuff Orion back into Prime's chest now.
--Adam Pawlus
Additional Images

Click here to see more Hasbro figures in Figure of the Day.
Click here to see more Transformers figures in Figure of the Day.

Want to buy this figure? Check Transformers availability at our sponsors:
Entertainment Earth