Glyceptor
Alpha Interceptor Pilot

Glyos System Series
Item No.: No. n/a
Manufacturer: Onell Design
Includes: Basic figure includes clear colorless limbs, armor, 2 heads. Bonus back includes armor, limbs, and heads in orange.
Action Feature: Pops apart
Retail: $14.00
Availability: July 12, 2018
Other: A bonus Mystery Glyarmor bag was sold separately for $5.00

PREVIOUS
RSS
NEXT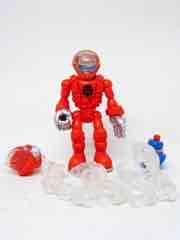 Some of these are really clever. The Glyceptor references Fisher-Price's Adventure People Alpha Interceptor pilot, a blue-capped human inside an orange space suit with silver gloves and some distinctive markings - which this deftly references. The clear Sarvos helmet has a lot of color on and under it, giving it a magical otherworldly quality that does a good job of selling the idea that this might be from some weird part of space.
The big "3" of the original Interceptor pilot is now a non-specific symbol that vaguely looks like it might be a letter or a number, but is neither. It's on a white plane flanked by orange helmet sideburns, and the white runs down the back - again, like the original figure. Gold boxes and a blue stripe add to the color, making this a more distinctive-looking figure from behind than the front.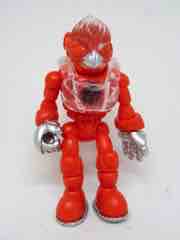 A black chest symbol looks a lot like a belt buckle on the original toy, and the silver soles and gloves match the original figure quite nicely. There's no analog to the external red goggles, though. It's the kind of thing that makes you wish Onell Design made some vehicles so this figure could pilot them.
Articulation of this 2 3/4-inch action figure is typical Glyos fare with each joint being removable. 12 meaningful points of articulation await you, as do numerous optional parts like arms, legs, heads, and armor. The clear bits make it look like some weird, mutant 1980s space toy from another country that has better toys than the USA. (So, Japan.) As always the figure has no problems standing or sitting, as the basic form has proven to be a sturdy basis for hundreds of Onell Design action figures.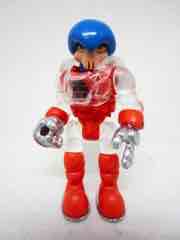 I like this figure. It didn't sell out quickly, sticking around over a month since its debut - but it's cool. It wasn't necessarily as exciting as some of the figures like the first Mechabons or my favorite Vlixden, but it's a welcome addition to an ongoing collection of figures for lovers of classic sci-fi toys. If it's still in stock and you're placing an order for other things, go ahead and get this one too.
--Adam Pawlus
Additional Images


Click here to see more Onell Design figures in Figure of the Day.
Click here to see more Glyos Compatible figures in Figure of the Day.