Doreen Green Squirrel Girl
Target Exclusive, First Hasbro Squirrel Girl

Marvel Rising Secret Identity Doll
Item No.: No. E3752
Manufacturer: Hasbro
Includes: Hat, hero costume, acorn necklace, Tippy-Toe, ears, tail, purse, civilian outfit
Action Feature: n/a
Retail: $29.99
Availability: September 2018
Other: Tail plugs in where you think it does

PREVIOUS
RSS
NEXT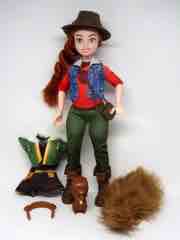 Since I read Ryan North's comics, I wanted a toy of Doreen Green Squirrel Girl. I figured a Marvel Legends figure was just around the corner, and while we've had a Funko figure, this is Hasbro's first take on her. Disney has a PR team and they said Marvel Rising samples were available - obviously I wasted no time claiming Doreen, as I am shameless and as an adult man without children it saves me from having to explain my toy purchase if the self-check isn't available.
Oh, and it's hard to see, but the open-mouth smile has a tiny hint of the famous rabbit teeth.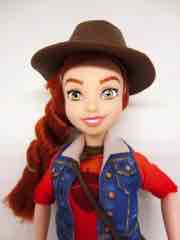 The 10 1/2-inch figure is more or less on the same level as the maligned, but technically proficient, Forces of Destiny adventure figures from Star Wars. You get things like good clothing, ball-jointed elbows, and one of the most notable features on any doll marketed to girls - feet large enough to allow figures to stand unassisted. Fellow men and people who grew up as boys - have you ever played with a Barbie? I had not - but since getting in the toy business, I noticed Barbies couldn't stand on their own, and the same was true of countless other fashion dolls thanks to tiny feet and small shoes. Doreen has sensible, butt-kicking boots that probably would've been the kind of thing you got at an Eddie Bauer when such things traded in camping and adventure gear, thousands of years ago at your mall. The costume is a lot more sensible than most - tights, shorts, boots, a jacket, and ears on a hair band. You could probably make this outfit at home and not get weird looks at the mall. (Well, maybe you'd need to leave the ears and tail at home.) The hair is in a Katniss-esque fishtail, wrapped somewhat tightly, and I fear unwrapping the ties inside because I would never get it back the way it was again. If you've seen me, I can't style my hair - I couldn't get a doll looking right to save my life. Trust me again when I say I've tried.
I've got her standing on my desk now with no problems at all - I had to change costumes, a harrowing, awkward experience - but it wasn't impossible. Dress-up play was never on my list, but I can see the appeal given you get something to do other than have the toy stand there or pose nicely, which this figure does. The hands not only bend and swivel, but pop off to make it easier to change her costumes. The figure also comes with a fedora, presumably to signal to other heroes that when she gets blue and she's lost all her dreams, there's nothing like a campfire and a can of beans.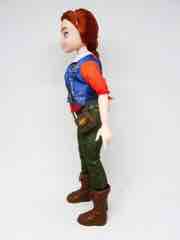 The doll is a good one - charming, plastic, and not as unrealistically proportioned as some of my other Marvel figures. You know the ones. She has a big smile and bright eyes, red hair, and nifty ears capping off her head. She also has a hard plastic, non-articulated, lightly-painted squirrel named Tippy-Toe that can clamp on to her forearm with its legs. It's not a bad accessory, but there's nothing about it that's particularly amazing other than painted eyes and a little acorn collar, which thematically matches Doreen's necklace.
I like it - I also assume this may be the only Squirrel Girl toy we get for a while. It's charming and I figure if I have one woman that talks to rodents in my house, I certainly could add a doll of another one. Since she stands, can use her accessories, has a great sculpt, and actually has a costume option I can't not recommend it to fans of the character. It's a pretty great doll/figure, and when it shows up at Target - so says the packaging - I'd say you should buy one. I shouldn't - I've already got one.
I should also note that Marvel Rising is a multimedia project aimed at bringing Marvel to young women through a TV movie, books, apparel, and dolls like these. It's not unlike Disney Descendants and Forces of Destiny, one of which did pretty well and the other... well, it had some issues. But having the entire cast share a single time period so they can hang out helps a lot, so this has a lot of potential. And if it doesn't work, maybe we can just get a Squirrel Girl show.
--Adam Pawlus
Sample courtesy Disney's PR team
Additional Images

Click here to see more Hasbro figures in Figure of the Day.
Click here to see more Marvel figures in Figure of the Day.