Blackwing
Formerly Darkwing and Darkwind

Transformers Generations Power of the Primes Deluxe
Item No.: Asst. E0595 No. E1128
Manufacturer: Hasbro
Includes: 2 blasters, combiner hand, 1 of 12 random cards
Action Feature: Transforms from Jet to Robot to leg/hand
Retail: $17.99
Availability: February 2018
Other: Can Indeed Merge with Dreadwind

PREVIOUS
RSS
NEXT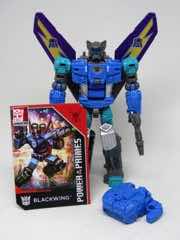 Not to be confused with the pencil brand, Blackwing is a Decepticon jet that's an update of the old Darkwing toy. In terms of color and modes, it does a great job. In terms of finger-appeal, it could use some work - but we got it! It's currently shortpacked at 1 per case, but I assume that's not going to be the biggest problem given that he's not the most interesting figure in the case.
The toy mold is Combiner Wars Air Raid with some hefty modifications. You've seen parts from this toy on just under 20 toys so far, with an almost identical transformation each time. It makes sense to exploit the tooling to get as many characters out as possible, although we're approaching a point where it might be great to see the molds retired except for repaints.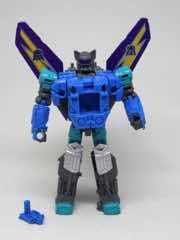 Blackwing's robot mode looks a bunch like the old toy with purples, blues, and a weird winged helmet. They look sort of like cat ears on top of his grey dome, with purple eyes and a blue face. The chest does an admirable job adding in the "Prime Armor" port with a flip-down lid, and his pistols do a good job updating the 1988 toy's rifles. Articulation is more or less par for the course, but you get a little bit of float on the neck thanks to how the mechanism works for transformation and its combo jet mode. I like the detailing, but some more retooling would be good - the same shins have been used since 2014 and while arguably not important to change, it's kind of dull. His wings have significant articulation, so be sure to pose them properly as there's no one single and obvious "right" way to do it. It even comes mistransformed in the packaging, so if Hasbro can't do it there's a chance you won't remember to do it right, either.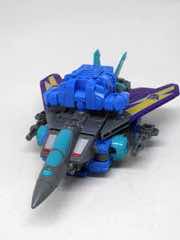 Transformation is easy, with a few extra tabs added from the other toys. My vehicle mode had bent blue wings requiring some boiling water to get back in position, so be careful with any repairs you may need to do. In addition to the normal jet there's a "Jet Centipede" mode in the instructions so you can ram him into fellow jet Dreadwind. The results aren't particularly satisfying, but the original toys could do this so now you can, too. I appreciate and thank the designers for having done this, but after this review I will never use this mode again.
The jet is typical for Combiner Wars-compatible jets in that it doesn't do much. You can plug the Prime Armor in the top, you can mount guns to the wings, and then you can make "whoosh" noises as you pretend to make it fly. Aren't you lucky? You'll probably use it as a combiner limb, too.
Due to changes in the toy's arms, neck, and nosecone the limbs look a little bit different. It's still fundamentally the same as the other jet limbs, with bicep swivel and bending elbow - plus the fist plugs in to the end. It's consistent and colorful, making a great limb for Starscream or a fill-in on Abominus while we wait for the rest of the team to hit stores. The arm moves nicely. The leg is a stump as usual. Ta-daaaa.
This character has received little love over the decades, but his comic stories are most of why anyone remembers him. It's a clever reuse of an existing mold, and the new parts fit in with the old design quite nicely. Hasbro's wise decision to recycle pieces no doubt saves them a fortune, and the figure fits in with your other recent Generations toys quite nicely. Problem is there aren't any other fun gimmicks here, and the Prime Armor thing remains kind of dopey. At least he makes a good toy without it. Highly recommended if you want or need more limbs, otherwise it's just a very good example of Hasbro's "more of the same" as some of these limbs go.
--Adam Pawlus
Additional Images

Click here to see more Hasbro figures in Figure of the Day.
Click here to see more Transformers figures in Figure of the Day.

Want to buy this figure? Check Transformers availability at our sponsors:
Entertainment Earth