Stinger
Transformers: Age of Extinction - Studio Series #02

Transformers Studio Series Deluxe Class Toy
Item No.: Asst. E0701 No. E0739
Manufacturer: Hasbro
Includes: 4 throwing stars, Display Backdrop
Action Feature: Transforms from Pagani Huayra and to robot
Retail: $19.99
Availability: April 2018 (preview launch in February)
Other: Small car, decent robot based on the first movie

PREVIOUS
RSS
NEXT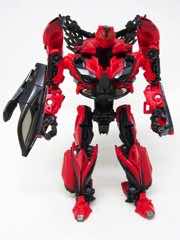 The first Stinger I had snapped. It shows stress easily and one of the two I've owned had parts fit issues - so yeah, that didn't make me think much of this one. I was really looking forward to Stinger and as first impressions go, snapped parts and stress marks in the first once-over of the toy aren't how I like to start things.
Based on Transformers: Age of Extinction, Stinger has a kibble cannon made of roof and four throwing stars you can mount to the antenna on the back or under the car mode. 13 points of articulation don't really make a lot of added fun here, and numerous visible, unsightly metal pins can be seen on his chest and forearms. If you told me Hasbro and TakaraTomy called in "B" team for this one I'd believe you.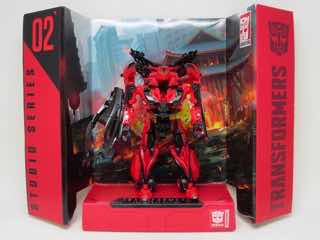 Comparing him to his ancestors, he's good - if you never transform it, it has some wacky kibble but is otherwise Stinger-esque with a new head, green eyes, and oh yes - a new body. Articulation is decent, with kibble mostly out of the way - but you can see the car's rear bumpers hanging off his calf robo-muscles and it can get in the way of posing him. The weapons can be put on his back - not particularly fun - or mounted on ugly 5mm pegs on his forearms. His 5mm closed fists serve no real purpose, as he has nothing for them to grip.
It's a complex transformation for a deluxe, with a lot of weird parts that kind of only barely seem to go where they should. You may feel like you're forcing things, or that the part shouldn't go there. It seems that's by design, resulting in an overly complicated figure for older fans that isn't very endearing as a toy unto itself.
The transformation is very unpleasant. I'm comfortable saying it. You have to really click parts over other parts, so things click or snap and when it fits it will fit well - but if it doesn't fit, things fly off or snap or stress. The red shows stress easily, so this is a toy that's really complicated and the parts don't all seem to have great tolerances from figure to figure. This forced-hard-click transformation makes you feel like you may break something, and in my case a part did break on a sample that wasn't even one of the clicky bits.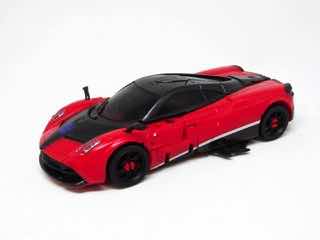 The car is panely and it looks more or less just fine. The wheels look cheap and are unpainted, with the mushroom peg sticking out rather than in. The paint is fine, the Decepticon logo is pretty dark. It has super-tinted windows and doesn't have any features to speak of.
The nicest thing I can say about this toy is that it exists and the colors are pretty good. It is what it is - and it's not good enough. After missing the red Bumblebee-as-Stinger from Japan, I was elated to hear a new mold was coming out. I started picking up Studio Series toys because I wanted this one to be good... and it wasn't great. Well, you're not going to listen to me. You want this figure, or so you think. QC may be spotty, and I noticed stress on the red plastic before even posing the second Stinger I opened. I'm not saying problems are guaranteed, but I would advise you to expect there to be flaws with this one. If you're reading this in the distant future, I hope another better Stinger has already found itself in your collection. Ratchet is OK. Bumblebee exceeds expectations. Optimus, for his shortcomings, is still a fun thing to play around with. I don't have much positive to say here.
--Adam Pawlus
Sample courtesy Hasbro.
Additional Images


Click here to see more Hasbro figures in Figure of the Day.
Click here to see more Transformers figures in Figure of the Day.

Want to buy this figure? Check Transformers availability at our sponsors:
Entertainment Earth