Blast Off with Megatronus
Amazon Exclusive

Transformers Generations Prime Wars Trilogy Deluxe
Item No.: No. E1796
Manufacturer: Hasbro
Includes: Blaster, fist, Blast Off figure, Megatronus figure
Action Feature: Transforms from Shuttle to Robot
Retail: $24.99
Availability: July 2018
Other: US Release of 2016 Takara-Tomy Mold

PREVIOUS
RSS
NEXT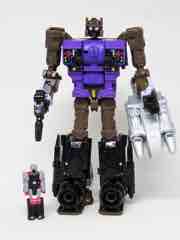 One of three (so far) Prime Wars Trilogy-branded toys is Blast Off with Megatronus. This is a redeco toy, and let's say it was "rumored" to be part of an aborted subscription program of Transformers products that never got off the ground. The idea was that this would be a way to bring out products for collectors like Arcee and Grotusque, but the subscription box model didn't do much for Hasbro's board game business and if you're listening to the rumblings on other major boxes, you can see why that business model may not be as viable as we would all have hoped. Apparently people don't want to just throw down $300 or more a year for monthly grab bags - who knew? We never actually reviewed Unite Warriors Bruticus here, so we'll look at their Blast Off while we're at it today.
There are three different G1 Blast Off toys in Combiner Wars-style bodies, plus a fourth G2 one. And then Movor from Car Robots. The first US Blast Off [FOTD #1,344] was just a redeco of Fireflight. Takara-Tomy's Unite Warriors one was a new mold which shared some parts with Japan's take on Strafe.
Prime Wars Trilogy Blast Off is unique in that it takes that Takara-Tomy mold, gives it Hasbro's deco, but assembles it differently. Takara-Tomy uses the same parts to configure the toy to look like the cartoon, with the cockpit on the chest. Hasbro puts it on the back. It's a little different, so if you have the previous molds you've still got reason to get this one. The figure is nicely articulated, but it's easy to accidentally pop his head off - this is not a common Hasbro problem, and actually sucked some of the fun out of the mold for me.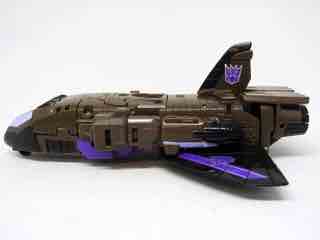 Transformation is easy except for the shuttle's nose - the arms fold in, the engines tuck in place, and it all goes smoothly - but the nose grinds on the rest of the toy. I almost feel like I'm going to break it. The shuttle is decent - you can plug in 5mm pegs to the back of the engines, so if you have flame pieces or something else it looks pretty cool. The colors closely match the original toy except that the base brown is a little lighter here. I think it works. I rather prefer the previous Combiner Wars toy's head, but the shuttle mode is pretty cool.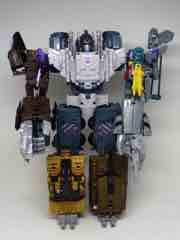 The combiner limb works well as an arm and ain't bad as a leg. It's a little wonky because Hasbro assembled it backwards to better look like the G1 toy, complete with chest decals, so the robot mode arms hang off the limb mode kind of funny. The fist is also painted silver, so it doesn't quite match the other Bruticus limbs from 2015. For this reason, the first jet toy might be a better combiner limb than the correct shuttle limb - but if you want to mix and match parts with the Takara-Tomy Unite Warriors Bruticus, you will no doubt have something quite excellent designed to your exacting specifications.
This set also includes a clear red Megatronus, the same mold comes in blander colors in Bomb-Burst. I'd say go ahead and get that one if you just want the little tiny robot, as it has no real place in this set. It costs more, it comes in a nice box, and it's something extra. I don't find the Prime Masters to be terribly fun or useful - so my guess is he'll go on living inside the Scepter of Sparks after this review gets finished.
Because I'd recommend nearly any Combiner Wars compatible toy to you just to build more bots, you should get this one. It's entertaining, but it feels more fragile and is a bit more finicky. I appreciate that Hasbro brought the mold out to the USA and I hope they consider doing a few more, like Ratchet for the masses, but I can't say that this would be a lost gem if you never got one. It's great to complete a combiner, and it's more fun than duplicating another mold, but it's not one of the finest limbs money can buy.
--Adam Pawlus
Additional Images

Click here to see more Hasbro figures in Figure of the Day.
Click here to see more Transformers figures in Figure of the Day.

Want to buy this figure? Check Transformers availability at our sponsors:
Entertainment Earth