Deathboto
A More Metal Skullboto

Glyos System Series
Item No.: No. n/a
Manufacturer: Onell Design
Includes: Belt, alternate head, backpack
Action Feature: Pops apart
Retail: $10.00
Availability: October 29, 2017
Other: A New Classic

PREVIOUS
RSS
NEXT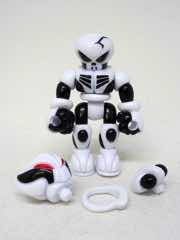 The Deathboto continues the surprising customization potential of the Noboto mold. Gobon's robot pal has been all sorts of things, even Gremlins or Ninja Turtles, and earlier this year he was a Skullboto. The Deathboto takes the same template, but the red parts are black and he has awesome red dots in his black empty eye sockets plus a painted crack in his skull. For plastic, it's very metal.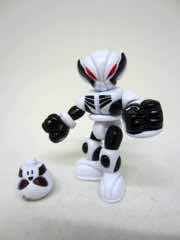 The stark white figure has been augmented with black paint marks to add some voids to the fully realized figure. Bits of black break up the blank bits, adding hints or a rib cage and skull holes to the puffy body. Articulation is standard Noboto fare with 14 joints on the base body, including some clever lateral swivel joints added to the biceps. A lot of thought was put in to this figure, and clearly the designers have built in a ton of potential to get the most out of the figure. After all, they've been selling some of these figures with minimal changes for a decade.
For added customization in the packet, you also get a spare head. Also a belt and a backpack. The Quallerran head has some black cheeks and red eyes, giving it an alien look that's a departure from previous white figures. The belt is unpainted with tiny pouches, and the backpack is delightfully lumpy. The core figure is fine unto itself, and feels a lot like a great troop builder if you're in to that sort of thing. I'm guessing that compulsion has largely passed for many of the line's fans, but I could see them selling an second version of this figure in big quantities if they were so inclined later. It really looks awesome.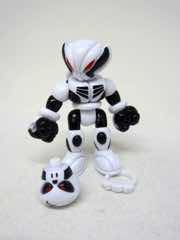 Seeing Onell Design take its Glyos line from an alien, original line to something trading on more Earthy and familiar designs has been a fun show. Taking something weird and making it familiar isn't a bad idea given that it might help bring more fans to the line, or give fans with a drawer full of spare Pheyden heads a reason to place yet another figure order. Figures like this make me wish they were still making those Passcode games, or perhaps a new actual NES cartridge game featuring these characters - I feel like I should be fighting hordes of these.
--Adam Pawlus
Additional Images


Click here to see more Onell Design figures in Figure of the Day.
Click here to see more Glyos Compatible figures in Figure of the Day.