Snarf
Advertising!

ThunderCats Burger King Premium
Item No.: No. n/a
Manufacturer: Burger King
Includes: 1 of 12 Collector Cards
Action Feature: Lights up, rolls with battery
Retail: $2.49?
Availability: ca. 1986
Other: The Farewell Tour

PREVIOUS
RSS
NEXT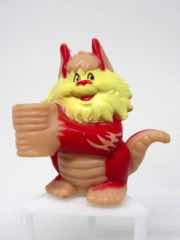 I wasn't a huge ThunderCats fan as a kid but I did want (and get) this Snarf toy. I liked the weird and annoying sidekicks, as you can see in my Gwildor glowing medallion thing and boxes of weird plastic crap I don't need. This is one of those figures - it's good, I just need to make it go away.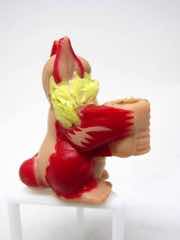 While something of a rarity these days, the "little rubber guy" was a Burger King premium - you were supposed to put it on your pencil or on your straw. The 1980s had a ton of pencil-toppers, be they toy dinosaurs or Garfield or glow-in-the-dark monsters you got from those Scholastic book club things that they should probably ban from schools. This little guy is about the size of a M.U.S.C.L.E. figure with a little more bulk. His hands are held together so he can grab a straw, probably.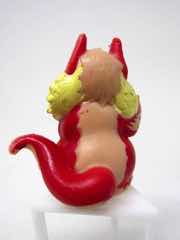 The "collectible figure" means you get a little paint and no articulation. The figure is one piece of plastic with painted red and yellow fur, plus simple black eyes. It's a durable, sturdy thing and it's about the right size to function as a sidekick to other toys. It's not scale to the LJN line, but it's... look, it's really weird. It's some sort of cat dwarf thing. It exists to sell cheap hamburger-like food product, which promotes a cartoon, which itself is a commercial for other toys.
Cheap toys like this are sort of like the cheap food they come with - they aren't great, but they can satisfy an appetite. If you just wanted a Snarf, this is a Snarf - it meant your parents didn't need to go to Toys R Us and maybe you avoided collecting yet another toy line. It's still here after all these years, but so are a lot of things - and a lot of new things are coming too. It's got to go. I liked it, but it's not worth more than a couple of bucks so it's off to the thrift store, hopefully to delight a collector or a kid for a few more years.
--Adam Pawlus
Additional Images

See more Burger King figures in Figure of the Day:
Day 883: Burger King Universal Monsters Wolf Man Cellar Dweller Action Figure
Day 894: Burger King Universal Monsters Down for the Count Dracula
Day 924: Burger King Universal Monsters Bolts and Volts Frankenstein
Day 931: Burger King Universal Monsters Scary Squirter Featuring the Creature from the Black Lagoon
Day 1,427: Burger King G.I. Joe AWE Striker with Snake Eyes Vehicle
Day 1,970: Burger King ThunderCats Snarf Figurine
Day 1,976: Burger King Smurfs: The Lost Village Brainy Smurf Action Figure
Day 2,298: Burger King Super Powers Superman Cup Holder Figure

See more ThunderCats figures in Figure of the Day:
Day 242: Mezco Toyz ThunderCats Lion-O Mega Scale Action Figure
Day 310: BanDai ThunderCats 4-Inch Lion-O Action Figure
Day 1,970: Burger King ThunderCats Snarf Figurine