Windcharger
Third Modern Attempt!

Transformers Generations Power of the Primes Legends
Item No.: Asst. E0602 No. E1156
Manufacturer: Hasbro
Includes: 1 of 12 Collector Cards
Action Feature: Transforms from Car to Robot
Retail: $9.99
Availability: November 2017
Other: Windcharger Q. Autobot III!

PREVIOUS
RSS
NEXT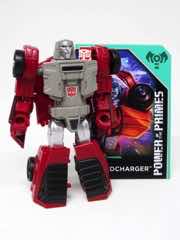 As one of the more inconsequential Autobots, it's kind of amazing that Windcharger has had three Legends-class toys that qualify as "new" since 2011. More memorable Mini-bots get one toy, or maybe two - but someone at Hasbro must love Windcharger. Sure, one of them was a redeco of Tailgate with a new head but it's not like we have a decent Cliffjumper in this format yet.
Each take is a little different. Reveal the Shield Windcharger [FOTD #193] has a card mode that matches the original toy and cartoon design, but the robot is entirely different. Combiner Wars Windcharger [FOTD #1,118] was modeled after the comics at the time. This new one is largely inspired by the animation models, a rather welcome surprise given how this is how the broadest selection of fandom knows these characters. After a few years of Hasbro leaning in to toy accuracy in most cases, it's kind of nice to see them do Windcharger as you barely remember him. (He was rarely in the TV show.)
The robot mode is similar to the bulk of Legends-class Autobot cars. He has 11 meaningful points of articulation, and appears mostly like the cartoon except for the feet. The legs from the knees on down are clearly car bits, while the cartoon had silver legs with car part shoes. Power of the Primes Windcharger's head and chest are very similar to the cartoon - take a look at the torso in particular. The sincle line on the chest and the area around his robot Speedo are similar to the image on the TFWiki, with a boxy head that looks fair amount like that drawing. The colors are a little different - the grey is closer to a tan flavor, as opposed to a cooler blue flavor - but it's still a solid toy robot and a good modernization of that design. The range of motion is absolutely acceptable, but at this scale there's not a whole heck of a lot you need him to do.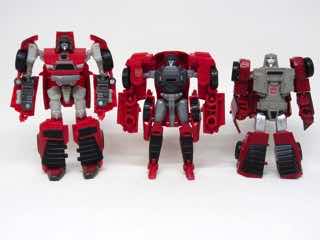 Transformation is pretty simple, and kind of a nuisance at first. There are car bits on the soles of the feet that fold out, with a folding chest and car hood that are fairly easy to get in position. Less intuitive is the leg movement - you have to fold them over the top of the car and snap them in place. At first it doesn't feel like this should fit without something breaking the laws of physics, but it snaps in place nicely.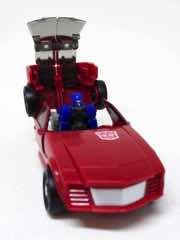 The resulting car is both great and weird. A not-quite Pontiac Firebird Trans Am comes in to focus with spinning wheels, plus a spiffy Autobot symbol. This part, I love. What I don't love is the decision to paint the side windows. The toy is molded in clear plastic, so the decision to paint the windows black is a head-scratcher. It doesn't roll particularly well, but at least we got a decent looking little red toy car with seating capacity for one Titan Master or Prime Master inside.
I was a little cranky that we got offered another Windcharger, but it's really pretty good. It may not be as fancy as the 2011 version, but it's easier to transform and in its simplicity, it's an entertaining diversion. Hasbro's fascinating oscillation between overly complex toys of 2010 to the mostly simpler toys in this "Prime Wars Trilogy" line, I really appreciate where Hasbro is going. I don't want parts to pop off and deal with 50 steps, I just want something I can fidget with in a minute or less and change forms. This one comes through with flying colors, and if you're in to the tiny Autobots you owe it to yourself to get one. This is definitely my favorite Windcharger.
--Adam Pawlus
Additional Images

Click here to see more Hasbro figures in Figure of the Day.
Click here to see more Transformers figures in Figure of the Day.

Want to buy this figure? Check Transformers availability at our sponsors:
Entertainment Earth