Mr. Mush
Blind box - your contents may vary

Lost Kitties Blind-Boxed Single Action Figures
Item No.: No. E4459
Manufacturer: Hasbro
Includes: Figure, Hot Sauce bottle, Paw Stamper, Sticker, Catalog/Checklist
Action Feature: Play-Doh Excavation
Retail: $2.99
Availability: June 2018
Other: Look for the date stamp on the back of the carton - it should be 18XXX 007. The "XXX" are numbers indicating which day of the year this was produced. We believe the 007 identifies this as containing Mr. Mush.

PREVIOUS
RSS
NEXT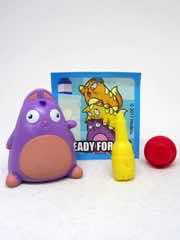 I heard some Lost Kitties buzz around Toy Fair. "Basically Littlest Pet Shop cats in milk cartons you dig out of Play-Doh," I was told, but was unable to catch the sneak peek. The cats come in colored dough, with vanilla being "common cats," chocolate being the next tier, and strawberry being the rarest. I got a Mr. Mush in this set, which is in the subset "#CATHLETIC" on the included poster checklist. a) I am very grateful Hasbro has taken to including a catalog in at least one of its product lines. b) I would have also accepted. "#CATAtONIC" as the purple, Grimace-like creature looks vaguely comatose. For kicks, let's also add c) I am impressed Hasbro put out a toy based on internet cat memes with no app or internet-enabled functioanlity.
According to the booklet, there are 36 to collect in 2018 - but I don't know how many are out now, or which ones constitute Series 1. It's possible all of these are out now - I'm not sure and have no real way of knowing as I type this up. All I know is I have this one and it's a "Vanilla" cat - or common. A mere peasant. We are amused.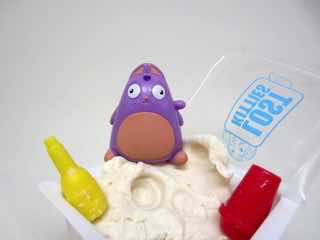 The chunky Mr. Mush sits on his back legs, with a tail holding close to the body as befitting a good slug figure. These things have to be cast out of a single piece of plastic to keep on budget and to stay sturdy, so it's a challenge for people to design something that looks distinctive and is one solid piece of plastic. If you collected OMFG or the MUSCLE revival, once in a while a figure will be made of two pieces of plastic for one reason or another - that means more tooling, and that cuts in your profits. Not so with the purple Mr. Mush. His eyes face opposing directions, his whiskers are fanned out, and he sports what may well be the very smallest smile I've ever seen on a toy figure of nearly any size. It's like the ":3" emote that the kids use.
His tiny paws dangle uselessly off his formidable frame, unable to hold the two accessories which were buried in the Play-Doh "milk" surrounding the figure. One is a stamper that puts a paw print in the Play-Doh, while the other appears to be a hot sauce bottle with textured elements for sculpting the clay. I've got no skill so I won't be doing this.
At the very top of the whole thing is a 4-pack of white Play-Doh, each of which with a tiny accessory inside. They serve as food roleplay or sculpting tools, sp a kid playing with these might have a lot of fun. A red stamper can put paw prints in the Play-Doh. A spoon is... well, it's a spoon. It's purple. It's small and you're going to lose it. There's a paint brush that probably provides a similar experience. A pink plastic duck also has a textured bottom, but it can't stand on its own - the cats can't hold any of these, so they're just kinda there. It plays up the whole food-and-creativity motif, although the notion of making something out of the Play-Doh is seen in the official photography but not played up in the marketing materials, or packaging. If you don't recognize the smell, it might not occur to you that this is indeed real Hasbro Play-Doh you're getting as debris in the way of your plastic cat. It's uncommon for Hasbro to not play this up - but the bottom of the package does indicate these are from the makers of Littlest Pet Shop.
If you pay close attention to Hasbro products, most of their figural products have multi-language packaging - this one's all in English. I'm kind of stunned. I don't know if this means cat memes aren't something that play in French or if Japan will get their own, but at least for now this is looking to be a thing you can get here. The unboxing is an interesting experience, and I admire the thinking-outside-the-box packaging. The figure itself is an amusing wedge of a creature, and I challenge Hasbro to do more things like this. New mini-figures not based on an existing property - despite a tiny "From the makers of Littlest Pet Shop" on the bottom of the box - are a scarce resource in the big toy company world. More please.
--Adam Pawlus
Sample provided by Hasbro's PR department. I did not ask for review samples nor did they ask for a review in exchange for the samples.
Additional Images

See more Lost Kitties figures in Figure of the Day:
Day 1,997: Hasbro Lost Kitties Series 1 Single 007 Mr. Mush Action Figure
Day 1,998: Hasbro Lost Kitties Multipack 01 Pixie Purrs, Cheesy, Stuffs, Specks, and Totes Action Figures
Day 2,010: Hasbro Lost Kitties Multipack 02 Tummy Tum, Chomp, Flakes, Flush, and Boops Action Figures

Click here to see more Hasbro figures in Figure of the Day.