Starscream
Code Name "Bania"

Transformers Cyberverse Warrior
Item No.: Asst. E1884 No. E1902
Manufacturer: Hasbro
Includes: n/a
Action Feature: Transforms from Jet to Robot, Wing Slice
Retail: $14.99
Availability: August 2018
Other: Ghost this Starscream

PREVIOUS
RSS
NEXT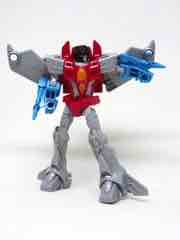 Arriving early in August, Starscream is part of a new kid-driven line that borrows heavily from the many flavors of Generation One, as all roads seemingly lead to and from 1984. the new packaging is gorgeous and colorful, the cartoon is cheap and light, and everything looks like a lot of fun. I would argue the actual figure is not fun.
It's a toy that's inspiring, but not as intended. It's not a good or great toy, but you can see where the wheels were spinning and how Hasbro's heart was in a good place, mostly. It's a new toy that borrows heavily from an idealized version of G1 - which is to say, the colors and shapes are mostly where you remember regardless of how much sense it makes. The robot chest has a cockpit on it, despite the actual jet cockpit becoming the backpack. A very awkward backpack. I can see why they want to keep some of the familiar features of most Starscreams for the past 34 years, but that look came from turning a robot into a jet - the vehicle parts fell where they needed to fall to make the toy work, and things like fake jet parts and truck bits on robots seem increasingly silly. False windows and bogus tires seem like an odd waste of resources, when a toymaker could just as easily devote their efforts to making something new with what they have. As long as the robot head and colors are close, it would seem Transformers fans are rather forgiving of changes to the robot body and alt mode most of the time.
The robot mode seems to be gambling with its budget - Hasbro made a figure with a colorful, fun robot head and chest, with absolutely zero decoration and articulation on the legs. They move forward together as a unit - but the arms have lateral movement and elbows. Fists are partially filled, allowing limited 5mm weapon compatibility. I can't deny the robot looks cool with one of the best Starscream heads in a kid line we've seen in a while, but the toy looks completely unfinished from the waist down. This may be due to the ornate deco inside the wings - you can grab a wing and it slides open, but springs shut. This can be used to activate the "wing slice" attack, which is not unlike the old punching of He-Man figures. It's interesting to see in these lines, but it feels fragile. Nothing on mine has broken - but it certainly makes me feel like I should be handling this with great care.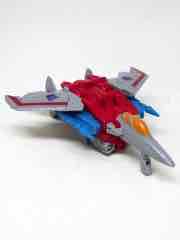 Transformation is weird. An issue with trying to make multiple toys conform to an aesthetic, but with different features, is that they all transform differently. This one requires some strange bending around the waist to make things work, in part because the legs have no articulation outside the hips.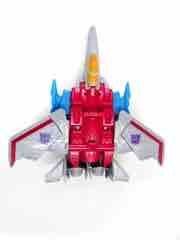 The jet is nothing special. You get a weird vehicle with strange shapes that could have actually been in the look and texture of a plane, but no - they sculpted it in some weird mishmash of random pieces. The wings have unusual textures, but the deco is better than I would have imagined. You get red stripes and purple Decepticon symbols which carry over to the robot mode, and a landing skid that only retracts when you un-transform the plane nose. The design feels undercooked - more so because the non-articulated legs just sit under the jet, as legs, with no real effort to disguise them. I won't say this is the worst Starscream I've owned, but it's weird, stubby, but not exactly less fun than other vehicle modes. You can flip the wings over for no useful reason, and the wing tips flip open to reveal the aforementioned purple stuff and well-hidden copyright markings. Big props to Hasbro and Takara-Tomy for putting the date stamps and copyright info somewhere that won't ruin the look of the toy - this continues to be a problem in Marvel and Star Wars products.
I have seen reviews saying things like "worthless" or "good for kids," and I don't know if I agree with either - other toys feel a little sturdier for the money, and Robots in Disguise Starscream [FOTD #1,536] came off as a tad cheap but a little more robust. It's an interesting and colorful display piece, a good design, and a lot of interesting ideas that seem to be butting up against the toy's budget. I don't think you're going to get a lot of fun out of this one - it might look fine on your desk, but the execution of the spring-loaded features and the legs make me think that were I younger, and I paid for this on clearance, I might be let down by it. Get yourself another Starscream instead.
--Adam Pawlus
Additional Images

Click here to see more Hasbro figures in Figure of the Day.
Click here to see more Transformers figures in Figure of the Day.

Want to buy this figure? Check Transformers availability at our sponsors:
Entertainment Earth