Optimus Prime
Revenge of the Fallen - Studio Series #05

Transformers Studio Series Voyager Class Toy
Item No.: Asst. E0702 No. E0738
Manufacturer: Hasbro
Includes: Swords, Display Backdrop
Action Feature: Transforms from truck to robot
Retail: $29.99
Availability: April 2018
Other: Smaller, Less Intense

PREVIOUS
RSS
NEXT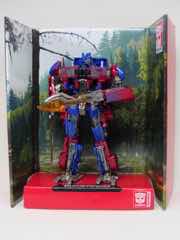 Times have changed! During the entirety of Generation 1's run, the main hero Autobot got fewer toys than you can count on one hand. Fast-forward to the modern era and you can't launch a new line without some sort of Optimus Prime on the drawing board. In stores today, the now-new Studio Series has Hasbro and Takara-Tomy selling one single line to be the same in Japan and elsewhere - which is good and bad. While Optimus has a complex transformation and tons of articulation, he's a bit meatier than your average Deluxe-sized toy and he's really not all that much larger than the significantly cheaper deluxe Dark of the Moon Prime. (Which is now very expensive, that's what happens when collectors skip toys aimed at a wide audience.)
Based on Revenge of the Fallen, Optimus has two swords and no guns. He's smaller because Hasbro is trying to keep the robots in this series in scale with one another, to some degree of success. The downside is Optimus is small - this one is just over 4 ounces, while the 2007 Voyager class toys were about 8.6 ounces. The Dark of the Moon Deluxe was over 3 ounces. The Studio Series toy has short smoke stacks, there are no spring-loaded automorph or driver gimmicks, and the paint quality is a lot less interesting than subsequent toys. The robot also doesn't look quite as true to the movie as other toys, especially the recent Movie Masterpiece.
I enjoyed futzing with this toy, but the simpler Dark of the Moon deluxe provided better deco and a simpler transformation for about 1/3 the price a few years ago. It's no longer that cheap, but this figure gives you a quick look at what inflation looks like.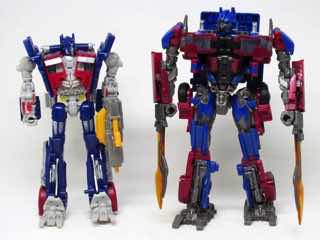 If you don't compare Optimus to other toys, he feels impressive. Skinny and sturdy with 24 points of articulation, the Autobot commander has about the same size and mobility as your average 6-inch Marvel Legends action figure. This means he's roughly in scale with his Studio Series buddies, but he's not as impressive or hefty as a Voyager Optimus Prime toy from the first movie 11 years ago. Sure, he's got more joints - but there's less paint and he's a lot darker. It just feels like you're getting less, even though there are more moving parts. The chest doesn't really match the movie chest all that much, but concessions are made when you try to fit stuff in a smaller robot at a not-Leader price point.
Before comparing him to my other movie Optimus toys - and I had more than I realized - I was happy with this one. It was fun to futz with, and as I had no Leaders or Masterpieces I assumed it was bigger than it was. Transformation is surprisingly involved for its size, giving you evidence that Hasbro didn't phone its newfound agreement with Takara-Tomy in. The work is there - you can see the detail, the panels, the little sculpted bits. You won't see painted wheels, or a bright shade of red, or a toy that's transformed correctly when you pop it out of the box. Check the leg wheels. You're welcome.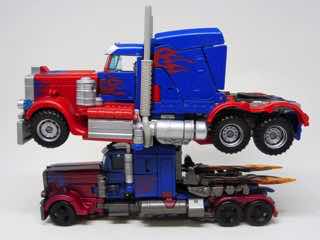 There's no getting around the fact that the truck is small. The new 35-step Voyager toy gives you a truck about the same size as the $10 Walmart exclusive Deluxe Optimus Prime [FOTD #217] from a few years ago. That toy had some more flames, great silver paint, brighter colors, and some added orange on the cab. This one is pretty spartan, and if you don't compare it to other toys it looks great. The sculpted detail is excellent, but the older toy has clear windows, silver paint, and more painted flames. Given the price increase, it would be nice of it had deco parity with the older, dirt cheap toy.
I've seen better. And "I've seen better" isn't what you should be saying when Hasbro purports this line to be its very best yet taking into account a higher retail price and over 10 years of new toys based on this design. While some of the other toys in the line provide complete improvements over existing toys, this isn't one of them. The robot is less chunky more articulated, but it's smaller and more expensive. I's perfectly nice, but if you've got a bunch of Optimus toys you might be happy and the deco on this one is rather spare. If Takara-Tomy releases some premium exclusive variant at a convention, you'll want that instead. In and of itself, it's fun and OK to play with - if you start collecting in this series, you have no reason to not enjoy this one. If you've bought the previous dozens of movie Optimus toys, you are not going to be super impressed here and things like fancier packaging with a backdrop just rubs salt in the wound of the deco not being better. Those few pennies could have made a big difference.
--Adam Pawlus
Additional Images


Click here to see more Hasbro figures in Figure of the Day.
Click here to see more Transformers figures in Figure of the Day.

Want to buy this figure? Check Transformers availability at our sponsors:
Entertainment Earth