Velociraptor "Blue"
You're my boy girl, Blue!

Jurassic World Attack Pack
Item No.: Asst. FPF11 No. FPF12
Manufacturer: Mattel
Includes: n/a
Action Feature: Opening mouth, jointed limbs
Retail: $9.99
Availability: April 2018
Other: Articulated

PREVIOUS
RSS
NEXT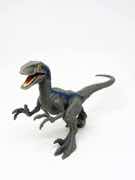 Kenner, later Hasbro, have had Jurassic Park for 25 years. Mattel took over this year, and while Hasbro did some great stuff I wouldn't say the line was an embarrassment of riches. Mattel's feels like it is. Tiny dinosaurs, humans, big dinosaurs, very big dinosaurs, and more are in stores now. I got Velociraptor "Blue" as one of the only toys packed at two per case - almost everything else I've seen so far is one per box. Mattel's goal is to try to keep things almost in scale, although she may be a little big.
Blue has jointed arms and legs, plus an opening mouth. She's about 4-inches tall and roughly 7-inches long. The feet are enlarged, but she's also capable of standing without easily falling over. This isn't a big deal to me, but the enlarged feet have ruffled the feathers of other fans.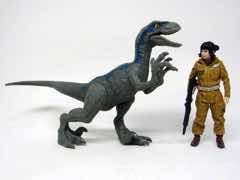 The Kenner dinosaur house style mimicked the movie, but with a few specific marks to distinguish them from regular dinosaur toys. Back in 1993 toy prognosticators assumed kids wouldn't jump on board because of the "JP" cutie mark on every toy, but it worked. That and "dino-damage" on nearly every toy gave kids wounded animals, which is something other non-branded dinosaurs not from a movie lacked. Generally you just got a figure with no articulation - the Jurassic toys tend to offer a bit more, and Blue sort of does.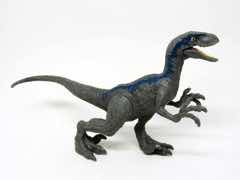 There's an app interactive "DNA" mark on the sole of one foot, and a new Jurassic brand on the other - this time it's a T-Rex skull. Her grey plastic shows a lot of sculpted detail, but it does seem a little soft. Her toe claws are super glossy, and there are black specks baked in to the grey plastic. A few blue stripes add the reason for her name, plus the yellow eyes are nice and sharp. If you open the mouth, you'll see two rows of pearly whites plus a pink interior.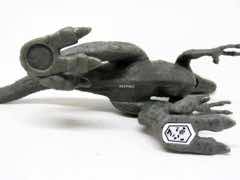 Mattel's actually pretty good at making toys based on big properties for boys when they want to - they just very rarely do. This was the first not-preview thing I cracked open and I love it all, from the nifty speckled plastic to the Dino-Netics cardback. They're gonna sell some books with that packaging, I tell you what. The cost is almost the same as what Kenner sold 26 years ago, but they're a little more flexible and paint seems to be not quite as fancy. We don't have painted claws or bellies anymore, but other than that it's pretty good. After getting this one, I found Walmart's exclusive Battle Damage Blue - which has more articulation, more paint, and no opening jaw for about the same price. (She adds a jointed neck.) As such, I'd say this figure is perfectly good but you might want to compare it to other Blue toys unless you're going to be a completist. I am fearful this may be me now.
--Adam Pawlus
Additional Images

Click here to see more Mattel figures in Figure of the Day.

See more Jurassic Park and Jurassic World figures in Figure of the Day:
Day 11: Hasbro Jurassic Park III Dr. Alan Grant
Day 138: Kenner Jurassic Park Chaos Effect Compstegnathus Action Figure
Day 172: Kenner Jurassic Park The Lost World Chasmosaurus Action Figure
Day 346: Kenner Jurassic Park Ian Malcolm Action Figure
Day 366: Kenner Jurassic Park Ellie Sattler Action Figure
Day 372: Hasbro Jurassic Park G.I. Joe Heavy Gunner Action Figure
Day 533: Kenner Jurassic Park Chaos Effect Amargospinus
Day 620: Hasbro Jurassic Park Pachyrhinosaurus Clash Action Figure Set
Day 651: Hasbro Jurassic Park Allosaurus Assault Action Figure Set
Day 851: Hasbro Jurassic Park Paul Kirby Action Figure
Day 1,180: Hasbro Jurassic World Tyrannosaurus Rex Action Figure
Day 1,180: Kenner Jurassic Park Alan Grant Action Figure
Day 1,196: Hasbro Jurassic World 3 Dinos Action Figure
Day 1,198: Kenner Jurassic Park Tim Murphy Action Figure
Day 1,202: Hasbro Jurassic World Spinosaurus Action Figure
Day 1,212: Kenner Jurassic Park Chaos Effect Ian Malcolm Action Figure
Day 1,216: Hasbro Jurassic World Ankylosaurus Action Figure
Day 1,219: Hasbro Jurassic World Stegoceratops Action Figure
Day 1,228: Hasbro Jurassic World Tyrannosaurus Rex Action Figure
Day 1,425: Hasbro Jurassic World Hybrid Velociraptor Action Figure
Day 1,455: Hasbro Jurassic World Bashers & Biters Indominus Rex Action Figure
Day 1,462: Hasbro Jurassic World Hybrid Tyrannosaurus Rex Action Figure
Day 1,472: Hasbro Jurassic World Pachycephalosaurus Action Figure
Day 1,509: Hasbro Jurassic World Hybrid Armor Indominus Rex Action Figure
Day 1,526: Hasbro Jurassic World Owen "Alpha" and Velociraptor "Blue" Action Figure
Day 1,528: Hasbro Jurassic World Hybrid Armor Ankylosaurus Action Figure
Day 1,540: Hasbro Jurassic World Hybrid Dilophosaurus Rex Action Figure
Day 1,550: Hasbro Jurassic World Hybrid Carnoraptor Action Figure
Day 1,560: Hasbro Jurassic World Hybrid Rampage Indominus Rex Action Figure
Day 1,567: Hasbro Jurassic World Hybrid Stegoceratops Action Figure
Day 1,573: Hasbro Jurassic World Hybrid Pteramimus Action Figure
Day 1,712: Hasbro Jurassic World Hybrid Spinosaurus Action Figure
Day 1,721: Hasbro Jurassic World Hybrid Dilophosaurus Action Figure
Day 1,918: Mattel Jurassic World Mini Action Dino Ankylosaurus Action Figure
Day 1,938: Funko Pop! Movies Jurassic Park Dr. Ian Malcolm (Wounded) Pop! Vinyl Figure
Day 1,943: Mattel Jurassic World Velociraptor "Blue" Action Figure