Optivos
Mystery Figure!

Glyos System Series
Item No.: No. n/a
Manufacturer: Onell Design
Includes: Extra Set with chest and 3 bonus heads
Action Feature: Pops apart, "light-up" head
Retail: $12.00
Availability: January 26, 2018
Other: Sarvos + Opticon = This

PREVIOUS
RSS
NEXT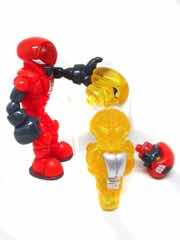 Adventure People-inspired Onell Design Mystery figures continue with Optivos! I was assuming that an Opticon homage would use the Core Block [FOTD #592] vinyl mold, alas it was not to be. We haven't seen any vinyl since 2016, either. (I think.)
What surprised me wasn't so much that the humanoid version was good, but that it was great. The default head has a big clear orange orb that goes all the way through with a fairly pure clear orange, so you can see right through the big eye. It also serves as a light-up eye port if light can pass through the back, as the red paint matches the body. The same technique was used on numerous The Outer Space Men figures in Mel Birnkrant's Cosmic Creators series. It works like a charm here, too!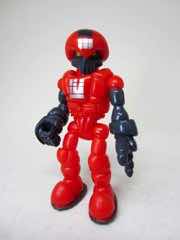 The main alternate head is a Pheyden with what may well be the best design I've seen. There's a gorgeous grid tampo on his forehead, bright yellow eyes, and a grey face with a black stripe down the middle. I almost like it more than the default Sarvos head, even if it would kill the whole homage thing. It's pretty, sharp, and striking. I would have loved this design on a separate body, and I guess I could make that happen. As it is I'm going to be torn which of the two heads I'd use, but Onell made it tough by including two more. A clear orange Phanost and Scar Pheyden were also included, as was a matching orange Sarvos torso to add to your ever-growing sack of unused heads and bodies. The orange color almost matches the default Phanoid [FOTD #1,690] head.
Articulation of this 2 3/4-inch action figure is typical Glyos fare. The core figure has 12 joints, and you can swap parts and pieces at each pivot. I love the bright silver tampo on the chest and dark grey arms with soles to match.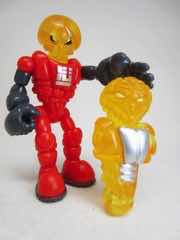 It's a striking, bizarre figure. The viewfinder in the head is a hoot, and this gives it a distinctively different feel from the dozens of uses of this mold you may already own. The change in paint alters how you interact with the figure, and that's the kind of thing you need after a decade. New heads, belts, and scarves can get you a lot - but nothing beats a change that requires you pick up the figure and hold it in a certain light to see all it has to offer. This figure has since sold through, so it's my sincere hope that you got one.
--Adam Pawlus
Additional Images


Click here to see more Onell Design figures in Figure of the Day.
Click here to see more Glyos Compatible figures in Figure of the Day.