Megatron
G1 Tank Remake

Transformers Generations Combiner Wars Leader
Item No.: Asst. B0975 No. B1136
Manufacturer: Hasbro
Includes: Trading Card, rocket, two-piece gun, optional stickers
Action Feature: Transforms from Robot to Tank
Retail: $44.99
Availability: February 2015
Other: Not bad, not bad at all

PREVIOUS
RSS
NEXT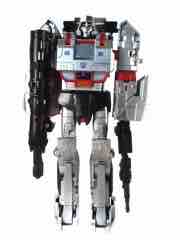 Because I am a sucker I will buy anything in this line these days. This G1-inspired Megatron is no exception, as it brings the character to life with the body not entirely unlike his later appearances in (and after) the Dark Cybertron comics mixed with original cartoon elements. This is a nostalgia grab that works, because at $50 it needs to reach that all-important dad demographic. If little Timmy doesn't ask for it, Dad might see it and buy it for the kid anyway.
Since the whole "Classics" gambit of new molds began, big toys are scarce. Leader-class didn't get to G1 dudes until late last year with Generations and to date Megatron holds the crown as tallest - although the Armada Megatron variant is slightly taller thanks to his antlers. He's functionally identical to the Armada figure with deco and a different head being the significant differences. Megatron has 20 meaningful points of articulation plus carries over a nifty Easter Egg - his chest flips up for transformations and reveals a spark chamber modeled after the one seen in the Beast Wars episode "Master Blaster." It's not exact, but it's close and a fun way of seeing the G1 interpretation presented in Beast Wars - the series turns 20 next year - advance the show considerably. The "laser cores" of the old cartoon were upgraded to sparks, and we got significantly more backstory which made those admittedly goofy cartoons and comics significantly cooler.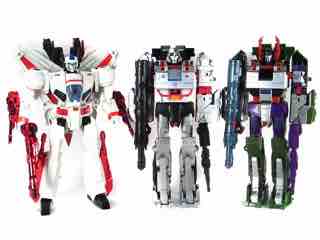 You probably won't need instructions to transform Megatron into a tank, mostly because everything folds in and out fairly logically. The arm cannon rotates, the two-piece pistol dismantles, and everything else more or less follows a pattern you can figure out pretty easily. The exception is the chest - it sort of gets in the way while going to tank mode, but again, you can figure it out.
This tank looks a little strange because shining metal silver tanks are not particularly common sights on the battlefield. Like many alt modes, they're pretty terrible for robots supposedly in disguise. Hasbro really nailed the toy by slathering it in metallic silver paint over a grey plastic frame, it adds a lot of value to the toy and gives it a more expensive look and feel over an unpainted toy. Those of you who have been with us for a while may recall arguments over BinalTech versus Alternators, a collector line that had painted die-cast metal parts in Japan and plastic in the USA. The fully-painted toys always looked significantly better, although for some reason some fans gave credit to the metal. Some fans also sniff glue, but we won't dwell on that. You'll see a hint of the original color poking out and serving as vestiges of the shared Armada intent with grey 5mm Mini-Con ports. These unpainted grey greeblies stand out a little bit, but leaving them unpainted helps to really highlight their function and will keep Megatron looking nice. Over time, I have no doubt that they'd wear down with repeated use. This is really just better for everybody.
The tank has a turning turret and real rubber treads that really roll, making it a unique tank in this toy line. You can also store his handguns either under the tank or on the turret for added firepower.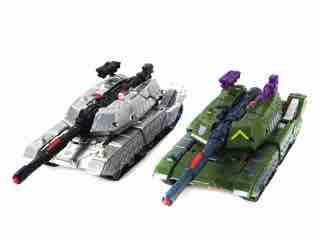 Hasbro, realizing the recent comic books and classic toy may be worth some mention, added a sticker sheet to this toy. It's terrible. I didn't use it because it doesn't match the plastic very well. The unique design flourishes from the original gun mode were included as were optional Autobot and Decepticon symbols. You can change his allegiance if you like, or you can go with some other fan-made sticker sheets that do the job better. Or you can just leave it as it shipped to the store, which is what I tend to recommend unless you're trying to cover a blemish.
Standing a head taller than the recent release Ultra Magnus, Megatron is an imposing toy that - short of Titans or Combiners - is one of the bigger toys in recent years. Due to his popularity and recognition he'll sell well. The nifty head sculpt with red light-up eyes via a window on the back of his head is nice, although at this point that kind of feature is less compelling than just painting the eyes bright red. It'll just look better. With a firing rocket cannon and decent articulation this figure should be on your short list to pick up soon, because odds are he'll stop shipping in a few months and then you'll have to pay more to get it. I realize that's not the most compelling reason to buy a toy, but who among us haven't regretted waiting too long? If you see a sale, get it. If you have expiring store credit, get it. It's less spindly than the Masterpiece and it's not like you're going to see another gun mode toy again any time soon.
--Adam Pawlus
Additional Images

Click here to see more Hasbro figures in Figure of the Day.

Click here to see more Transformers figures in Figure of the Day.

Want to buy this figure? Check Transformers availability at our sponsors:
Entertainment Earth