Quickslinger
Superion #4 of 5

Transformers Generations Combiner Wars Deluxe Shared Online Exclusive
Item No.: No. B4555
Manufacturer: Hasbro
Includes: Comic book, blaster, hand/foot/gun thing
Action Feature: Transforms from Robot to Jet to Arm to Leg
Retail: $16.99
Availability: May 22, 2015
Other: Redeco of Firefly with New Head

PREVIOUS
RSS
NEXT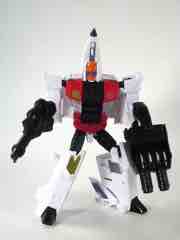 So here's the deal with Quickslinger and his pal Brake-Neck. These are online shared exclusives - Entertainment Earth, Amazon, and so on. They're deluxe toys, they have new heads, and they go on sale online on May 22, 2015. Yes, there's a date. It's a whole to-do, but I have one now because I'm the media and I'm supposed to convince you to buy one. Well, the joke is on Hasbro's PR team because it's really great you're going to want to buy this toy anyway. Quickslinger's the new name for Slingshot, the "missing" Aerialbot who was replaced by Alpha Bravo a few months ago. They share the same color scheme and that's about it. Oh, this mold and a very similar deco is going to be in the Japanese release of Superion, too. So be cheap and get the American one.
The 5 1/4-inch tall robot mode has 16 points of articulation, and for all intents and purposes is a white Firefly. The new head with the trademark orange face is a superb sculpt, and the white provides a much more striking contrast to the face's unique coloring which I can best refer to as Boehner Orange. The blue glasses are a nice touch, as is the white chin strap. This is a solid little head sculpt - and the deco on the body's no slouch either. A red chest with silver vents, plus black gloves? Very nice - and it's particularly close to the original toy's deco.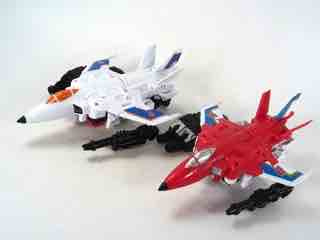 Transformation is similar to the other Superion vehicles and identical to Fireflight. The wings fold down, the nose folds forward, the arms tuck in, and the legs pop open and eat the thighs - it's all very simple and works nicely. It's similarly easy to become a limb, as the arm is a tweaked robot mode and the leg is an altered jet mode.
As a jet, the mold works better for Slingshot than Fireflight. The orange canopy, the basic form of the plane - it's just a nicer fit. You can connect the gun or the hand/foot accessory if you like, but the transformation is easy and the jet mode is about as exciting as most other Transformers jet modes. It also has landing gear in the nose cone - other than that, it's a nifty plane-shaped brick.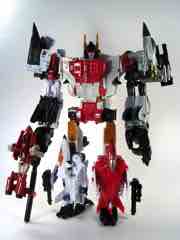 He works really well as either an arm or a leg, and the packaging suggest you make him and Fireflight a leg. This is more or less consistent with the configuration on the comic book cover, and it's a decent look for the toy. It also makes Superion a robot made completely of planes, rather than a bunch of planes and a chopper. As a leg, the fact that this toy is similarly colored to the existing limb Alpha Bravo doesn't do much to help the look of the toy so much as it adds to a retro sense of authenticity. If you simply must have a Superion what's made of jets, now you can - without buying the Japanese import. As many fans made this desire known, loudly, and early on, it's great to see Hasbro either respond quickly or have this alternative available to the collector rather quickly. I can't say I have a huge preference, mostly because I'm just giddy to have more limbs.
If you're into the Combiner Wars you no doubt know there are more torsos than their are sets of limbs, so you'll want to buy both Alpha Bravo and Quickslinger - if not to complete Superion, then for Galvatronus or Ultra Prime or other, less-confirmed upcoming releases. I'm super pumped to see Hasbro cranking out more limbs - especially ones based on the original team members - because it gives me a bunch of options of how to play and display with these really top-tier toys. If your funds are tight, odds are you'll want to go with this one thanks to its Generation Oneishness, but seeing as Cybertron's latest group of mega-robots need arms and legs there's really no good reason to not collect them all... or perhaps to buy extras.
--Adam Pawlus
Review sample courtesy Hasbro / Hunter PR
Additional Images

Click here to see more Hasbro figures in Figure of the Day.
Click here to see more Transformers figures in Figure of the Day.

Want to buy this figure? Check Transformers availability at our sponsors:
Entertainment Earth