Skeleden Nemica Icewave
Clear Blue Pheyden with Bone Upgrade Parts

Glyos Action Figures
Item No.: n/a
Manufacturer: Onell Design
Includes: Axe, removable armor, alternate shoulders, shins, and head
Action Feature: n/a
Retail: $12.00
Availability: February 22, 2015
Other: Nifty

PREVIOUS
RSS
NEXT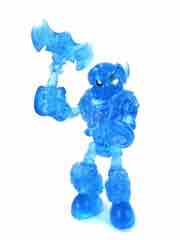 Onell Design has been great about making numerous recolors of its many toys, and seeing more than one flavor during a mold debut seems to benefit everybody. I snagged Skeleden Nemica Icewave along with the Standard version during the debut, as the blue struck me not unlike the many "holographic" figures from over the years. It's a neat figure, particularly early in its lifespan. There have been a few awesome bright clear figures since, and I assume there will be many more - I just happen to love the blue here.
The same Pheyden you've bought many times returns here with a new head, axe, chest armor, shin armor, arms, and hips. You also get the old parts, which means you're going to be storing something in a bag or losing it behind the furniture. The pieces fit together similarly to the previous versions, except now you have the option of "powering up" the figure. I think it's a great idea in the tradition of Axis Joints and Swing Joints, because this particular set makes it look like Pheyden is a completely new figure with just a small handful of new parts.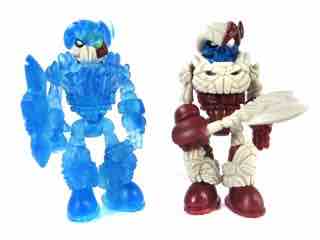 Sadly the roughly 3-inch figure's ability to hold his axe isn't exactly great - it's a very tight fit - but other than that, the form fits are as exceptional as you've come to expect from Onell Design. The armor fits like a glove, and the silver eye on the new Skeleden head looks great. It's also worth noting you can dismantle the "hat" off the head, and swap it with other figures if you're so inclined. I'm not, but you can.
Thanks to the low runs of these figures combined with little marketing, you don't see them come up for sale much once they sell out. Many Glyos figures lately seem to be relatively cheap on the secondary market, thanks in part to the line's robust size and the new versions coming out nearly every month. If you want a Skeleden, and you do, just keep an eye on the Onell Design blog to get one. If you want this one, you can probably get it between its issue price and under $20 without too much fuss. There's not a lot of deco here, but the clear blue is pretty gorgeous in person and that may be reason enough to track it down.
--Adam Pawlus
Additional Images


Click here to see more Onell Design figures in Figure of the Day.
Click here to see more Glyos Compatible figures in Figure of the Day.