Strongarm
One of at least Four!

Transformers Robots in Disguise Warrior Class
Item No.: Asst. B0070 No. B0910
Manufacturer: Hasbro
Includes: Gun
Action Feature: Transforms from Car to Robot
Retail: $14.99
Availability: December 2014
Other: Cop Car

PREVIOUS
RSS
NEXT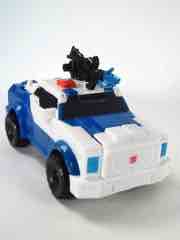 It's not every day that we get new characters with a good toy, and Strongarm debuted with three in rapid succession late last year. This mold even has a couple of repaints in Japan - one is a better version of this deco, and another is as a different character. Being cheap, I'd say get the US release - but all things being equal, the Japanese one is a little more impressive. If you want smaller toys, a Legion and one-step toy can be had at a store near you, too.
While the legion-class toy has an Optimus-style face mask, I figured this one was good enough for me for now at least. The Warrior-class figure is roughly the same size as recent Deluxe-class toys, measuring a bit over 5-inches tall at the head. THe largely shellformery robot has a massive backpack made of truck parts, but from the front you wouldn't really know it. Most of the kibble stows in the back nicely, giving her a surprisingly decent and chunky build.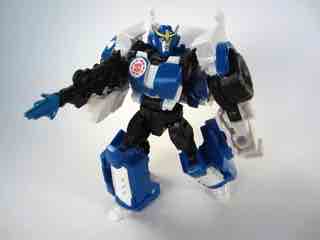 The robot mdoe has about 16 points of articulation which puts her at or above what some of the Generations toys of this size bring to the table. Most of these help with transformation, but it's nice to have things like ankles and thigh swivels just in case you want to do something weird with the robot's pose. Thanks to her alt mode, there are some pretty big panels around her fists which prevent rotation of the gun while it's in her fists. Deco is largely strong, as Hasbro seems to have constructed her to have light-up eyes but wisely painted over them instead with big bright blue peepers. I love this, because I'm mostly not in direct light and this lets her not look like a dead-eyed, powered-down deadbot. There's a decent amount of paint here with a silver face and a big yellow crest, plus a label of some sort on her chest that's equal parts target and some sort of interactive app thing. I think it makes the toy look bad, myself, and I'd rather Hasbro not include something like this in such a prominent position. Perhaps on a foot, or on the weapon, but right smack dab in the middle of the body feels odd.
The gun itself is pretty good and it's clear Hasbro put more than a little bit of thought into it. There are 3 5mm pegs on it, so she can hold it in her hands or in two different places while in her car mode. You can mount it on the roof, or hide it under the vehicle. It also has a blue blast effect on it, which is downright uncommon on toys these days - outside of Star Wars ca. 2002-2003 I can't name many other lines that try this kind of ornamentation.
Transformation is a snap - you really won't need the instructions because everything folds around pretty easily. The only tricky bit is in the shoulders, as they rotate forward a bit and that could be annoying if you aren't expecting it. Everything else basically wraps around nicely and gives you a decent truck.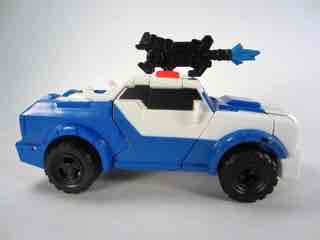 Strongarm's wheels roll nicely on textured surfaces, but not my desk. The police car deco works nicely and you can see the lights on top as well as the headlights, plus a tiny little Autobot symbol on her grille. The windows are painted black and the only thing I found to be annoying is the blue hood part. It really looks like a bunch of pieces jumbled together, so this is a case where the Japanese one works better thanks to the extra few pennies worth of paint. Of course, they'll charge you more for it and there's shipping on top of that. $13 trumps $26, so I'd say get the US version. No matter what the wheels are kind of bland and it's not like they're going to roll any better, but it's a nice enough 5 1/2-inch long vehicle.
In most male-driven action toy lines, women are far and few between - seeing Hasbro support Strongarm with 3 toys at 3 different price points shows some new direction and thinking outside the traditional toybox. I've been hearing from older fans who have daughters that are getting interested in it, in part thanks to the likes of Windblade. There's a lot of opportunity out there in toy sales when you don't cut out 50% of the possible customer base, so hopefully we'll see more good, solid toys like this one. The Robots in Disguise line is pretty solid across the board so far with few new characters making the transition to transforming toys. So get this one, it's worth it.
--Adam Pawlus
Additional Images
Additional Transformers Robots in Disguise Warriors 2015 Wave 1 Images

Click here to see more Hasbro figures in Figure of the Day.

Click here to see more Transformers figures in Figure of the Day.

Want to buy this figure? Check Transformers availability at our sponsors:
Entertainment Earth