M.A.S.K. Condor with Brad Turner Action Figure
M.A.S.K. Motocycle/Helicopter with Action Figure

M.A.S.K. Action Figure with Vehicle
Item No.: No. 37340
Manufacturer: Kenner
Includes: Brad Turner figure, Hocus Pocus mask, green vehicle
Action Feature: n/a
Retail: $5.99
Availability: ca. 1985
Other: Hocus Pocus, minimal focus

PREVIOUS
RSS
NEXT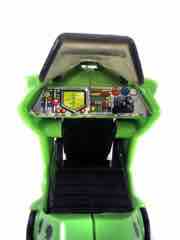 As a kid, when I first saw this line, I wanted the Condor with Brad Turner Action Figure. Oh man, it looked fun. The logic of it - why would you ever use the motorcycle if it could fly? - never once popped in my head. The 2 3/4-inch figure was similar in stature to many vehicle-and-figure sets of the late 1980s. You may not know this, but the 3 3/4-inch lines like Star Wars and G.I. Joe were developed around the vehicles - the figures were accessories which ended up taking over. Lines like M.A.S.K. and Dino-Riders refined the concept with smaller figures and gift set play that was really fun, because you got a complete toy in a box. It was simple, and it was cheap, and it worked.
The vehicle itself is pretty simple - the "bike" has a seat that's more like a Vespa or other scooter, thanks to the design's moving parts. There's a kickstand to keep the bike upright, which also becomes part of the landing skids. The wheels have some silver chrome paint on them, and the green bike has black detailing as well as a smattering of stickers. They all held on well given the toy's age - it's 30 years old! Kenner did a nice job here, and it was battered around in my toy boxes and moved a few times too. The wheels spin nicely, and everything holds together well.
During the transformation process, the 5-inch bike has its blades pop up - lowering the landing skids - and the back tire folds out to become the chopper's tail. Pop out the blades, and you're done - that's all there is to it. These weren't complicated toys, but they were really fun and for the price they were quite nice. In the area with the bike's supposed headlights, a small gun pops up courtesy of a spring-loaded mechanism tied to the undercarriage. The one.shtmlect of the transformation I still find off-putting is the chair. It rotates along with the blades, so if you change modes while the figure is in place, it moves under his butt. Weird.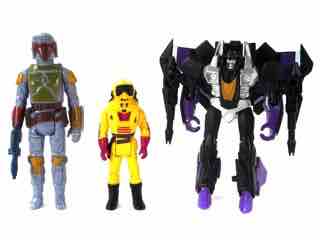 Brad Turner is a distinctive pilot. With a mask named Hocus Pocus, the sunglasses of his unmasked head are carried over to the helmeted look. The facial sculpt is soft, and the black hair could just as easily be Robin from the Batman comics. His yellow suit has black and purple markings, with painted gloves and boots. The hands weren't designed to hold accessories, but he does have knees - a feature popular on this scale of action figure. The removable helmet has nowhere to be stored on the vehicle, so if he doesn't wear it you might lose it. Kenner did a bang-up job painting the front and back - there are black details on both sides, and the figure even has some unique sculpted bits on the back of his jacket. Sure, he's a little doughy and his head is small - but that was common with Kenner (and Hasbro) until the 1990s. Nobody quite mastered the whole removable helmet thing.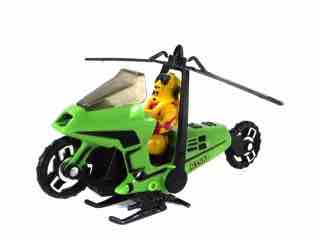 This is a fun toy. It is not an awesome collectible. I think something like this would probably still do well with kids if offered today, because you get action figure/vehicle play along with "transformation" play for a pretty decent price. Hasbro has made mention of wanting to revive this property more than once and that could be an exciting prospect, but the chances of a new line in this size - or 3 3/4-inch scale - seems increasingly prohibitively expensive. Maybe we'll see something simpler, or for Playskool or Kre-O, or something new. We'll see.
--Adam Pawlus
Additional Images

See more Kenner figures in Figure of the Day:
Day 98: Kenner Beast Wars Transformers Noctorro Action Figure
Day 99: Kenner Beast Wars Transformers Air Hammer Action Figure
Day 100: Kenner Beast Wars Transformers Torca Action Figure
Day 101: Kenner Beast Wars Transformers Terragator Action Figure
Day 102: Kenner Beast Wars Transformers Quickstrike Action Figure
Day 114: Kenner Total Justice Mail-In Superman Action Figure
Day 133: Kenner Q*Bert Wind-Up Q*Bert Action Figure
Day 138: Kenner Jurassic Park Chaos Effect Compstegnathus Action Figure
Day 172: Kenner Jurassic Park The Lost World Chasmosaurus Action Figure
Day 195: Kenner ALIENS Arachnid Alien Action Figure
Day 211: Kenner Predator Cracked Tusk Predator Action Figure
Day 234: Kenner ALIENS Scorpion Alien Action Figure
Day 250: Kenner ALIENS Panther Alien Action Figure
Day 256: Kenner ALIENS Gorilla Alien Action Figure
Day 261: Kenner ALIENS Bull Alien Action Figure
Day 285: Kenner ALIENS Hive Wars Warrior Predator
Day 317: Kenner ALIENS vs. Predator 10-Inch Alien Action Figure
Day 346: Kenner Jurassic Park Ian Malcolm Action Figure
Day 356: Kenner Action Masters Predator
Day 359: Kenner ALIENS Hive Wars Acid Alien Action Figure
Day 365: Kenner ALIENS Vasquez Action Figure
Day 366: Kenner Jurassic Park Ellie Sattler Action Figure
Day 381: Kenner ALIENS Action Masters Ripley
Day 397: Kenner ALIENS Mantis Alien
Day 398: Kenner Batman: The Animated Series Clayface
Day 408: Kenner Legends of Batman Future Batman
Day 421: Kenner Bone Age Crag the Clubber Action Figure
Day 437: Kenner SilverHawks Copper Kidd Action Figure
Day 441: Kenner Batman: The Animated Series Harley Quinn
Day 443: Kenner Batman: The Animated Series Machine Gun Joker
Day 444: Kenner Batman: The Animated Movie Mask of the Phantasm Phantasm
Day 446: Kenner Legends of Batman Knightquest Batman
Day 457: Kenner Batman: The Animated Series Ra's Al Ghul
Day 533: Kenner Jurassic Park Chaos Effect Amargospinus
Day 848: Kenner Transformers Beast Wars Terrorsaur
Day 903: Kenner Transformers Beast Wars Rattrap
Day 956: Kenner Transformers Beast Wars Claw Jaw
Day 1,140: Kenner M.A.S.K. T-Bob with Scott Trakker Action Figure
Day 1,180: Kenner Jurassic Park Alan Grant Action Figure
Day 1,198: Kenner Jurassic Park Tim Murphy Action Figure
Day 1,212: Kenner Jurassic Park Chaos Effect Ian Malcolm Action Figure
Day 1,248: Kenner M.A.S.K. Condor with Brad Turner Action Figure
Day 1,445: Kenner Transformers Beast Wars Cybershark
Day 1,452: Kenner Beast Wars Transformers Fuzors Injector
Day 1,486: Kenner Beast Wars Transformers Spittor
Day 2,179: Kenner Aliens Wild Boar Alien Action Figure
Day 2,190: Kenner Batman: The Dark Knight Collection Tec-Shield Batman Action Figure
Day 2,199: Kenner Batman Returns Penguin Commandos Action Figures
Day 2,217: Kenner Batman: The Dark Knight Collection Iron Winch Batman Action Figure

See more M.A.S.K. figures in Figure of the Day:
Day 1,140: Kenner M.A.S.K. T-Bob with Scott Trakker Action Figure
Day 1,248: Kenner M.A.S.K. Condor with Brad Turner Action Figure
Day 1,787: Hasbro Revolution First Strike Comic Preview Mega-Set