Terrorsaur
Debut of Sculpt

Transformers Beast Wars Basic
Item No.: Asst. 80295 No. 80292
Manufacturer: Kenner
Includes: Mini folding pistol
Action Feature: Transforms from Pteranodon to robot
Retail: $4.99
Availability: 1996
Other: Repainted as Fractyl, Laserbeak, Hydra, and show colors in Japan

PREVIOUS
RSS
NEXT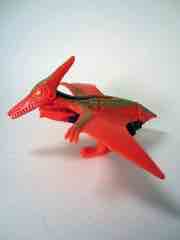 While Transformers has been through many mutations over the years, the last truly world-shattering change was probably Beast Wars. Since then, we've moved away from organic creatures as alternate modes almost completely and now we get an occasional cybernetic critter. Back when Terrorsaur hit stores the concept of dinosaurs and fuzzy mammals and bugs didn't exactly go over well with some people, but it was hard to deny that the TV show was supremely compelling and it helped to endear the toys to the older-school fans. Also, the toys were priced quite well even for the day - this little guy is 4-inches tall and was $5, the same price as a Star Wars figure and a much, much more fun toy.
Standing just over 4-inches tall, this robot is a little spindly guy despite being one of the largest Predacons on the TV show. This didn't bother me, because the ball joints gave me a lot to futz with for not a lot of money. 13 points of articulation on a figure of this size was exceptional in those days - it's still pretty good now - and doesn't have too much difficulty standing. His smaller hand weapon fits in his hand perfectly, and it can store behind his robot head so you won't lose it in either mode. This is a well-designed figure for its day, and while I remember a lot of complaining about the auto-transforming gimmick I thought it was great.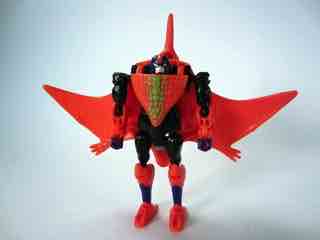 Packaged in beast mode - most Transformers were packed out in their alt modes until 2009 or so - you could flip back the dino's head and it would immediately transform. It's incredibly simplistic, with the dino feet becoming Terrorsaur's hands and his robot feet fly out from under the creature's neck. Other than the opening mouth and the moving feet, the dinosaur really doesn't do much of anything. Back in 1996 it didn't even have a faction logo - around the end of Generation 2 Hasbro and Kenner seemed to decide that this wasn't something kids liked, which is a shame. The dinosaur mode has very little paint other than white teeth, yellow eyes, and a bunch of green spots. Japan had a variant with a bright yellow beak which better matched the cartoon. I don't think anyone will argue that the beast mode is some spectacular beauty, but as toys go it's pretty fun to flip from one mode to another.
If Hasbro updates this character with a new mold - at this point I assume it's inevitable - I'd still suggest getting this one just because the action feature and clever weapon storage are fun to futz with. Looking at Hasbro's other updates - Dinobot, Cheetor, and .shtmlinator - most are ultimately a lateral move. Maybe the sculpting is better, but you lose a cool weapon mechanism or in the case of Cheetor, it's hard to argue that the remake was an improvement.
It's a nice, small toy an while it's kind of expensive, that's because it's not a bad one. To hedge your bets, maybe get the Laserbeak or Hydra redeco figures as those are less likely to see a remake and function the same. I like Terrorsaur, and you will too. And if you don't? Well, too bad.
--Adam Pawlus
Additional Images

See more Kenner figures in Figure of the Day:
Day 98: Kenner Beast Wars Transformers Noctorro Action Figure
Day 99: Kenner Beast Wars Transformers Air Hammer Action Figure
Day 100: Kenner Beast Wars Transformers Torca Action Figure
Day 101: Kenner Beast Wars Transformers Terragator Action Figure
Day 102: Kenner Beast Wars Transformers Quickstrike Action Figure
Day 114: Kenner Total Justice Mail-In Superman Action Figure
Day 133: Kenner Q*Bert Wind-Up Q*Bert Action Figure
Day 138: Kenner Jurassic Park Chaos Effect Compstegnathus Action Figure
Day 172: Kenner Jurassic Park The Lost World Chasmosaurus Action Figure
Day 195: Kenner ALIENS Arachnid Alien Action Figure
Day 211: Kenner Predator Cracked Tusk Predator Action Figure
Day 234: Kenner ALIENS Scorpion Alien Action Figure
Day 250: Kenner ALIENS Panther Alien Action Figure
Day 256: Kenner ALIENS Gorilla Alien Action Figure
Day 261: Kenner ALIENS Bull Alien Action Figure
Day 285: Kenner ALIENS Hive Wars Warrior Predator
Day 317: Kenner ALIENS vs. Predator 10-Inch Alien Action Figure
Day 346: Kenner Jurassic Park Ian Malcolm Action Figure
Day 356: Kenner Action Masters Predator
Day 359: Kenner ALIENS Hive Wars Acid Alien Action Figure
Day 365: Kenner ALIENS Vasquez Action Figure
Day 366: Kenner Jurassic Park Ellie Sattler Action Figure
Day 381: Kenner ALIENS Action Masters Ripley
Day 397: Kenner ALIENS Mantis Alien
Day 398: Kenner Batman: The Animated Series Clayface
Day 408: Kenner Legends of Batman Future Batman
Day 421: Kenner Bone Age Crag the Clubber Action Figure
Day 437: Kenner SilverHawks Copper Kidd Action Figure
Day 441: Kenner Batman: The Animated Series Harley Quinn
Day 443: Kenner Batman: The Animated Series Machine Gun Joker
Day 444: Kenner Batman: The Animated Movie Mask of the Phantasm Phantasm
Day 446: Kenner Legends of Batman Knightquest Batman
Day 457: Kenner Batman: The Animated Series Ra's Al Ghul
Day 533: Kenner Jurassic Park Chaos Effect Amargospinus
Day 848: Kenner Transformers Beast Wars Terrorsaur
Day 903: Kenner Transformers Beast Wars Rattrap
Day 956: Kenner Transformers Beast Wars Claw Jaw
Day 1,140: Kenner M.A.S.K. T-Bob with Scott Trakker Action Figure
Day 1,180: Kenner Jurassic Park Alan Grant Action Figure
Day 1,198: Kenner Jurassic Park Tim Murphy Action Figure
Day 1,212: Kenner Jurassic Park Chaos Effect Ian Malcolm Action Figure
Day 1,248: Kenner M.A.S.K. Condor with Brad Turner Action Figure
Day 1,445: Kenner Transformers Beast Wars Cybershark
Day 1,452: Kenner Beast Wars Transformers Fuzors Injector
Day 1,486: Kenner Beast Wars Transformers Spittor
Day 2,179: Kenner Aliens Wild Boar Alien Action Figure
Day 2,190: Kenner Batman: The Dark Knight Collection Tec-Shield Batman Action Figure
Day 2,199: Kenner Batman Returns Penguin Commandos Action Figures
Day 2,217: Kenner Batman: The Dark Knight Collection Iron Winch Batman Action Figure

Click here to see more Transformers figures in Figure of the Day.

Want to buy this figure? Check Transformers availability at our sponsors:
Entertainment Earth