Ggrapptikk
The Four Fisted Trooper

Power Lords Club Exclusive Carded Figure
Item No.: n/a
Manufacturer: Four Horsemen
Includes: The Super Lance, alternate blue arms, alternate red arms, alternate Ggripptogg red head, alternate black helmeted trooper head, alternate blue one-faced Ggrapptikk head, alternate long mace handle, alternate skirt
Action Feature: Turn head for secondary face
Retail: $40.00 (or included with $100 Power Ship level Fan Club membership)
Availability: September 2013 (on sale as Fan Club), July 2014 (delivered)
Other: Limited edition of 300

PREVIOUS
RSS
NEXT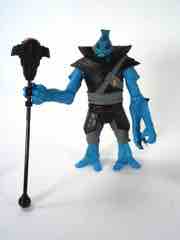 Originally teased to fans as "Ultimate Edition Barlowe Tribute Ggripptogg figure" in a solicitation for the $100 Volcan Rock level of the Power Lords Fan Club, the plussed-up signed figure turned out to be the blue Ggrapptikk. He's a very low run painted figure, exclusive to club members. He was $40 alone, or part of the $100 level - which was about $40 above the next membership level, but signatures were exclusive to the higher club level. He's twice the price of the regular red Ggripptogg, but you get three extra heads, four extra arms, an extra skirt, and an extra stick. Do you need these parts? Well, no, but it's a nice option to have. The biggest complaint about this figure that I have is that he's a "trooper" and yet army-building him is prohibitive due to price and the low edition size. Ah well. At least it's pretty spectacular!
The Four Horsemen made Ggrapptikk here as a resculpted blue version of the original Revell Ggripptogg. Utilizing the gimmick from the original line - a "transformation" of sorts via clever sculpting - this four-fisted brute has two faces on a single head, each of which are modeled after the original multi-handed trooper. The sculpting has a lot more going on - more veins, more textures, less glossy finish - but the two heads and basic structure is essentially the same.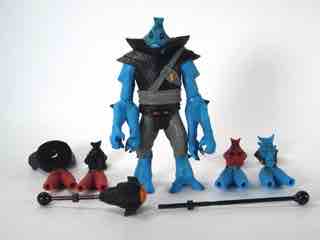 This beefy fellow stands about 5 1/8-inches tall, putting it in line with many of the other figures of the 1980s and keeping in scale to the likes of Outer Space Men and Star Wars. The various claws, horns, and toes more or less match the original Ggripptogg, which comes courtesy of the retooled arms - you see, the position of the hands and the horns near the elbows more closely match that original toy. If you prefer the arms used previously on the Ggrapptikk Grunts and their descendants, they're here too - you get two horns on each elbow and a different pose for the hands that is less claw-like. I prefer these new arms - claws with hands on the end are some freaky weird stuff.
It's worth noting that courtesy of the many parts this figure has, he's got 15 points of articulation and each joint can be separated from the figure at the Glyos peg. You can swap the hands or heads or whatever between figures, making whatever color mutations you want. Granted, I don't want to - I like the default mode just fine, but swapping the heads is fun since we have 3 options. Deco is nice, with every body part being slathered in paint which gives it a rich look. Considering the price of this figure - it may be the most expensive individual new 3 3/4-inch action figure outside (and possibly including) Fun Publications' various G.I. Joe exclusives - this level of deco is appreciated. The default head's two faces are spectacular with blue skin, red eyes, and black circles around them making the red "pop." Grey earphones bring a little more personality to the head, while the secondary "fish" head has a strange baleen-esque whale grille that's not unlike that of the Alpha Star alien creature. The vaguely fishy mouth has light blue deco on his teeth, which may well make this the single best-painted head you can buy.
The secondary heads are as follows: #1, a red Ggripptogg head with only 1 head - you can use this with the regular Ggripptogg, if you prefer. The other 3 are all made for the blue Trooper, which, again, would be great if I could troop-build him. There's a black helmeted head with red eyes, molded in blue plastic with a nice coat of black paint. The third and final head is a blue Ggrabbtargg head, with a metallic collar, orange eyes, and no eye shading to speak of. (The same is true of the club-only orange Ggrabbtargg, too.)
Accessories are nice optional bonus parts, but largely unnecessry. There's a second, longer armored skirt included. There's a long mace staff you can swap out if you prefer. Also, there are alternate red arms for the regular Ggripptogg figure but since the default ones are so nice, they'll probably be placed in storage bins or used in other custom Glyos projects of your own design. Nine bonus parts and a small compliments of signatures on the bubble are a nice touch, but the real question comes not from this figure's price tag but overall value.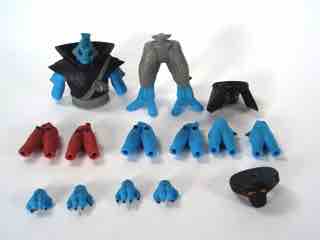 This is a crazy low run figure at 300 pieces. On eBay, samples seem to go for about $80 so far. The figure was $40 for members, or $100 with the club membership which also scored you two large art cards, a shirt, a sticker, a membership card, an orange Ggrabbtargg figure, and a 10% off discount with an early access ordering window. Arguably the $100 is worth it if you're an all-in collector - the orange figure was $25, the blue was $40, and you probably enjoyed somewhere from $10-$20 in discounts plus a non-optional t-shirt purchase. It was not a value issue so much as it was a combination loyalty program and platinum ordering plan. With the art cards, you're basically getting about $100 in swag - any higher than that would probably stretch the value proposition, but the quality of the final 5 fully-painted figures is beyond criticism. These may well be the finest 3 3/4-inch weird alien and human figures you can buy, and while a less plussed-up version at a lower price would be preferable I do not regret adding this fellow to my disturbingly large stash of small plastic men. If the chance comes up at the right price, get the blue one. The blue one is cooler than the orange one and probably a smidgen cooler than the red one. If you get it, you're going to like it. So I'd suggest not getting it unless you want to jump down this rabbit hole.
--Adam Pawlus
Additional Images

Click here to see more Four Horsemen figures in Figure of the Day.

See more Power Lords figures in Figure of the Day:
Day 760: Four Horsemen Power Lords Power Soldier Action Figure
Day 784: Four Horsemen Power Lords Power-Con Exclusive Elite Power Soldier Action Figure
Day 807: Four Horsemen Power Lords New York Comic Con Exclusive Ggrapptikk Grunt (Pink) Action Figure
Day 854: Four Horsemen Power Lords Slate Zone Elite Power Soldier Action Figure
Day 888: Four Horsemen Power Lords Barlowe Color Concept Ggripptogg (Grey and Black) Action Figure
Day 927: Four Horsemen Power Lords Ophidian Squad Soldier Action Figure
Day 930: Four Horsemen Power Lords New York Comic Con Exclusive Ggrapptikk Grunt (Purple) Action Figure
Day 947: Four Horsemen Power Lords Ggrapptikk Sergeant Action Figure
Day 959: Four Horsemen Power Lords Ophidian Squad Elite Power Soldier Action Figure
Day 960: Four Horsemen Power Lords Lord Power Action Figure
Day 965: Four Horsemen Power Lords Ggrapptikk Action Figure
Day 989: Four Horsemen Power Lords Ggripptogg Action Figure
Day 1,056: Four Horsemen Power Lords Adam Power Action Figure
Day 1,128: Four Horsemen Power Lords Slate Zone Power Soldier Action Figure
Day 1,254: Four Horsemen Power Lords Ggrabbtargg Action Figure
Day 1,476: Four Horsemen Power Lords Ggrapptikk Grunt Action Figure


Click here to see more Glyos Compatible figures in Figure of the Day.