Soundblaster
Series 01 #002

Transformers Generations Voyager
Item No.: Asst. A1403 No. A1405
Manufacturer: Hasbro
Includes: Shoulder cannon, Buzzsaw Data Disc
Action Feature: Transforms from Communications Vehicle to robot
Retail: $22.99
Availability: December 2012
Other: 01 Series 002

PREVIOUS
RSS
NEXT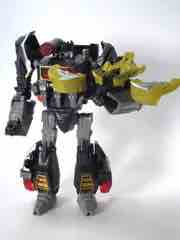 Initially, it looked like Soundblaster was just a quickie low-run repaint of Soundwave that was a) released at the same time and b) immediately phased out. Later on Hasbro decided to bring him back, which was nice because the pricing started to creep up on the secondary market. And when it comes to new toys, I don't care for that. Apparently I also lost a lot of interest in this figure - I started the review in 2012 and finished it up a couple of days ago.
Standing just over 7-inches tall, this figure is identical to Soundwave and a couple of inches taller than the Deluxe 2010 version of Soundwave. Almost a year removed from its initial release I can't say that I find the toy as exciting as I did when I got it, but it's still a solid, easy-to-transform robot with decent ratcheting joints, nice deco, and a crappy chest launcher/storage mechanism. Had Hasbro just made that a storage hatch instead of a "launcher," I think I'd give the toy stronger marks.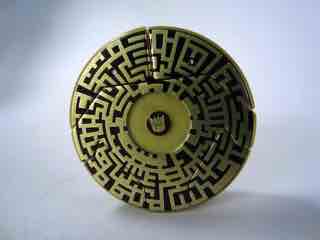 While Hasbro seems to frequently want to do Soundblaster repaints of Soundwave, they don't always make it out in the USA. This one did, and with the added bonus of Buzzsaw it's a worthwhile repaint. Well, to me anyway - you don't have to twist my arm too much to buy a black repaint of something. Buzzsaw transforms quickly and easily from a gold data disc to an adequate little robot condor, minus the guns that plug into his back on the original toy. The Masterpiece Buzzsaw is a significantly better figure for collectors, but this particular version is fun to play with. And, arguably, is not for kids.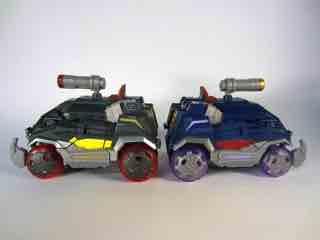 The vehicle mode decent, more or less fun but by no means amazing. The little "seat" on top has no actual function, and the rolling wheels roll well enough. The shape of this armored craft is pretty dang boxy, so it's not like it's particularly exciting unto itself - it's a thing that kind of looks like a van with spikes. You'll want to display this one in robot mode.
It's a fun toy for the asking price. $20 seems in line with the amount of plastic and moving parts. Other than actually stripping out some of the functionality in the disc launcher I have a hard time saying how to improve this one. It's a great display piece, a satisfying conversion, and another great addition to your black repaint toy shelf. This same basic mold is available as Blaster, Soundwave, and Soundblaster and as I was one of the chumps that bought all three I would suggest buying Blaster first, Soundblaster next, and Soundwave if you've a spare sawbuck and the space. Odds are you can get this at nearly any store near you in the USA right now if they stock Transformers.
--Adam Pawlus
Additional Images

Click here to see more Hasbro figures in Figure of the Day.
Click here to see more Transformers figures in Figure of the Day.

Want to buy this figure? Check Transformers availability at our sponsors:
Entertainment Earth